Three-Week Humanitarian Engineering Course at AUB: Design of Engineering Solutions for Health Challenges in Crises
December 1, 2018
American University of Beirut course dates: January 2-18, 2019
Application deadline: December 10, 2018
AUB is holding a Humanitarian Engineering course "Design of Engineering Solutions for Health Challenges in Crises."
The course is open to practitioners and students interested in the process of creating solutions that address health challenges in a protracted humanitarian context. Please find below more information about the course.
From the course's promotional statement:
Have you ever wanted to innovate solutions that could help ease health challenges refugees face in protracted crises?
How do you assess the needs of a population facing a humanitarian crisis?
How do you identify which problem to address?
How do you create relevant and sustainable engineering solutions that improve the lives of others?
To help you answer those questions, the Faculty of Health Sciences (FHS) and the Maroun Semaan Faculty of Engineering and Architecture (MSFEA) at the American University of Beirut are jointly offering the three-week course "Design of Engineering Solutions for Health Challenges in Crises", in collaboration with Boston University and Johns Hopkins University.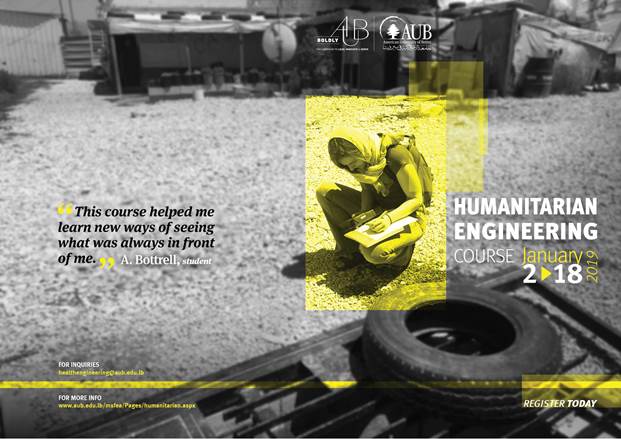 The course encourages participants to use engineering design to address humanitarian challenges, bridging the gap between practitioners, engineers and scientists, NGOs, and social entrepreneurs, to generate health solutions for populations in protracted crises. The course model is made of several components including interactive lectures and field visits to Syrian refugee settlements and facilities for interviews with care workers and refugees. Participants work in teams to conduct needs assessments, identify problems, ideate, design, and prototype solutions.
Check out this short video about the course!
When: Full-time participation expected from the 2nd to the 18th of January 2019 (tentative schedule attached).
Where: The American University of Beirut, Irani Oxy Engineering Complex.
Participants will also conduct four field trips to Syrian refugees' informal tented settlements in Lebanon (site TBD).
Who may attend: Health professionals, engineers, designers, innovators, entrepreneurs, and students (undergraduate and graduate) from all backgrounds.
Fees: $1,500 (discounted rate available for groups, practitioners travelling to attend the course, and AUB alumni)
What will you learn to do?
·         Apply participatory needs assessment tools in humanitarian settings
·         Identify public health problems in humanitarian settings
·         Apply formal design processes from different disciplines for the design of relevant and feasible solutions and interventions given a set of constraints
·         Apply relevant appropriate technologies to prototype the designs
·         Use effective communication tools to promote the solution to a diverse audience
·         Work effectively in a team with diverse backgrounds and perspectives
How to register?
If interested please register on this link, by Monday the 10th of December, 2018.
Places are limited.
For additional information, please email the course manager Ghena Hammour.
: Ghena
: Hammour
: American University of Beirut