SOCIAL ENTREPRENEURSHIP
The world's social entrepreneurs are delivering solutions to help meet the United Nation's Sustainable Development Goals (SDGs). Many of them are leveraging new technology, hardware, or both. We're here to help. E4C is actively supporting social ventures with the expertise, funding, training and access to networks to ensure their success and improve the quality of life of underserved communities. Entrepreneurs can access these resources through platforms such as the innovation challenges and accelerators highlighted below. Interested in working with us to advance the social good sector? Contact us at partners@engineeringforchange.org.
Accelerating hardware-led social innovation


The American Society of Mechanical Engineering Engineering (ASME) Global Development portfolio includes Engineering for Change and the ASME Innovation Showcase. ISHOW is an international accelerator for hardware-led social innovation featuring three regional events hosted annually in India, Kenya, and the United States.
During the regional ISHOWs, social entrepreneurs present solutions that meet one or more of the UN Sustainable Development Goals. Of the 8-10 hardware prototypes typically selected as finalists at each ISHOW, three are chosen by a panel of expert judges to receive tailored technical guidance, seed capital, and business advice aimed at developing the prototype into market-ready product. Since 2015, more than 160 hardware-led social entrepreneurs have received technical and financial support through their participation in ISHOW. You can learn about them here. E4C's community of experts and Research Fellows are actively involved in ISHOWs as facilitators, judges and expert advisors.
Applications open annually in late December.
To learn more about ISHOW's impact visit the Social Impact dashboard.
Discover ASME's Engineering Global Development program.
Meet the ISHOW alumni here.
Delivering global Innovation Challenges
At the height of the pandemic, Engineering for Change and ASME, in collaboration with the global technology company Siemens, launched a successful global design challenge aimed at addressing two intractable obstacles to the provision of plentiful food and water.
The event was entirely virtual, leveraging E4C's experience in mobilizing socially minded engineers and innovators online. We provided know-how in human-centered design, and Siemens offered its expertise and powerful CAD software SolidEdge to the online engineering community. The result was the creation of innovative hardware solutions to advance two of the UN's Sustainable Development Goals (SDGs): zero hunger and clean water.
More than 23,000 people from 184 countries responded to the call for action and more than 220 ideas to improve the quality of life in underserved communities were identified. Contestants passed through three phases: Plan, Design, and Realize and Sustain. The winners were selected by 11 judges and 14 fellows from around the world, representing 222 years of collective experience in water, agriculture, energy, engineering design and manufacturing.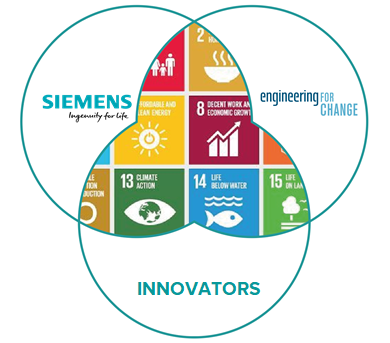 Zero Hunger Track: Design a postharvest off-grid preservation technology to reduce the farm-to-table food loss. Winner: EcoLife Cold Room Team (Uganda)
Clean Water Track: Design a low-cost, energy-efficient, scalable technology for desalinating brackish water. Winner: Apü üya Wüin-The guardian of Water (Colombia)
For more information visit the Siemens Design Challenge.
Watch the virtual awards ceremony.
Visit E4C' Opportunities Portal to learn about other competitions and challenges from our network.