About Solutions Library
What problem are we trying to solve?
There is a real struggle when it comes to finding technical information about products developed for, and used by those living in resource-constrained environments. Data is often scarce, biased or inaccurate. These information gaps have had a number of consequences, for example loss of lessons learned and consequent re-invention of the wheel, challenges in assessing performance and scalability, ineffective implementation of technologies, and lack of transparency and accountability for poor quality or unsafe products entering the market.
Our approach
In 2012, E4C took on this challenge and started co-designing a resource with our community of engineering and global development experts. What we built is our Solutions Library. We applied human-centered design and tested multiple prototypes with a growing early-adopter community. Our long-term goal is to catalyze the global development marketplace to produce higher quality, essential technologies that meet the immediate needs of underserved communities. To do this, we need to:
Influence the marketplace to think in a more standard/compliant way

Drive sector transparency and accountability

Expedite the product design-delivery cycle by cataloguing prior-art

Engage the community of product development stakeholders to develop tools and platforms for knowledge sharing and decision-making
What is the Solutions Library?
The E4C Solutions Library is a living database of technologies that can improve the quality of life for those living in resource-constrained environments. The data in the Solutions Library is curated technical and market performance information that is normalized across all products, enabling side-by-side comparison and analysis of market influences. This catalog serves to document progress of solutions and enable data-driven decision making by:
Engineers and Designers seeking a neutral resource for product prior-art, understand market trends, evaluation methods, standards and comparison
Manufacturers seeking endorsement on product performance, quality and distribution
While our target audience is primarily engineers, designers and manufacturers, we believe there will be a number of beneficiaries of the information presented in this platform, including implementers of technology seeking to distribute fit-for-service products and understanding user experiences.
The data presented in the Solutions Library  is aggregated across a variety of sources, includes partner-submissions and crowd-sourced information including: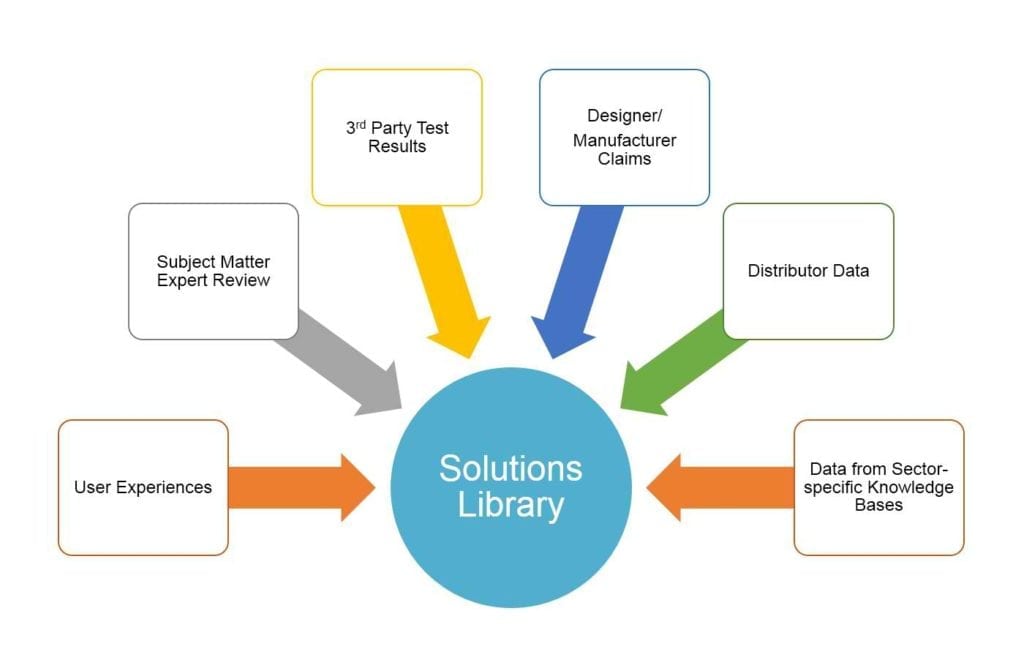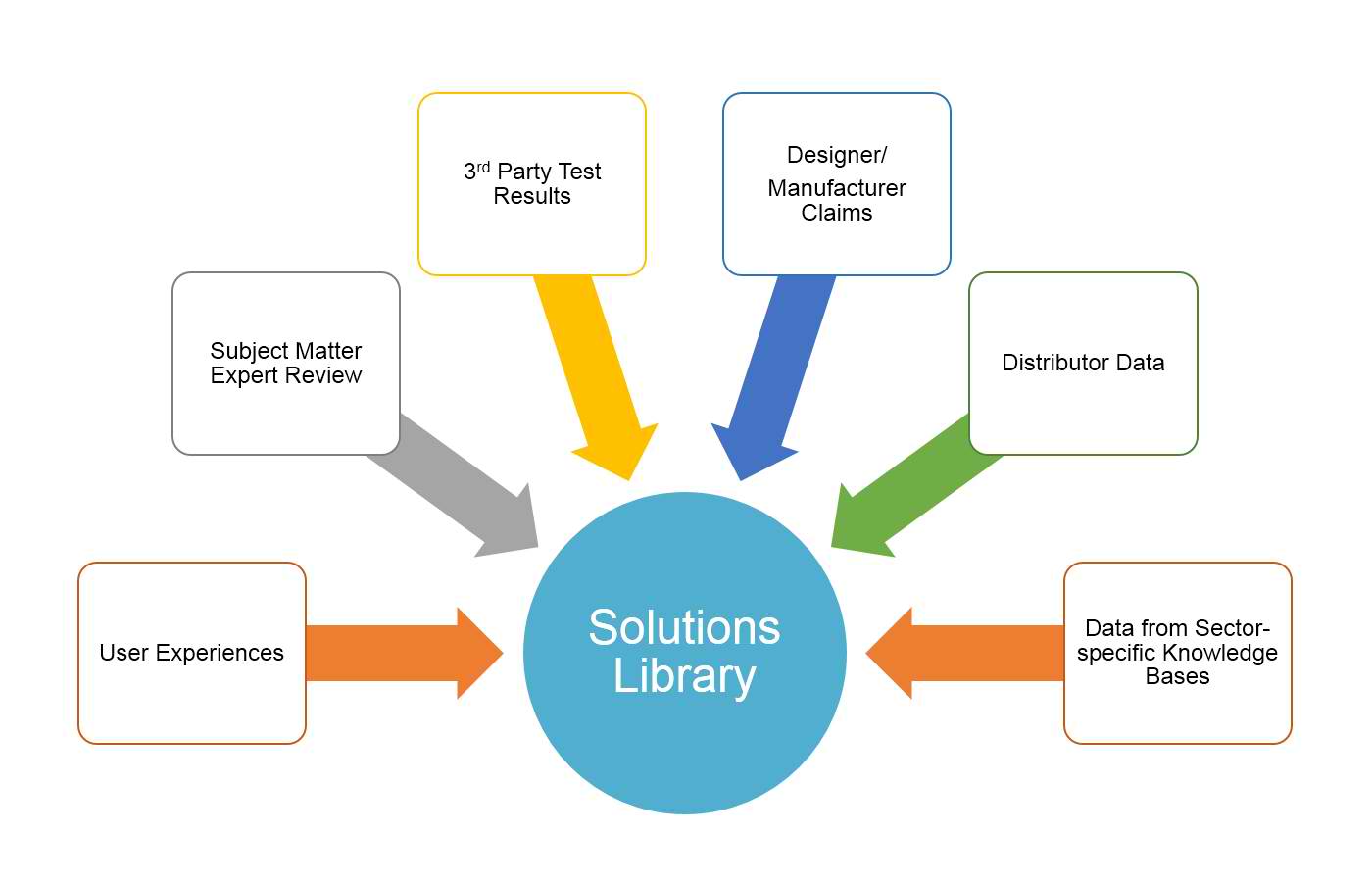 Using the Solutions Library

Convenient browsing of products is available via global search or user-friendly filtering by technology category, target geographic regions, market suggested retail price and distribution to date. Product reports provide detailed product information and include references and downloadable materials. If you have experience with a product, you can share your insights in the comments. Have a product you'd like to see in the solutions library? Just click +TECH and fill out the form.

Comparing multiple products made easy. Side by side analysis of products is possible with normalized data across a standard set of parameters. Comparisons are reviewed by experts to ensure technical accuracy with a development perspective. Performance data specifies which data points are manufacturer claims or results of testing by third-parties or manufacturer labs.
The process
E4C's Solutions Library is powered by an associated Program and convenes a community of stakeholders to engage in participatory design and development of the Solutions Library platform to serve as a decision aid tool for designers, manufacturers and implementers of technology based solutions for underserved communities. We work with leading organizations to identify products for inclusion, data is sourced by our global cohort of Research Fellows and reviewed by a multidisciplinary network of expert advisors.  E4C's phased process and supporting stakeholders are shown below.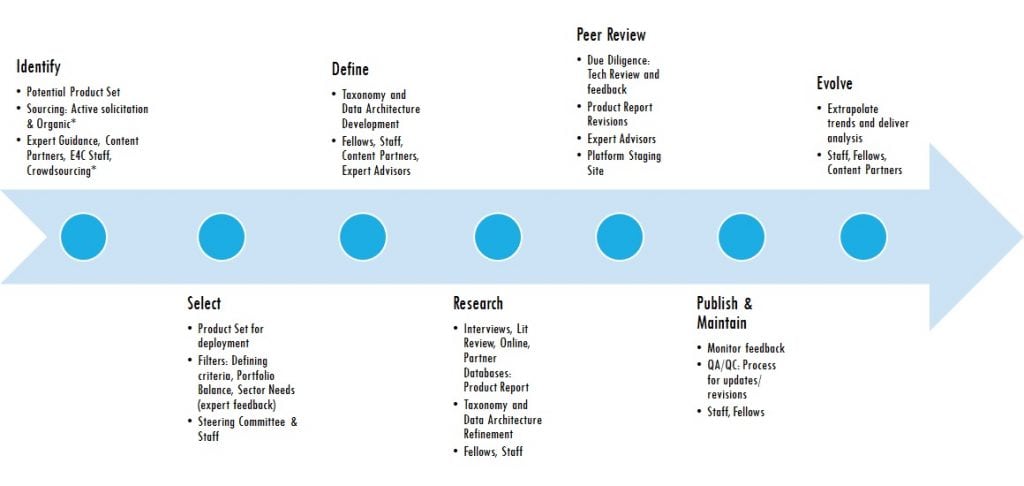 Solutions Library inclusion
The products and services included in the Solutions Library are publicly promoted as solutions that are accessible and appropriate for those living in poverty or resource constraint. Poverty can be defined economically as those living below a certain income threshold, typically less than 1.25 or 2 USD a day (at 2005 Purchasing Price Parity). We follow the qualitative definition of the UN, which describes poverty in broader terms as a "lack of income and productive resources to ensure sustainable livelihoods; hunger and malnutrition; ill health; limited or lack of access to education and other basic services; increased morbidity and mortality from illness, homelessness and inadequate housing; unsafe environments and social discrimination and exclusion.
Additionally, the products included in the Solutions Library:
Represent various market maturity stages (demonstrated via 'distribution to date')

Represent a variety of intended users:

Individual Household solutions

Community-based solutions

Service-based solutions

Monitoring and Evaluation Technologies

Governed by various technology protection frameworks (Open-source → IP Protected)
Product inclusion in the Solutions Library in no way constitutes E4C's endorsement.
What is the criteria and process for product inclusion?
To be included in the Solutions Library, E4C must be able to source sufficient information in the following data categories:
Designer

Distributors/Implementing organizations

Product/technology IP

Distribution to date

Target user(s)

User provision model

Performance & testing data

Operation & maintenance

Research & standards
Information sourcing methods include literature review, web sourcing and interviews with designers/manufacturers of products. The product report and associated comparison data will be reviewed for technical and development reliability by an Expert Advisor.
Acknowledgements
E4C is grateful for the support of the Solutions Library Steering Committee:
Anand Shah (CEO, Sarvajal)

Andy Lieberman (Director of New Programs, Global Social Benefit Institute, Santa Clara University)

Chris Bull (Sr. Research Engineer, Sr. Lecturer, Brown University)

Christopher Baker-Brian (Partner, Director of Research & Technology, BBOXX, IEEE Humanitarian Technology Committee)

Evan Thomas (

Director, Mortenson Center in Engineering for Developing Communities, and 

Mortenson Endowed Chair in Global Engineering, University of Colorado at Boulder

)

Heather Fleming (CEO, Product Designer, Catapult Design)

Jen Burney (Assistant Professor, UC San Diego, School of Global Policy and Strategy)

Neil Noble (Practical Answers Coordinator, Practical Action)

Pieter Verhagen (General Manager, Center for Global Prosperity)
The products in the Solutions Library have been reviewed by E4C's trusted network of Expert Advisors. We are grateful to all the thought leaders and the organizations they represent (shown below) who have participated to date.
Expert Advisors' Affiliations:
Proximity Design, University of Michigan-Ann Arbor, Tufts University, BBOXX, IEEE Humanitarian Technology Committee, SNV-Netherlands Development Organization, Stanford University, Green Empowermen, Lumeter Networks, Lighting Global, Yoder Consulting, Great Lakes Energy, SKAT Consulting Ltd and SKAT Foundation, Loughborough University, Facebook, Villgro Innovations Foundation, GE Healthcare, Kingdom Bioenergy Ltd, Jana Care, MIT, George Washington University, Toilets For People, CommonThread.com, Sisul Consulting, Columbia University, Johnson & Johnson, Catapult Design, Oregon State University, Centre for Affordable Water and Sanitation Technology – CAWST, University of Strathclyde, Villanova University, 1 World Connected, Intellectual Ventures Lab, Forbes Environmental Engineering,  Improve International Inc., Netdata Networks, Universidad Catolica Andres Bello (UCAB)