Design of an Adjustable Sensor for Water Monitoring
The adjustable sensor for water monitoring seeks to automate the data acquisition process for monitoring the conditions on the Caribbean coast of Panama for sea cucumber growth. The scope of work of the project resulted in the evaluation of a different design mechanism for the camera stabilizer that could work appropriately under water and sea conditions, mounted in an Unmanned Surface Vehicle (USV).
Firstly, a data acquisition module was developed, which consists of a camera stabilizer that enhances the image that will be used in future stages of the implementation for both image and deep learning processing. Secondly, a 1 DOF module was designed, which is equipped with 5 water conditions sensors: conductivity sensor, PH sensor, turbidity sensor, dissolved oxygen sensor, and a temperature sensor. The mechanism of the module allows it to acquire data at different levels under water.
The main goal for this stage of the project is to design the mechanism and its parts to be manufactured and assembled so that in subsequent project stages, the program could be designed and integrated into the whole system.
This project contributes to PanaSeas' ultimate mission of regenerating local populations of sea cucumbers after their population has been depleted by overfishing to support the environmental benefits they bring to an ecosystem.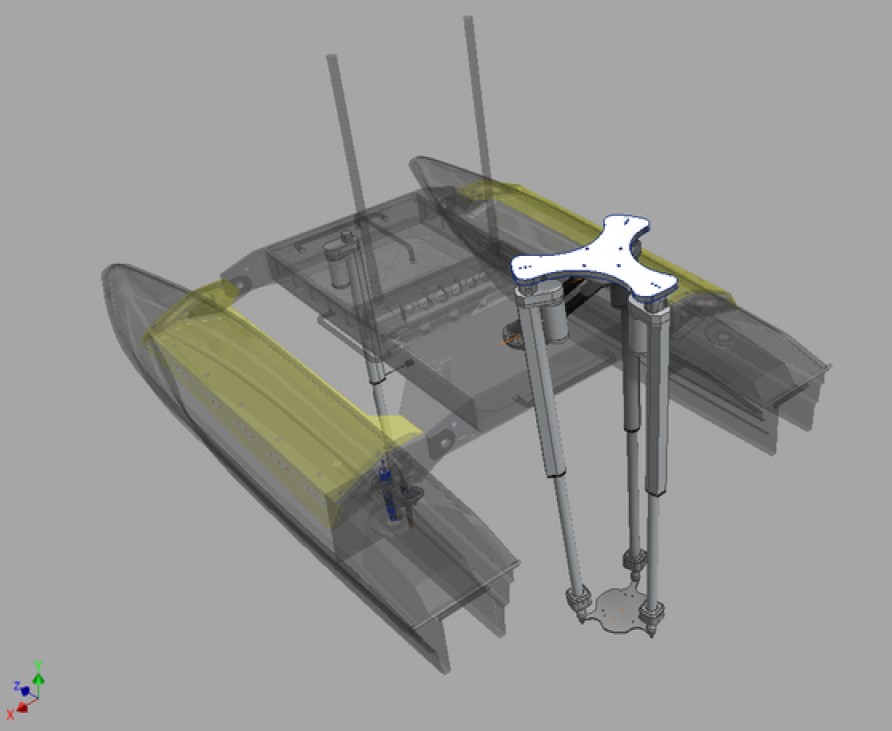 Rendering of the camera stabilizer and water monitoring system assembled to the USV