Click here to view the full report
The construction industry is one of the largest industries that contributes to global pollution. The Sustainable Development Goals (SDG), specifically SDG 11: Sustainable Cities and Communities, demonstrate how important sustainable construction is and why it should be promoted in the materials and processes used. This research report details a landscape analysis of sustainable housing solutions in India for Habitat for Humanity. As India is a large and heterogeneous country, this research used a case study approach through desk research and interviews with experts to identify new sustainable construction solutions which were then benchmarked against national institutional guidelines and policies on sustainable construction.
The benchmarking framework was used to identify where solutions addressed various sustainability considerations. From the solutions benchmarked, there appears to be positive growth towards promoting environmentally friendly materials that are also price competitive in the market. All the products reviewed are currently strengthening their supply chains by using local resources, making the manufacturing more efficient than conventional methods, and ensuring operational efficiency, in addition to maintaining price competitiveness. Additionally, there appears to be a positive policy push to support pilot projects and relevant seminars, but there is still a lack of awareness among users and fraternity for promotion of these new materials. Being a part of the schedule of rates, approval from various standards and testing organizations to enter the mainstream construction value chain still remains a challenge. Further support such as lowering the goods and services tax, increasing incentives and access to funding, as well showcasing new solutions at large events can help users become familiar with these new materials.
Overall, there is a positive step being taken by various private stakeholders to come up with materials that are sustainable across various parameters, but there is still a long way to go for them to completely replace the conventional materials through the adoption of the masses.
Habitat for Humanity supports various aspects related to affordable housing, such as the promotion of appropriate technologies in the construction sector. Identifying case studies of organizations that are working towards sustainable construction solutions can play a huge role in promoting affordable and green housing in the future. The case studies identified in this research provide tangible examples of how organizations within India are working towards a more sustainable construction sector for the benefit of all.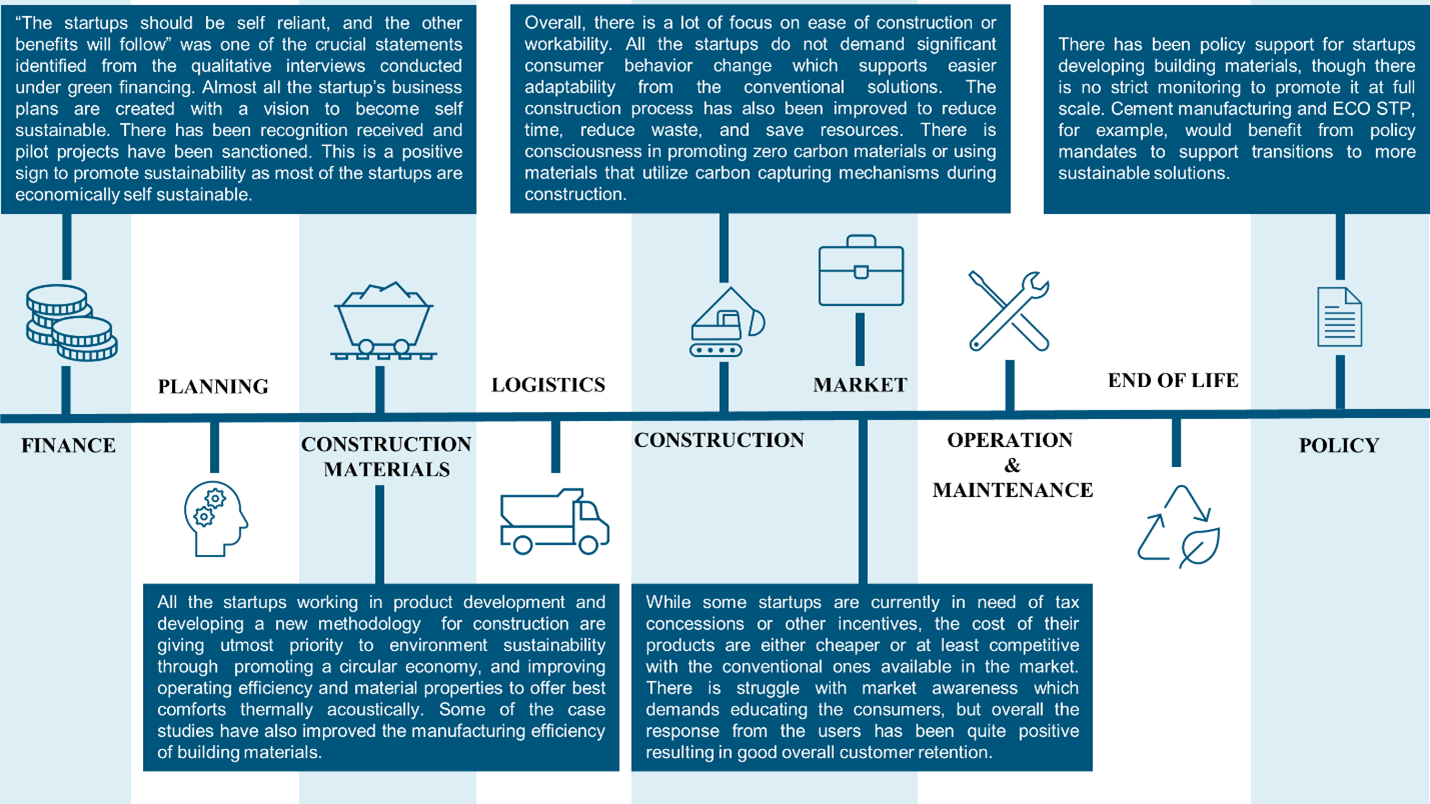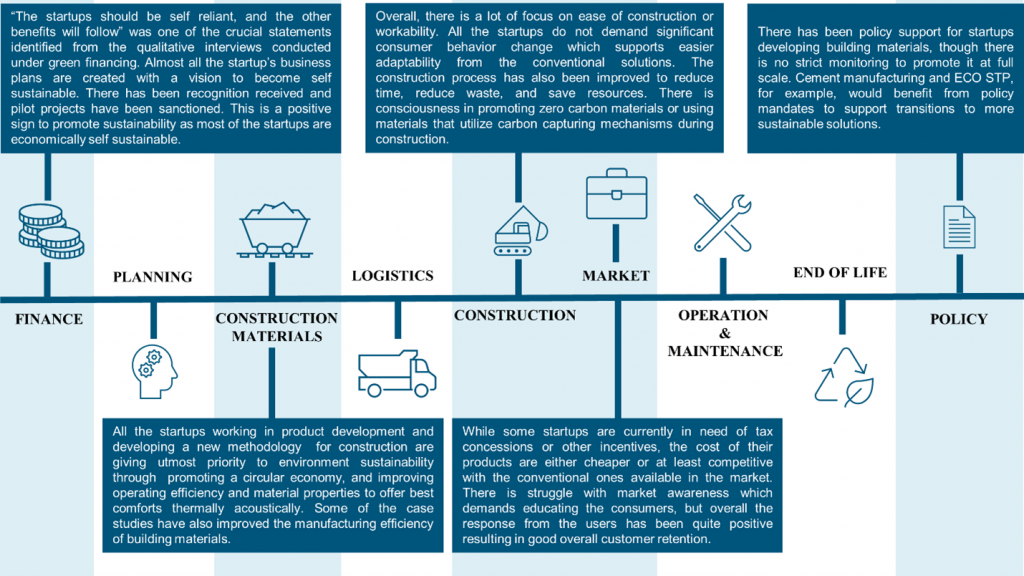 Figure: A framework to define the status of sustainability within the scope of the study steps of the value chain of construction
Click here to view the full report
E4C 2021 PROGRAM MANAGEMENT TEAM: Mariela Machado, Senior Program Manager; Erin Peiffer, Research Manager; Marilynn Holguín Clover, Program Coordinator; Jonathan Kemp, Program Specialist; Carolina Rojas, Program Associate 
ADVISORS AND COLLABORATORS: Anoop Nambiar, Country Director; Shyam Chander Kunagaran, Senior Market Systems Specialist; Deepak Visvanathan, Senior Technical Advisor; Juan Pablo Vargas, Senior Advisor, Innovation, Entrepreneurship, and Markets Systems, Applied Innovation; Jennifer Oomen, Director, Applied Innovation, Terwilliger Center for Innovation and Shelter
This research was completed as part of the 2021 E4C Fellowship program. Learn more about the Fellows who worked on this research collaboration by connecting with them on LinkedIn: Sudhamayee Pochiraju