Based in Boston, Young World Inventors documents Africa's new stories of innovation by filming startups as they learn to survive and grow. There is lots of source material: Nearly two-thirds of the world's fastest growing economies are in Africa, and 50 percent of its people are under 19 years old. Explore more of their stories on Facebook, YouTube, and Twitter.
Bernard Kiwia was tired of walking across town to charge his cell phone. But what could he do? Tanzania is run by hydropower, and during droughts, which have come often in recent years, the "hydro" evaporates. In Arusha, near Mt. Kilimanjaro, the few who can afford them buy generators — think banks, stores—and to charge his cell phone, Kiwia's only option was to walk to the nearest station.
As he walked alongside burros and vegetable stands on Arusha's potholed dirt roads, Kiwia began to think of another solution. He imagined a bike-powered dynamo that might charge his cell phone using the energy of the pedaling wheel. Then, he built one.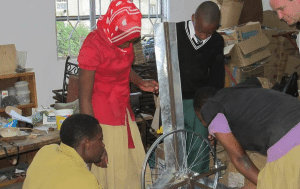 From a bike shop to the Smithsonian

Working for an NGO that fixes and distributes used bikes in Arusha, he made repairs with scrap metal he collected at the local dump, and he earned a reputation as someone who could fix anything. But Kiwia was restless.
A trained electrician and vocational-school instructor, Kiwia comes from an enterprising Chaga family: His dad is an auto mechanic, his mom raises chickens, ducks and small livestock, and his sisters are tailors. The Chaga people are known in Kenya and Tanzania for their ingenuity and hard work. Kiwia's sister reports that as a child he and a friend strung two match boxes together across a road as a prototype walkie-talkie, whispering into the boxes.
After building, testing and revising his bike-powered design, Kiwia's chargers have sold around Africa in the thousands, and he also made a version for Tanzania's ubiquitous motorcycle taxis. In late 2011, his design was displayed alongside other ingenious devices from developing regions in a Smithsonian Museum exhibit in New York City.
MIT and a Guatemalan technology transfer

But his trip from Arusha to America began years earlier, when Kiwia met Amy Smith, a mechanical engineer who founded the D-Lab courses at MIT — D for development, design and dissemination. As someone who teaches MIT students how to collaborate with villagers on mechanical solutions to local problems, she thought Kiwia would add value to an international gathering.
When Smith invited Kiwia to the first International Development Design Summit at MIT in the summer of 2007, Kiwia thought it must be a mistake. A Tanzanian bike mechanic invited to the Massachusetts Institute of Technology? Nonetheless, unflappable by nature, and as an enterprising Chaga, he was curious.
That first trip was a revelation for Kiwia. At Smith's small gathering of international innovators, he was thoroughly inspired by Guatemalan inventor Carlos Marroquin, who demonstrated his Maya Pedal, a corn shelling machine attached to a wooden seat and powered by bicycle gear works.
"If Carlos can do it, why can't I?" he remembers thinking. On his trip back to Arusha, he began to imagine all sorts of devices that could be powered by an ordinary bicycle. Within six months Kiwia had begun to develop a bicycle-powered water pump, an irrigation system, and a pedal-powered drill press. Kiwia was transformed, and he adopted a touch of evangelism, passing along the invention bug by helping others to imagine solutions to everyday challenges.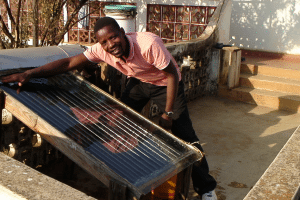 A peddling partnership

At that same gathering, Kiwia met Jodie Wu, a recent MIT engineering grad who was developing a version of the Maya Pedal herself. Hers was a portable version of Marroquin's machine that attached to an ordinary bicycle. The idea, inspired by her D-Lab work in Tanzania, was that maize buyers could move from village to village, shelling corn where it was grown to reduce the costs and labor involved in transporting it. Wu used her maize sheller to launch Global Cycle Solutions (GCS), a company that develops bicycle-powered products designed for people without access to electricity.
Kiwia had more interest in invention, prototyping and teaching than in sales and distribution, so he asked Wu to partner with him. Wu's response was to appoint Kiwia as CTO of Global Cycle Solutions.
How to design in Tanzania

To design products that will work in Africa, "you need to know what people need," Kiwia says now. "For me it's easy because I live there, and I experience the same problems myself." He starts with daily inconveniences, such as cold showers."I decided that I would build a solar water heater to have access to warm water for showering," Kiwia recalls.
At the center of his design were discarded fluorescent light bulbs, available by the dozens in Arusha's scrap yards. As soon as I built one, neighbors started asking for one," he says.
For those who don't live in Tanzania, he suggests "a lot of research to understand people's needs and desires. Better yet, travel to learn it yourself first-hand."