Design development of modular system for methanol plant
Gas flaring is the burning of natural gas associated with oil extraction and is a prominent source of VOCs, CO, CO2, SO2, PAH, NOX, and soot (black carbon), all of which are important pollutants that interact directly and indirectly, in the Earth's climatic processes. One way to mitigate its impact is to reuse the gas to produce methanol, which can be used as an alternative fuel source.
M2X Energy's main goal with this project is to increase access to clean, affordable energy in remote areas. For that purpose, they are designing a modular plant system that can be transported on a trailer unit and maintained on-site without special equipment required. This project elaborated a detailed CAD design of a trailer and analyzed the use of storage units underneath it to support M2X Energy's ongoing design process. The main objective of the project was to contribute to the decision-making process regarding the transportability and maintainability of the modular skid so that it could become an integral design and the construction process could begin. The next steps would be to provide a weight distribution assessment of all the equipment on the trailer and also find ways to optimize weight considering different setups and materials.
The Autodesk Foundation has sponsored the project by facilitating training and tools for CAD and rendering of the components of the plant. The Autodesk Inventor was majorly used, but Navisworks and AutoCAD were also part of the process.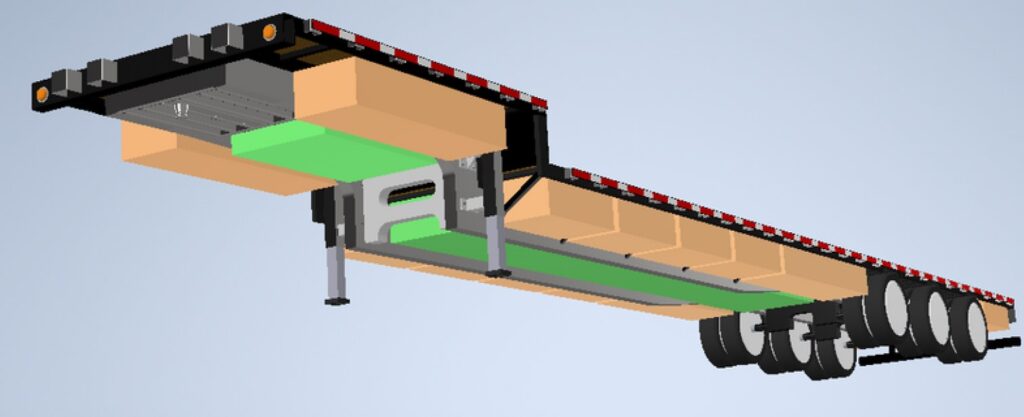 Rendering of the trailer and storage volumes, Source: Jorge Bravo and M2X Energy