Product Engineering Support for Handwashing Station for Covid-19 Response
Easy and reliable access to clean running water is critical for controlling the spread of viruses, especially in high-risk areas like hospitals and schools. Handwashing stations are clean water access points for hygiene enhancement in disease control. With the onset of the Covid-19 pandemic, the need arose for low-cost handwashing solutions for schools and health facilities in underserved communities to curb the spread of the disease among the most vulnerable. The design needed to discourage hand contact, encourage social distancing, be easy to use, and provide uninterrupted washing for at least a day at a low cost.
To address the need for an easy-to-use, contactless, and reliable handwashing solution, insights on the factors that could make successful and effective handwashing stations were gathered from a field survey and review of literature on controlling the spread of the COVID-19 pandemic and other water-borne-related diseases to a first handwashing station. The first version (V1) of Splash's handwashing station prototype was deployed to study its field performance and failures in November 2021.
The pilot program led to a redesign, increasing the number of stations from two to three while sloping shoulder spacing to minimize bottlenecks at washing stations. Also, most features on the washing station were redesigned to be tamper-proof.
Extensive work also went into benchmarking and documenting the handwashing station design to serve as a reference for future development, with an objective testing plan to verify the performance metrics. The new station design was complete and is in the final stages of preparations for low-volume manufacturing. Bill of Materials, assembly drawings, installation and user manuals, and testing plan documentation have also been made to aid the verification and implementation of the new design.
The new handwashing station is expected to help build positive handwashing behaviors, especially among children, to curb the spread of the Covid-19 pandemic and minimize the occurrence of hygiene related diseases in its implementation locations.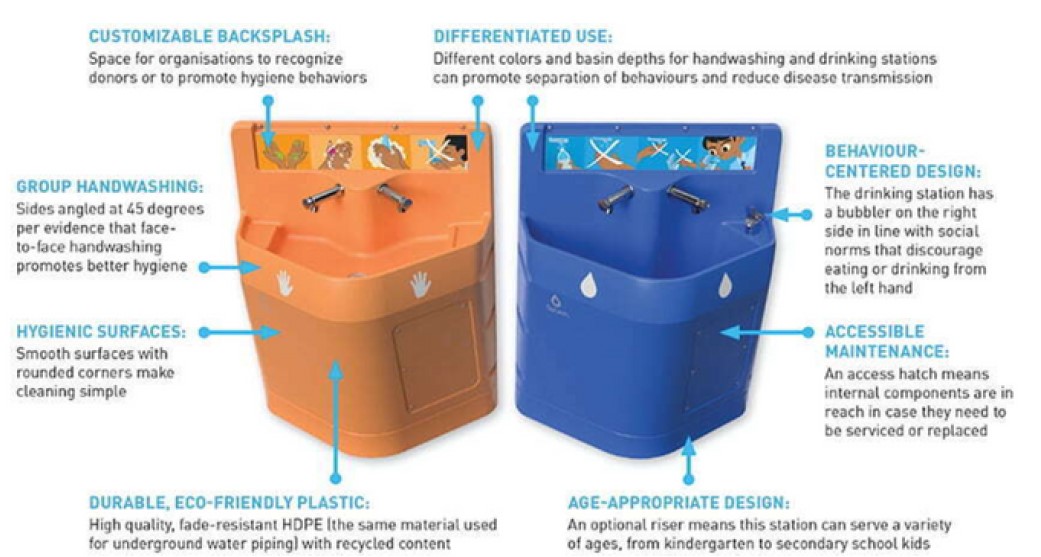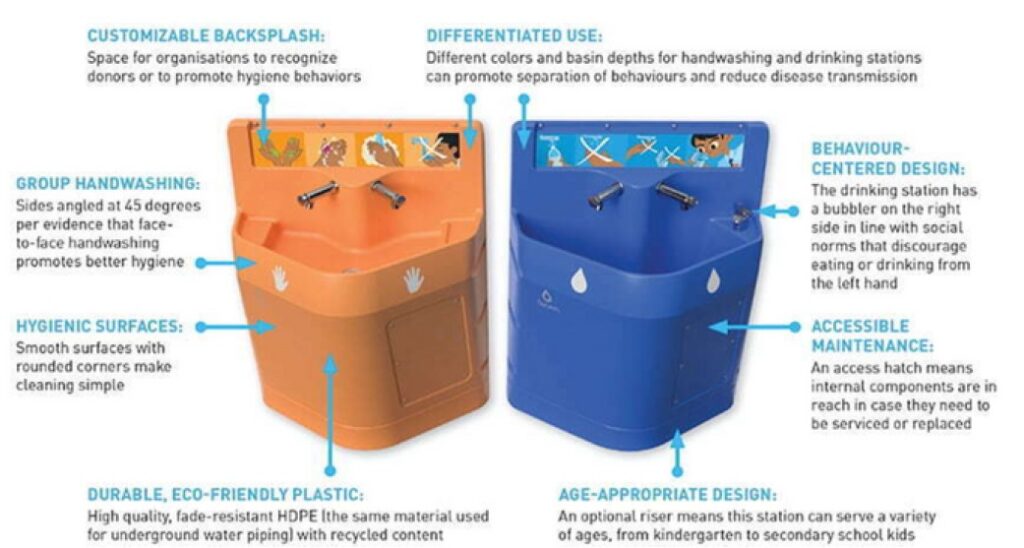 V1 handwashing station designed, Source: Splash