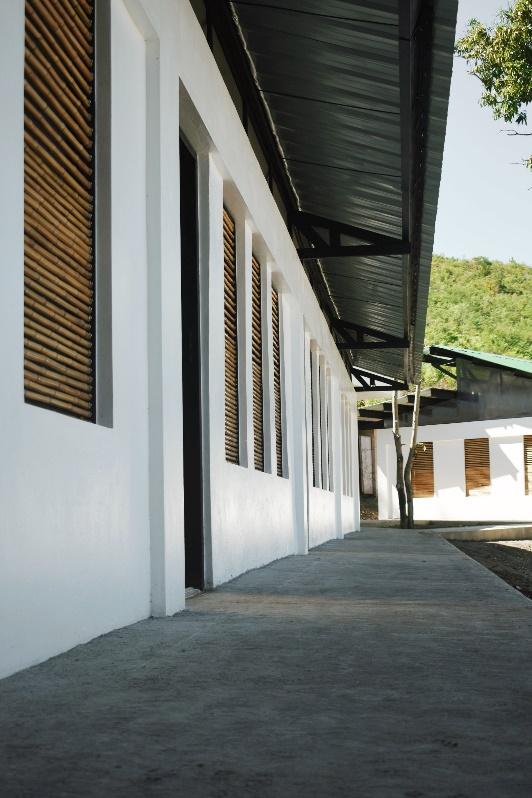 In collaboration with Adaptive, Fellows developed a prototype design for remote and accessible schools in Haiti. This includes the inputs of research and the lessons learnt from previous projects, to develop architectural, structural and WASH concept designs.
Haiti is the poorest country in the western hemisphere and many schools are challenged with poor quality infrastructure, significant overcrowding, inadequate natural light and ventilation, and a lack of access to water and sanitation infrastructure. All of which are intensified by Haiti's exposure to natural disasters, such as earthquakes and hurricanes. This prototype school has been designed to address these challenges and provide quality educational infrastructure across Haiti, starting with the implementation of the prototype across the 40 schools that Summits Education operates.
The development of the prototype design involved assessing previous projects carried out by Adaptiv and other organisations, to address the challenges faced and develop design solutions. Secondly, in-depth research was carried out into architectural and structural design, WASH and energy solutions. This enabled an assessment matrix to be developed to qualitatively assess these materials and systems. This matrix enabled key considerations and constraints to be analysed, while factoring in stakeholder priorities to establish the optimum prototype design. This led to the development of design standards for the prototype school, of both remote and accessible sites across Haiti.
This prototype will act as a basis of design for remote and accessible schools across Summits Educations network, to provide long lasting infrastructure which addresses the critical challenges faced in Haitian schools, allowing for quality education and equity to be achieved. The prototype will enable Summits to efficiently operate and maintain all of their schools, allowing them to focus on their core mission of investing in and developing teachers, as well as promoting an environment where students are healthy, safe, actively engaged and supported.
ADVISORS AND COLLABORATORS: Rob Freni (Co-founder, managing director, AIA, LEED AP BD+C), Killion Mokwete (Co-founder, Director of Operations, RIBA), Abby Gordan (Co-founder, director of design, RA), Schools for Children of the World, Herve Sabin (Studio Drum), Cassandre Regnier (Summits Education) and Carolyn Mellin (Summits Education)
E4C 2021 PROGRAM MANAGEMENT TEAM: Mariela Machado, Senior Program Manager; Grace Burleson, Research Manager; Marilynn Holguín Clover, Program Coordinator; Jonathan Kemp, Program Associate