Click here to view the full report
Through a research collaboration between Engineering for Change and the Colorado School of Mines, we have developed a career map for engineers trained in North America and who desire to work in Engineering for Good (EfG). EfG is defined as "the practice of prioritizing doing good over more traditional engineering urgencies such as cost, technological efficiency, and innovation" and includes work in international and domestic community development, disaster response, and poverty alleviation. As more and more academic programs related to EfG are being offered in North America, early-career engineers and engineering students are eager to start their careers in EfG, but often find few resources to guide their job search. There is a growing demand for engineers committed to sustainable humanitarian practices, with a growing population of well-trained graduates prepared to take on their roles. To help these two groups come together, a well-developed map can be a tool that allows students to align their professional careers with their aspirations.
Through desk research and interviews with 8 EfG engineers, we have developed the three-stage EfG Career Map that shows how engineers can progress from earning a Bachelor's degree (Stage One) to finding a career in EfG (Stage 3). In Stage 2, we have identified 4 common early-career experiences: field experience, higher education, traditional engineering experience, and intern/volunteer experience, as well as common skills to develop in one's early-career. In Stage 3, the map shows EfG example roles and organization types to provide reference in this amorphous, evolving area of engineering.
Concepts like considering what it means to be an engineer in terms of the 'whole self' as well as planning one's career path under the principle of 'structured serendipity' emerged from our collective data set. These highlighted ideas speak to the value of personal, emotional, and creative skills for finding a fulfilling career in EfG. Expanded on below are ways a student or professional can pragmatically apply these themes to developing their career for doing good.
We recommend that additional research be completed to better understand the characteristics of established EfG career roles and the types of organizations involved in EfG, as well as how different types of engineering majors may affect the future EfG roles available to an engineer.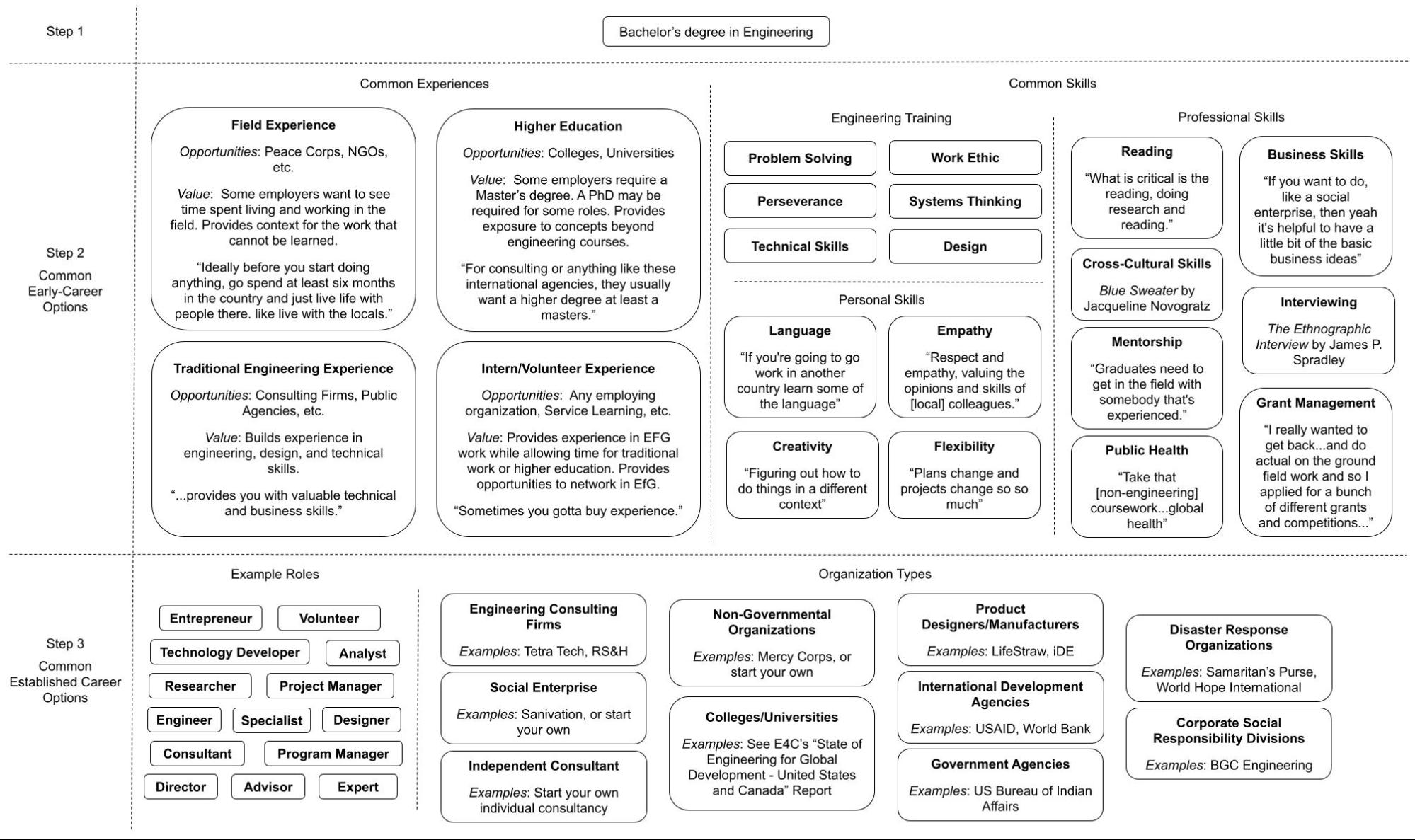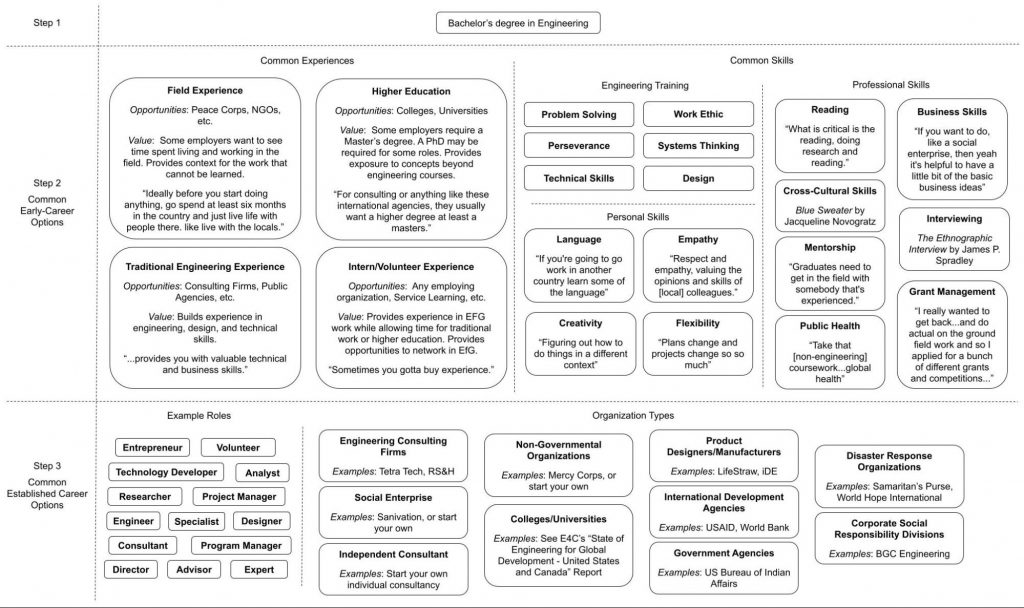 Figure: The Engineering for Good (EfG) Career Map shows how an engineer who has been trained in North America can progress from earning a Bachelor's degree to having an established career in EfG by developing important skills through common early-career EfG experiences.
Click here to view the full report
E4C 2021 PROGRAM MANAGEMENT TEAM: Mariela Machado, Senior Program Manager; Grace Burleson, Research Manager; Marilynn Holguín Clover, Program Coordinator; Jonathan Kemp, Program Associate 
ADVISORS AND COLLABORATORS: Dr. Marie Stettler Kleine, Teaching Assistant Professor; Dr. Juan Lucena, Professor
This research was completed as part of the 2021 E4C Fellowship program. Learn more about the Fellows who worked on this research collaboration by connecting with them on LinkedIn: Rachel Geiger, Scott West, and Erin Peiffer.