Introduction
Today a new paradigm of agricultural development is fast emerging: in both developing and developed countries, the traditional ways of delivering services to citizens in rural areas is being challenged, and traditional societies are being transformed into knowledge societies. Regions that remained uninfluenced by change because of their remoteness can now be reached with the use of Information Communication Technologies (ICT). ICTs cover a range of technologies including satellites, mobile networks, internet, and personal communication devices. The technologies work together as a system to send and receive data, that if collected and interpreted appropriately, can become valuable information.
Information and communication are crucial within the agriculture sector because there are agricultural practices that can lead to success and others to failure. At the post-harvest stage, lack of sufficient information makes it difficult for farmers to get fair prices for their crops. A lot of post-harvest practices require farmers to be in constant touch with local extension agricultural officers and other agricultural specialists. These practices include getting markets for produce, market prices analysis, best storage practices to avoid spoilage of produce, value addition technologies, soil nutrient levels after a harvest and its suitability for next crop, packaging, and accounting. In developing countries however, these agricultural specialists are few and cannot be able to be physically available to offer their expertise. The uncertainty faced by the farmer may discourage their attempts to invest more in inputs and technologies.
ICT solutions are being used to communicating relevant knowledge to rural farmers and provide a cost-effective way to facilitate access to markets. ICT solutions for post-harvest can be divided into several areas. The first and biggest application of ICT in the agriculture sector is knowledge management. Agricultural practices vary broadly, and it can be beneficial to farmers to know what methods are most effective and provide it in an easily accessible interface. The next important step is financial services without which a farmer would not be able to have the capital to bring their produce to market. Finally, the third step and often the most complex is the actual logistics of establishing a physical supply chain and transporting produce to market. Some ICT applications focus on one specific service and others cross over and offer multiple types of service.
Knowledge management
Financial services
Logistics and supply chain
Knowledge Management and training
Farmer organizations in most African countries are faced by the challenge of lacking the knowledge and proper tools to identify, assess and communicate agronomic knowledge and advisory services to the rural farming population. Extension service agents also face similar problems and often lack the means and tools, if they possess the knowledge, to disseminate information to these farmer organizations in a timely fashion.1 This gap in information flow and tools limits good decision making in planting, monitoring, harvesting, marketing and general business management, resulting in crop loss, low productivity, and subsequent low sales and incomes. ICT can help in generating, capturing and disseminating the valuable knowledge and information that could help smallholder farmers to increase the productivity and quality of the crops and sell them at a good price. However, if these initiatives remain disparate and are not conducted within the government systems, and if they are not accompanied with the corresponding adequate use of data to benefit farming, they cannot contribute to endeavors to make agricultural production systems efficient. Knowledge management platforms can be divided into the following subcategories:
Knowledge dissemination and training
Market price information
Community platforms
Knowledge management platforms take advantage of smart phones, internet, data-mining, and Geographic Information Systems (GIS) technologies.
1) Knowledge dissemination and training
Knowledge dissemination and training platforms provide information to farmers on all stages of food production. They also come in a variety of structures depending on whether they are serving individual farmers or larger associations. A 2018 white paper produced by Global Open Data for Agriculture and Nutrition (GODAN) divides data useful to farmers into three streams: localized data that is produced on farm and owned and used by the farmer, external data that is imported that the farmer can use but does not own, and data that is exported by the farm to be shared with others.2
1A) iCow and similar applications
iCow is an application for dairy farmers that provides valuable information about how to best care for their cows and produce good quality milk. It covers details regarding disease prevention, animal nutrition, and gives farmers the ability to keep and analyze their own milk records (iCow). This is an example of a tool that allows farmers to document their own data as well as benefit from specialized external information developed by experts in the domain. Other products with a similar focus to iCow but not yet as widely used include apps developed by the Kenya Agricultural & Livestock Research Organization (KALRO) that include Indigenous Chicken, Range Pasture Seed Production, and Dryland Crops.3
1B) Kenya's Open Data Portal
In 2011, the Kenyan government launched an Open Data Portal that includes data sets for agriculture related to pricing, food supply, production, and resources.4 Since the data is downloaded in a raw format, agencies can act as data intermediaries to make the information useful to farmers.
1C) Data4Ag
The Technical Centre for Agriculture and Rural Cooperation (CTA), is leading a project called Data4Ag that seeks to improve the data management capacity of farmers' associations.5 Since many smallholder farmers are already members of farmers' associations, the associations are considered to be in the best position as an intermediary to capture farmers profiles and to store, manage, and distribute the associated data.6 Another CTA project called MUIIS, Market-led User-owned ICT4Ag-enabled Information Service, is building a network of over 200 farmers organizations in Uganda, profiling farmers connected with them, and providing farmers with agronomic tips and weather data through SMS.7
1D) E-Agriculture Framework Proposal
Another way to bridge the gap between farmers' access to information is to imagine a national or regional agriculture platform similar to ones being developed for health and other services in developed countries.  In their paper "Building E-Agriculture Framework in Kenya" researchers Frederick Awuor et al. propose an E-Agriculture framework that aggregates timely, relevant and accurate data from various stakeholders and brings it together in a comprehensive interface for farmers to access. The benefit of having a single framework is that data can be collected and shared through the same platform and it avoids the duplication of functions and cumbersomeness to farmers that may result from the need to use multiple tools.8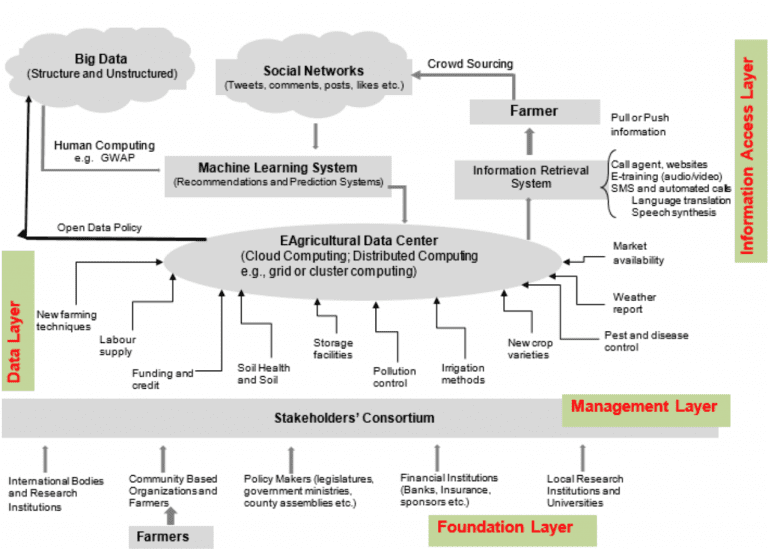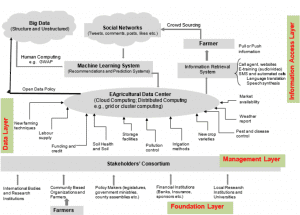 Figure 1: Proposed E-Agriculture Framewor
1E) GeoTraceability
Information that is useful to farmers is not limited to agronomic practices but can also include business consultation and product supply chain tracking that can provide certification of products and visibility by consumers. GeoTraceability offers products that include customized farm business plans, product tracing to promote sustainable and biodiverse practices, survey design and collection tools, SMS systems for small-holder farmers with simple phones, and data infrastructure.  GeoTraceability developed a data collection, management, and supply tracing tool for a producer in northern Uganda that links them with their network of coffee suppliers. The producer aims to increase coffee production and improve livelihoods of 16000 farmers. By collecting data related to infrastructure, training plots, nursery locations, etc., they can make investments that give resiliency to their suppliers.9
2) Market price information and marketing
One of the most prevalent uses of ICTs by African farmers is for marketing. They use ICTs to determine current market prices and gain access to markets, to bargain and conduct transactions, and to send and receive money. Having up-to-date market information on commodity and input prices, as well as demand trends, boosts the farmers negotiating positions and informs decisions about when and where to buy and sell, what to produce, and the quantity and quality of future production.10 For years, Kenyan smallholder farmers have sold their farm produce at low farm-gate prices to middlemen, even when prevailing market prices are higher, due to lack of information. For many smallholder farmers, the only source of information about the market rate for crops comes from middlemen. The lack of pricing transparency means that farmers don't always get the best deal. These low prices mean that many farmers are unable to afford farm inputs thus resulting in low yields.
To counter this trend, ICT tools such as mobile applications, webpages, TV and radio stations have been developed to provide market price information to farmers. These applications centralize market information from a number of complementary sources, including access to expert analysis of the market, comparisons of prices in different regions and provide a history of market price trends over periods of time. This helps farmers to improve marketing logistics and reduce transportation costs. It increases profitability by facilitating the farmers capacity to organize themselves into groups to achieve leverage economies of scale. Aggregation of produce by farmer groups results in the marketing of larger volumes, which can improve access to bulk buyers and increase collective and individual profits. These ICT tools help farmers to gain greater control over their product sales by finding new sources of demand; improving product quality to meet market conditions; and to cut out intermediaries by selling directly to large-scale buyers, traders and processors.11
2A) M-Farm
M-Farm provides up-to-date market prices via an app or SMS, direct to farmers.  Farmers simply send a short code in order to get information pertaining to the retail price of their products, buy their farm inputs directly from manufacturers at favorable prices, and find buyers for their produce. It also allows farmers to know when to plant using the price trends provided by M-Farm.12


Figure 2: M-Farm Monthly price trend of tomatoes in Kenya as of 08/28/2017
2B) Esoko
Esoko uses web and mobile technology to provide farmers with valuable information on: quality inputs to be used, growing crops better, where to sell and at what price. The platform helps to connect the businesses among input suppliers, mobile operators, financial institutions and buyers to gain information on what's happening on the farm and to know their customer.13
2C) Radio
As of January 2017, the radio was the most used ICT tool (33.3%) by local rice farmers in Kenya to obtain information on input market prices.14
3) Community groups/news sharing
For farmers to adopt new agricultural methods or other external information involves a process of integrated learning, participation, evaluation, and validation. By being transferred horizontally, generic knowledge can be made more location specific and encourage self-directed, sustained learning among rural communities. ICT solutions facilitate space for community groups to share news and knowledge. In some cases a representative in a community is elected who can share information they receive from their sources/intermediaries to the rest of a group, or else farmers can form their own individual groups where they share information between themselves.
3a) Wefarm
Founded in 2015, Wefarm is the largest farmer-to-farmer social media platform where farmers can learn from each other regardless of where they are located. A farmer asks a question about his farming and another farmer who has had a similar experience can help them by providing an answer. So far it has one million registered farmers who have generated 1.5 million questions, 2.6 million answers and 129.2 million messages shared. Kenyan farmers are among the most active Wefarm users. In 2017 Wefarm partnered with Heifer International (a non-profit working to end hunger and poverty with sustainable agriculture and entrepreneurship) to further extend their services.15
3B) Youtube
Farmers can access postharvest information through dedicated YouTube channels for farming such as Shamba Shape Up and Farmers' TV Kenya. The video format provides a comprehensive pool of expert advice that provides viewers with an up-close, real-life perspective of various farming methods.
3C) WhatsApp and other social media
WhatsApp is a widely used ICT tool in Kenya for communication between farmers and agricultural officers. Farmers form or join relevant WhatsApp groups and share information on agricultural practices that can improve the durability and quality of their produce. With the high penetration of mobile internet in Kenya, other social media platforms such as Facebook, Twitter and YouTube have gained traction in usage with most agricultural organizations having accounts where they engage farmers. This has proved to be very effective and many youths have gained the courage to join/start agricultural ventures due to influence from these social media tools.
4) Financial services
Beyond disseminating knowledge, some ICT solutions are also helping to provide farmers access to financial services including credit, insurance, savings, as well as non-financial services like training and market access support. Farmers use financial services to purchase inputs and expand the commercialization of their produce. The global demand for smallholder agricultural finance is estimated to be US$450 billion and only 22% of rural populations in low-income countries have formal bank accounts. The reason for the gap of financial access is attributed to the difficulty for financial service providers to penetrate and reach out widely to small scale farmers in rural areas. ICT solutions close the gap and increase financial inclusion because digital finance providers can reach large numbers of people in remote areas with services that are secure, fast, cost efficient, and transparent. There is immense potential growth in digital financial services to accommodate the needs of the large number of small entrepreneurs.16
In a report on "Mobile Payments: How Digital Finance is Transforming Agriculture" Lee H. Babcock reviews case studies on Smartmoney – Uganda, NWK Agriservice – Zambia, and Rice mobile finance (RiMFin) – Ghana to assess how the technologies were adopted within the rural communities. Financial service providers often offer incentive to farmers to use their services by providing information on good agricultural practices for pre-harvest, harvest, and post-harvest of their crops. The consultation benefits both the farmer and the financial service provider because it increases chances of a good return on investment.16
4A) Mobile phone based financial services: SmartMoney, Zoona, M-Pesa, and others
SmartMoney and Zoona are digital savings and money transfer systems operating in Tanzania/Uganda and Zambia/Malawi/Mozambique, respectively. The businesses developed out of the need for rural, unbanked people to have access to secure, affordable, and accessible savings and payments. Both services replace cash with a customized digital value that is transferred using a mobile phone. The frameworks impact smallholder farmers because payments for crops between large agribusinesses and intermediaries, and intermediaries and the smallholder farmers, can be made entirely using the digital currency. M-Pesa is a similar service that was developed by mobile network operators Safaricom and Vodacom in Kenya and Tanzania, but in addition to money transfers they also do financing and micro-financing.17 In more recent years mobile network operators in many African countries have started to provide similar services such as MTN Mobile Money and Airtel Money in Uganda. Safaricom recently launched a new financing and educational platform called DigiFarm that targets the agriculture sector and received 74,000 registrations for the pilot phase.18
4B) Juhudi Kilimo and Salesforce
Juhudi Kilimo (JK) provides asset-backed loans to more than 20,000 Kenyan smallholder farmers to give them access to high-quality and productive agricultural assets along with finance and business training. JK offers loans at a 35% declining interest rate for a time period of 36 months for groups of farmers with a minimum of 15 members.19 Group lending limits risk and results in a 95-97% on-time payment rate. Loans can be used to finance horticulture projects, dairy, micro businesses and poultry. Juhudi Kilimo uses the Salesforce Mobile App along with Sales Cloud, which allows loan officers to track, capture and store real time data on their tablets.20 A key competitive advantage offered by JK is the processing of loans within 6 days, increasing client satisfaction. Clients can directly communicate to JK head office via Echo Mobile, an instant messaging platform. JK uses the system to send instalment reminders to reduce the percentage of late payments.19
4C) ACRE Africa: Bima Pima
ACRE stands for Agricultural Climate Risk Enterprise Ltd. and are registered as an insurance surveyor in Kenya and insurance agent in Rwanda and Tanzania. As a part of the insurance value chain, they provide coordination between stakeholders such as local insurers and the organizations insured on behalf of the farmers. They also develop tools that survey the risk levels of weather on crops using GIS and remote sensing that they use to determine insurance indexes and verify when a damaging weather event has occurred.21
4D) Other financial ICT platforms
Other existing financial platforms include: Mobis by Ensibuuko, Musoni System, and Agritech (Farmer mobile wallet). These solutions help smallholder farmers to mobilize credit through savings and credit societies, or by connecting farmers directly with funding organizations and investors. Another is Farmdrive, a financial service that provides M-Pesa loans and also record keeping tools that can serve as a credit rating for smallholder farmers. Fundraising from the general public via ICT platforms, dubbed "crowdfunding", is also penetrating the African agricultural sector. Operated notably through internet platforms such as Kiva, this practice is emerging as an innovative alternative modality to mobilize agricultural finance.22
5) Logistics and Supply Chain
Smallholder farmers generally own small dispersed pieces of land and therefore it becomes a challenge to transport their produce to market and find sellers interested in purchasing their products. With the use of mobile technologies to manage multiple contracts, payments, and receipts, agribusinesses are now able to cut down on time and transportation costs which is making them more willing to work with remote farmers. In addition, ICT interventions can allow farmers to form virtual groups and help synchronize logistics of collection, aggregation and delivery by setting out organized collection routes, assembling produce of multiple smallholder farmers, and delivering them to large traders.11
5A) Akili
The Akili Model is a project that enables spinach farmers to sign a contract with Akili for supply of spinach giving them an opportunity to have a guaranteed year-round market for their produce. Akili then processes the spinach and sells it to a buyer in the United States. Farmers are grouped in clusters and a representative is elected to serve as a point of contact with Akili.23
Through the use of mobile technology, Akili has seen a reduction in administrative costs while still effectively and closely engaging farmers. Most of its transactions are cashless including payments to the farmers. Akili offers agronomic support to its farmers by collecting data such as farm location, soil composition, input usage, yield, and purchases.
Akili's business model addresses all the components in a value chain to address inefficiency, production accountability, economies of scale, credit (funding) and facilitate value addition. Each of the components is coordinated by a specialized social venture that works with or through communities.
5B) Meza Shamba
Meza Shamba is an online agricultural produce logistics service that sources farmers produce for restaurants across East Africa. Meza Shamba has partnerships with logistics companies and uses USSD, a web application, and an android application to process payments and provide communications. Farmers can post their available product in the farmers portal, and buyers have the option to purchase the produce online instead of dealing directly with the farmer. The company also offers market analysis to determine what kind of produce is in demand.24
5C) MoBFIT
MoBFIT is a Ugandan startup that connects smallholder rural farmers to buyers in the market using GMS supply chain software with SMS and automated voice calling. It allows farmers to send text messages with information about their produce to a short code, the system then generates a unique identification number for them, and then receives offers from buyers filtering the highest bidder for a particular produce. The produce is then delivered to the highest bidder after harvest. The farm locations are mapped by GPS, which benefits small scale farmers because produce can be pooled based on communities, districts and regions. MoBFIT is accessible to farmers who do not have smartphones. Income is generated through sales commissions and advertisements on the platform and subscription fees. The company plans to expand into Rwanda and Kenya.25
5D) SokoNect
SokoNect provides a similar service as MoBFIT but serving Kenya. It seeks to eliminate the middlemen by allowing farmers to advertise their produce on their platform and sell directly to buyers. The farmers can choose whether to deliver the produce themselves or take advantage of SokoNect's transportation network.26
Discussion
ICT solutions are being increasingly integrated in all segments of the agriculture industry, and specifically at the postharvest stage to address the challenges of stock, marketing, sale, and delivery of farmers produce. ICT holds many potential benefits to smallholder farmers that include increasing productivity and quality of produce because of access to information and record keeping, access to daily market prices leading to competitive prices for crops, access to finance, microloans and crop insurance via mobile banking and digital financing, and more direct contact with buyers and procurement streams. In Africa, the strategic application of information and communications technology (ICT) to the agricultural industry, the largest economic sector in most African countries, opens vast untapped potential for farmers, investors, and entrepreneurs to improve efficiency of food production and consumption.
The platforms outlined in this report show how entrepreneurs are using ICT to develop profitable services that fill gaps in the market and can have positive social and economic impacts. There are still many challenges that they face in scaling up and operating sustainably including poor regional infrastructure, low literacy rates, and limited internet access (CIPESA). While some applications use basic phones with SMS, others require user training to make the jump to more complicated smart phone applications. Smart phones are more expensive and need to be charged more frequently requiring access to electricity. Mobile internet also remains too expensive for low income populations.27 Another important part of growth in this sector is the development of government policies and laws around security, data protection, and privacy, all which play an important role in e-commerce. Government agencies and organizations need to work together to form standards to guide growth and ensure that work is progressive and not replicated, and that ICT can ultimately be of benefit to smallholder farmers and not only those who already have resources.
Supplemental Data
More example of post-harvest ICT solutions in agriculture
References
Accenture. (2015). Digital Agriculture: Improving Profitability. Accenture
Maru, A., Berne, D., De Beer, J., Ballantyne, P., Pesce, V., Kalyesubula, S., Chaves, J. (March 2018). Digital and Data-Driven Agriculture: Harnessing the Power of Data for Smallholders. Rome: Global Forum on Agriculture Research and Innovation.
Reeve, S. Data4Ag: Profiling presents opportunities for smallholders. CTA Spore.
Awuor, F., Raburu, A., Onditi, L., and Rambim, D., (2016). Building E-Agriculture Framework in Kenya.
Geotraceability. Projects.
Stienen, J., Bruinsma, W., and Neuman, F. (2007). How ICT Can Make a Difference in Agricultural Livelihoods. The Commonwealth Ministers Reference Book.
George, T., Bagazonzya, H., Ballantyne, P., Belden, C., Birner, R., Castello, R., …Treinen, S. (2011). ICT in agriculture: Connecting smallholders to knowledge, networks, and institutions (English). Washington, DC: World Bank.
Grow Africa Smallholder Working Group Briefing Paper: Information and Communication Technology (ICT).
Nzonzo, D. and Mogambi, H. (December, 2016). An analysis of communication and information communication technologies adoption in irrigated rice production in Kenya. Journal of Education of Research. 4(12), 295-316
Babcock, L. (2015). Mobile Payments: How Digital Finance is Transforming Agriculture. Technical Centre for Agriculutural and Rural Cooperation ACP-EU (CTA)
Grow Africa Smallholder Working Group Briefing Paper: Information and Communication Technology (ICT).
ACRE Africa. Bima Pima.
Summers, J. Agriculture finance: Crowdfunding the farm. CTA Spore.
Business Fights Poverty. (Wednesday July 25, 2018). From Produce to Profits: How Mobile Technology is Strengthening the Livelihoods of Spinach Growers.
Web Foundation. (2017). What does it cost to purchase broadband data in developing countries?