About this Webinar: 
This Webinar explains the lessons learned from an initiative to bring connectivity to rural Zambia, using a collaborative approach. In particular, it focuses on engineering Internet services that have been implemented in rural Macha, located in the Southern Province of Zambia. The village is connected to the Internet and integrated engineering within a holistic and respectful vision based upon developing the potential of the local community, whom plays the leading role towards sustainable progress.
Overall the approach appears successful and is now being scaled up to more villages in Zambia. Macha itself evolves into a center of expertise with training, talent development, innovation and experimentation in the fields of engineering, agriculture, alternative energy, appropriate types of entrepreneurship, and novel approaches in ICT fitting the African context.
Connecting rural communities in Africa is quite a challenge. Communication and energy infrastructures are lacking. Connectivity through satellite links are extremely expensive. Connectivity appears to be a powerful tool to empower the local community to guide their own progress. In addition, two valuable additional effects are mentioned. First, Internet can help to preserve and share the cultural heritage. Second, communities in rural Africa become part of and thereby enrich the global community.
This presentation describes the approach taken, the obstacles encountered (logistics, finance, durability of equipment in harsh conditions, regulation issues etc.), the lessons learned as well as the plans for next steps.
Presenter: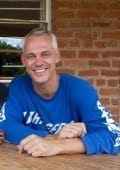 Gertjan van Stam is a professional with broad management, start-up and strategic management experience. He has international experience in telecoms industry, using analytical and conceptualization skills, plus his results focus and hands-on approach. In addition, he has strong interpersonal skills and broad networking experience. Gertjan earned his engineering degree in wireless communications. He has lived in Belgium, India, Netherlands, Swaziland, and Zimbabwe with his current residence in Zambia. Gertjan is the initiator and innovator of LinkNet, incorporated, in holistic rural community, sustainable progress cooperative organisation Macha Works.
Want to learn more about Gertjan's work? Check out the following IEEE resources in which his career is highlighted:
Macha Works
Macha Works brings together a broad coalition of partners in the North and the South, whose aim is to inspire people in rural communities to reach their collective and individual potential. It does so by engendering local talents to take reigns in their communities and be leading towards sustainable progress. The three key ingredients of the Macha Works approach are: 1) Internet connectivity, 2) Local talent in the driver seat, 3) Scalable solutions that work in rural areas.
Macha Works Video on YouTube: