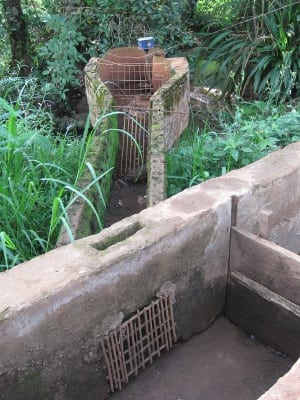 This is the first story in our coverage of the US Environmental Protection Agency's P3 grants, selected from the group of six collegiate teams that won up to $75,000. Their projects improve health and livelihoods, and exemplify real engineering for change. For more P3 coverage, see below.
Before May of 2010, the people of Bangang, a rural village in Cameroon, had built four hydropower turbines and started a fifth before they realized they might need some help. The turbines produced less power than the builders had anticipated and proved hard to maintain. A year later, only two of them still work.
The generator problem crossed the desks of professors at Purdue University in West Lafayette, Indiana. They sent a team of engineering students to Bangang last year to prod the turbines, ask people questions, and figure out a fix. There was no fix, the students decided. So they have undertaken to build a new cross-flow turbine with the community's help. (Related news: A call for prototypes of a new floating generator design.)
As part of their work, and maybe the most important part, the students will shoot video of the build and create a manual for turbine construction and repair in French and English. For that proposal, the students won $10,000 as a P3 grant from the US Environmental Protection Agency. The grants are to collegiate teams with winning solutions for a "sustainable future," the P3 site says.
Cameroon's hidden makers
We first heard about Purdue's project when the EPA awarded its grant in April of this year. We thought that would be the story, that students are building a turbine in a Cameroonian village and plan to leave instructions for building more. That might have been enough—it's inspiring and full of good ideas. But we soon realized that there are two stories here. The other is about an amazing community of Cameroonian makers. They leaped blindly into turbine engineering and, in a way, they succeeded.
Without training or working schematics, Bangang's DIY enthusiasts built makeshift turbines from both scrap and new parts. They felt their way in the dark along with a Cameroonian organization called the African Center for Renewable Energy and Sustainable Technology (ACREST), which lent some of the impetus and funding. Together, ACREST and the Bangang builders assembled components guided only by photographs, or, in one case, the manufacturer's directions. And the turbines worked, sort of.
"They did a pretty good job trying to make the turbines, but they were not tapped into any engineering skills," says Klein Ileleji, the Purdue agricultural and mechanical engineering professor who heads the school's project in Cameroon.
A plague of problems
The problems mounted. Welds around the oil drums that they had pieced together to channel water from the river into their turbines leaked. Last year, two of the turbines worked, but only until they didn't. The community had assembled them from imported parts, and when they broke, repairs were either a long time in coming. Or impossible.
Another turbine was a paddle wheel used to mix cement. The fourth, and fifth in progress last year, were cross-flow designs that pour water over blades on a horizontal axis. Two kinds of problems hobbled them. First, the dimensions were off. The builders had used photos as their plans, so they had to eyeball the measurements. Second, the builders had no computer models or tools to analyze their work, so they slogged through a process of trial and error.
"They are very good at keeping machines working," says Alejandro Lara, a Purdue engineering student who visited Bangang in May of this year. "But they don't have the technical knowledge to create new technologies, and that is were we come in."
A uniquely Cameroonian turbine
The US students have designed a uniquely Cameroonian DIY hydropower generator. Their 150kW cross-flow turbine is made from parts found locally in Cameroon. It costs $431.52, plus labor and the price of the penstock, the oil drums that deliver water to the turbine. Importantly, because it's made from locally-sourced and affordable parts, maintenance should be cheap.
The students plan to work with the Bangang community to build and shoot video of the turbine next year. When they're finished, Cameroon's future self-made turbine engineers will have a French instruction manual and video tutorials on their phones.
"The key to the project is education," Austin White, one of Purdue's engineers who traveled to Bangang last year, told E4C in an email. "If that is accomplished, the community and surrounding areas will take a major step forward, gaining electricity and also the means to generate it for themselves."