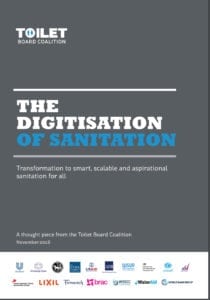 The mobile phone boom of the last decade has given rise to the often-repeated fact that more people worldwide have access to a phone than to a toilet. The statement is usually meant to be jarring as a juxtaposition of two very different things. But a new report by the international Toilet Board Coalition suggests that they might not be unrelated, after all. Phones may have a place in solving the sanitation problem.
Putting the numbers another way, 2.4 billion people lack access to improved sanitation, but 95% of them are covered by a mobile network. Those statistics open an essay by Areef Kassam, head of M4D Utilities at GSMA, the global mobile operator trade association. Mobile coverage of people without toilets implies opportunities for sanitation services.
"Although mobile is at an early stage of integration in sanitation, the sector can already benefit from mobile to improve the efficiency of its value chain: for example, provide financing solutions for affordable toilets and/or emptying services; and collect reliable data on usage and operations to identify gaps and inform policy decisions," Kassam writes.
"Although mobile is at an early stage of integration in sanitation, the sector can already benefit to improve the efficiency of its value chain," – Areef Kassam, M4D Utilities at GSMA
That point is one of the report's key findings. And it is already happening. A top-level view of the report reveals some interesting insight what is possible in sanitation with mobile technology now.
Mobile technology in sanitation: What is possible
Sanergy, a sanitation venture in Sub-Saharan Africa, has partnered with SweetSense, a low-cost remote monitoring technology enterprise. The result is a network of waterless toilets in urban slums that tell Sanergy's waste collectors how full they are.
That is one of the brief case studies mentioned in the Toilet Board's report. In another example, Loowatt is developing an ICT platform and mobile application that streamlines collections in homes in Madagascar.
"The sanitation sector is just picking up speed in terms of its integration and adoption of mobile technologies, but there are two key starting points for many of the entrepreneurs we speak with – mobile payments and customer relationship management (CRM) systems," Alexandra Knezovich, Program Manager at the Toilet Board Coalition, told E4C. "Both technologies have the potential to quickly transform the capacity and efficiency of a small business, and we are seeing fabulous results for the entrepreneurs, and their teams, that prioritize these opportunities."
Does it work?
It is clear that sanitation ventures are using mobile tools in their work. But is it really effective? As a litmus test of the concept, we turned to Jason Kass, head of Toilets for People and an E4C Contributing Editor. Kass has written about practical toilet design and showed us a pictorial day in the life of a team building toilets in villages in the Amazon River basin in Peru. He is supportive.
"Mobile and digital applications make waste logistics easier and will increase the efficiency and profitability of toilet service providers," Jason Kass, Toilets for People
"I would say mobile/digital applications could help toilet service providers like SOIL, Sanergy and x-runner. They can help optimize the coordination of waste pickup in urban areas by informing them when containers are close to full. It makes waste logistics easier and will increase their efficiency and profitability," Kass says.
The toilet is no longer the product
The word "waste" is set aside in quotation marks throughout the report, followed by the term "toilet resources." Indeed, "toilet resources" is the sanitation activist's term of choice for what goes into and comes out of a toilet. In the push for a circular economy, human waste can have value if it is processed. It can create biogas and compost. And in the future it might be able to provide instant health information pushed directly to a user's mobile device, the report suggests.
"We have seen technology transform industries again and again, and sanitation will be no different. We are nearing a tipping point for de-centralised (non-sewered) sanitation systems playing a vital role in the circular economies and health of their communities. As we all move to a platform and ecosystem economy, I think we need to move away from seeing the toilet as the product and instead see the toilet as the tool and the services throughout the entire sanitation value chain as the product," Knezovich says.
More toilets now than ever before
We may also be nearing a tipping point for access to improved sanitation.
"In this decade we will install the most toilets and sanitation systems in a single period of time in human history," Madhu Rao at Unilever, Mauricio Troncoso at Kimberly-Clark and Cheryl Hicks at the Toilet Board Coalition write in their foreword. "It would be a shame if this massive change in sanitation access and usage was not smart, and resilient into the future… The digitization of sanitation is not something for the future – it is something that we need to seize today."
See the report: The Digitisation of Sanitation (pdf)