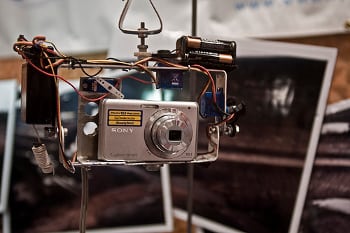 Updated November 25, 2014 – To help you get your ideas from paper to prototype and out into the world, we're rounding up a list of awards for clean tech and sustainable, humanitarian design. For more funding sources, see our list of grants for humanitarian technology projects.
We'd like your help in expanding this list. Please let us know about contests and funding opportunities that we missed by leaving a comment below. We'll add them as we update this list.
Dell offers more than $350,000 (USD) in prizes to university students worldwide to develop their social innovation projects. In 2013, first place will take $60,000.
Past winners include Essmart, a distribution network that stocks rural stores in India with solar lights and other technologies that can improve the quality of life among the country's rural, impoverished communities. And another notable winner is the Humanure Power Project, which builds community toilets in rural India and processes the waste to harvest methane gas and generate electricity.
Apply by January
Multi-disciplinary innovation teams work with organizations in the global health community to pinpoint problems and solve them to improve the delivery of health services to the developing world. The teams compete for prizes of up to $5000.
Apply by February
The Italy-based Academy awards several yearly prizes to scientists and engineers working and living in developing countries. Awards include eight prizes of US $15,000 to professionals in agriculture, biology, chemistry, earth sciences, engineering, medicine and physics who have been working in a developed country for at least 10 years; three awards of E7,000 offered in partnership with Microsoft to three young computer scientists in Africa whose research has positive potential on development; and another series of awards directed at scientific research organizations in developing countries including $100,000 for the TWAS-Lenovo award winner in mathematics.
Rolling application deadlines
NASA Tech Briefs magazine founded the Create the Future design contest in 2002 to award innovation in engineering. Teams compete for $20,000. One of the categories that might interest E4C members is sustainable technologies.
Application deadline to be announced
The ASME Innovation Showcase (ISHOW) is a global competition for hardware-led ventures. ISHOW focuses on the design and engineering journey of taking physical products to market. Specific focus is on "social innovation," that is, solving social and environmental issues through enterprise. Applications are accepted worldwide and select finalists are brought to their nearest showcase (current locations include USA, Kenya and India), where engineering experts will provide feedback and award 3 winners up to $50,000 in cash prizes.
Application deadline to be announced
The Tech Museum of Innovation offers the Tech Awards with prizes of $75,000 and $25,000 to winners in each of five categories: Education, Environment, Health, Economic Development and Young Innovator (under age 27). The competition is open to individuals, businesses and non-profits worldwide.
Apply by May 1
The Odebrecht Award for Sustainable Development
The Odebrecht Organization, an international engineering and construction services firm, offers sustainable development awards to undergraduate students at accredited universities in the United States, Brazil, Peru, Venezuela, Panama, the Domincan Republic and Angola. In the United States, the awards total $65,000 for papers on new sustainable building techniques, chemical processes, alternative uses of sustainable materials and so on. Check the site for details on the US award and links to information on the awards in the other six countries.
Apply by May 31
MIT has opened its competitions up to the non-MIT world, sort of. One-third of each team must be comprised of full-time MIT students. The Innovation, Development, Enterprise, Action, and Service (IDEAS)competition offers up to $10,000 per team each year for projects that solve problems in impoverished communities. The MIT Global Challenge offers up to $15,000 in prize money to teams with projects that can make a difference. The two contests accept proposals on the 5th of each month from October to March. See the site for registration details.
Apply by May
Every two years, 20 colleges compete to design and build a solar-powered home. The trick is to make the homes both affordable and stylish.
To apply, teams of college faculty and students submit proposals to the DoE for review. If you're interested in a future decathlon, apply here.
The next Decathlon takes place in October, 2015
The US EPA's P3 competition has two phases of awards for collegiate teams. In the first phase, winners receive $15,000 to develop their ideas and showcase them at the National Sustainable Design Expo in Washington DC each April. The most promising projects selected at the expo receive up to $90,000 to push their designs through prototype phases and into the market.
See our coverage of past P3 winners:
Promising new tech for developing countries at the Sustainable Design Expo
Cameroonian tinkerers are getting schooled in DIY hydropower
Bone-char filters block arsenic at the faucet
How to make green-energy education affordable
Apply by: Request for applications opens each Fall
Dassault Systèmes launched its "If We Challenge," named for the first two words that start a sentence explaining a solution: "If we do X, then we solve Y." Winners can receive up to $15,000 in prizes from Dassault Systèmes for sharing their ideas.
Apply by August 10th
The University of St Andrews in Scotland and ConocoPhillips present the annual St. Andrews Prize for the Environment, which awards teams from the around the world for their environmental conservation work. Examples of projects can include urban regeneration, sustainable development of the Amazon rainforest, recycling, water issues, renewable energy and others.
Apply by: To be announced (2013 application period ended Oct. 31, 2012)
The UN Economic Commission for Africa and the African Innovation Foundation award African innovators and entrepreneurs. Awards go for new products and methods for increasing efficiency or reducing cost. The prize is also designed to promote careers in science, technology and engineering, and business opportunities that contribute to sustainable development in Africa.
Apply by October
The Lemelson-MIT Award for Global Innovation supports technological innovation that improves the lives of impoverished people in the developing world. Eligible projects include those in health, shelter, energy, agriculture, education and ecosystem management. See the site for details.
Apply by November
GSMA mWomen in Design Challenge
Mobile technology programmers (or anyone else with the right skill set) compete to make the phone more useful and easier to use for women in impoverished communities. First place wins $20,000 (USD) and a meeting with potential investors, second place place takes $10,000, and the "emerging talent" winner, reserved for entrants from low- and middle-income countries, takes $10,000.
Apply by (estimate): December
Siemens Stiftung's worldwide contest awards appropriate technologies for developing economies. The winning innovations will be low-tech solutions that work using local resources. The contest will also build a database of inventions for anyone to use. Empowering People offers €200,000 in prize money for 23 appropriate technologies.
Apply by December 31st
The Building and Social Housing Foundation, a research organization in the UK, gives two awards of £10,000 each every year to support innovative housing solutions.
Apply by: Rolling deadlines (Apply here)
The US federal government is crowdsourcing solutions to improve its operations both at home and overseas. The government posts a challenge and pays tens of thousands of dollars in prize money to the people who have the idesa that can fix their problem. The challenges are unrestricted and open to the public. Search the site for current challenges.
Apply by: Rolling deadlines
The Bill and Melinda Gates Foundation awards $100,000 two times per year to projects that aim to solve the challenges the foundation has laid forth. Many of those challenges can have an engineering or a design solution that could interest the E4C community.
Apply by: Rolling deadlines
Tides presents the Antonio Pizzigati Prize for Software in the Public Interest, a $10,000 award to an open-source software developer whose work helps non-profit activists. Past Pizzigati Prize winners include Nathan Freitas and his Guardian Project, which is an assortment of mobile technology programs that help activists organize and campaign more effectively. And the 2011 Pizzigati Prize winner, Ken Banks, made mobile phone apps to support grassroots organization, from turning out voters to turning away predatory businesses, Tides reports.
Apply by: To be announced
Ashden gives awards for innovation in sustainable energy in the UK and developing countries. Since 2001, the organization has awarded more than 100 projects with £10,000 or £20,000 and access to a support network.
Apply by: To be announced (Apply here)
The Global Development Awards and Medals Competition recognizes innovation in research and development in the developing world. The organization has award $2 million since it began in 2000. Finalists win financing to travel to GDN's Annual Global Development Conference to present their projects and designs. There, they can compete for grants.
Apply by: To be announced