Creating a System for Inbound Dealflow of Affordable Housing Construction Technologies
Innovating in the construction industry is necessary to close the housing gap worldwide. Hometeam Ventures invests in and scales double-bottom-line startups that improve the construction life cycle by reducing cost, increasing speed, and improving quality, resulting in more adequate housing globally. An estimated 3+ billion people will be living without access to adequate shelter by 2030. Proper housing is a human right, and its absence negatively affects urban equity and inclusion, health and safety, and livelihood opportunities.
A breakthrough in building efficiency, affordability, and quality will be necessary to meet the world's housing needs. Startups are early-stage businesses with huge ideas, and they frequently demonstrate great innovation, they create a lot of jobs and introduce innovative goods and services that boost our economy. For these reasons, Hometeam Ventures primarily targets young pre-seed and seed entrepreneurs in the building sector. Hometeam ventures aid firms in ensuring that they have good "unit economics" – the revenues and costs connected with the fundamental components of the company's business model – in addition to providing financing to startups.
As more investors enter the market and several venture capital organizations are established with the intention of investing in building technology, it is crucial for the Hometeam ventures to identify these new businesses at an extremely early stage.
This project aimed to support Hometeam Ventures in streamlining their current processes for scouting potential construction technologies to fund that address affordable housing bottlenecks, inputting information into their database, technology and company vetting / due diligence, and tracking timelines. The goal of this fellowship project was to identify the best entrepreneurs that fit their criteria, which are firms in the construction and housing sectors headquartered in the United States who are actively seeking capital. The previous process involved searching through many platforms to select from over 300 million entrepreneurs worldwide formed each year before adding them to a database for interviews and funding rounds. This project identified ways to automate this process, better identify startups, and ensure new innovative concepts are not missed. Through this project, the process of collecting organizations' data is now accelerated and streamlined, allowing for data collection on 10 to 1000+ more startups in the time it would have previously taken for one.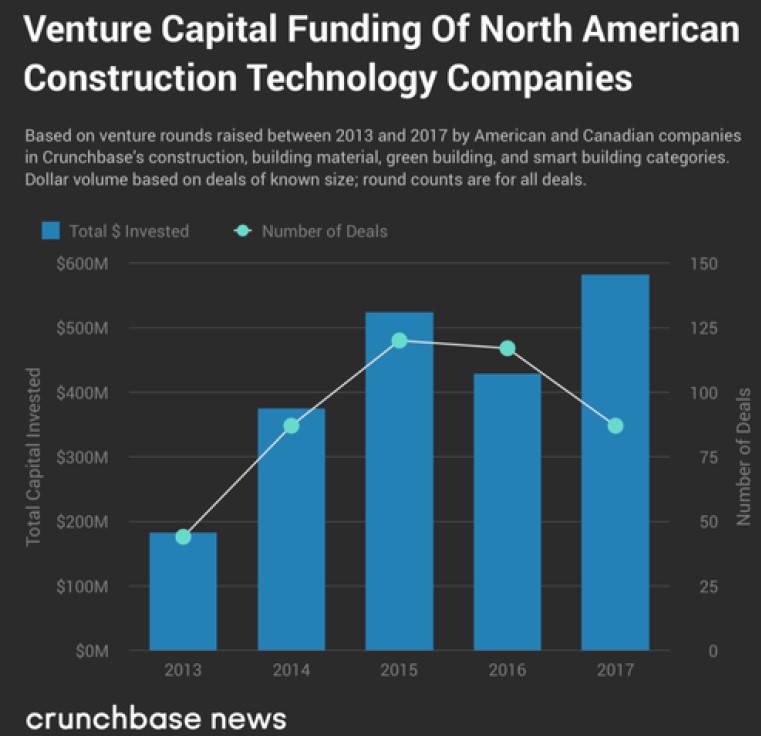 Statistics for Venture Capital Investment in Construction Technology, Attribution: Crunchbase news