Sanergy converts organic waste into useful agricultural outputs such as insect protein, organic fertilizer and briquettes. The goal for this project was to design an air handling system to provide optimum levels of fresh air in the controlled environment to larvae to maximize the yield of the final product.
The process uses larvae to convert organic wastes to quality agricultural output requiring larvae to be kept under a controlled environment in a greenhouse. In order to maximize the larvae production yields, ideal growing conditions are needed such as airflow and temperature. The team worked on providing insights into room air handling system configurations to manage airflow around the shelving. Airflow control is critical to managing ammonia and CO2. The task was further divided into Micro and Macro Climate in which the Micro Climate needed to be designed to provide fresh air to beds and the Macro Climate to achieve the required number of air changes per hour inside the greenhouse. Air changes help to control the ammonia levels in the greenhouse.
The team brainstormed ideas for different air handling systems considering the complexity for installation and operation, reliability, CAPEX, and OPEX. For the Micro Climate design, the team explored empirical data from published research in this field. For the Macro Climate design, the team used Autodesk workflows such as Fusion 360, Autodesk Inventor to build the CAD model of the shelving and greenhouse. Autodesk CFD was used to run simulations replicating the controlled environmental conditions of the greenhouse virtually. A combination of design, prototype, modeling, and iteration was used to propose the best orientation of the exhaust fan for an improved process.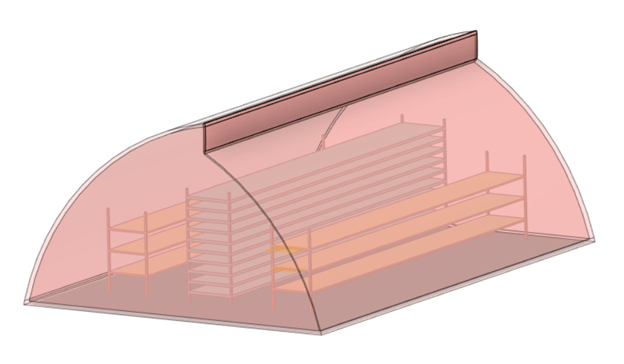 Figure: Greenhouse prototype
ADVISORS AND COLLABORATORS: Walid Kamal, Director, Kenya; Matthieu Desvignes, Construction Manager, Kenya; Nathan Kolibaba, Process engineer, Kenya; Patrick Nubuhoro, Process engineer, Kenya;  Maurice Bawarva, Mechanical engineer, Kenya; Tom Hagerty, Make product Specialist (Autodesk Inc.)
E4C 2021 PROGRAM MANAGEMENT TEAM: Mariela Machado, Senior Program Manager; Grace Burleson, Research Manager; Marilynn Holguín Clover, Program Coordinator; Jonathan Kemp, Program Associate