October 21, 2021
Aerial Release of Mangrove Seeds to Support Coastal Ecosystem Restoration
Region/Country : Europe / Middle East
contributor: Julian Krüger, Carolina Rojas
This engineering design project with WeRobotics is meant to feed into a high-level plan to implement drones for the reforestation of different mangrove species zones worldwide, the research aims to assist the development of an attachable mechanical system for mangrove seeds release. Mangroves are one of the top three carbon-capturing ecosystems on Earth but in recent decades forested areas have been reduced due to the shrimp aquaculture industry, indiscriminate felling, and climate change. Reforestation efforts have increased in many parts of the world, however, many species of mangroves grow in subtropical coastlines and estuaries that are often difficult to access for humans, and reforestation of large areas is constrained. Drones can be used as a tool to support individuals and local organizations in covering larger areas for mangrove reforestation and strategic planting, during a flight over afforestation areas a release mechanism can drop mangrove seeds in a distributed manner.
Through our collaboration with WeRobotics and building on their previous engineering efforts by the organization, we worked on the development of a modular design that can accommodate different types of mangrove seeds depending on the species requirement of the zone being afforested. For this project, we started by analyzing the current state of release system designs and interviewing key stakeholders to identify current problems faced when restoring mangrove ecosystems. Both activities allowed us to develop an initial list of key design requirements that we then used to determine design concepts. With our final design identified, we began an iterative process to test and refine our final design, a prototyping phase was conducted where mechanical components were 3D printed and actuators and sensors integrated to test the release mechanism. A final prototype was obtained and tested in a controlled environment.
In the future, the design we developed through this project can be scaled up to be integrated into WeRobotics drone-based solutions and tested under real conditions in an afforestation area. Technological tools such as aerial drones for afforestation can be an important ally to local and international organizations for successful and large-scale afforestation.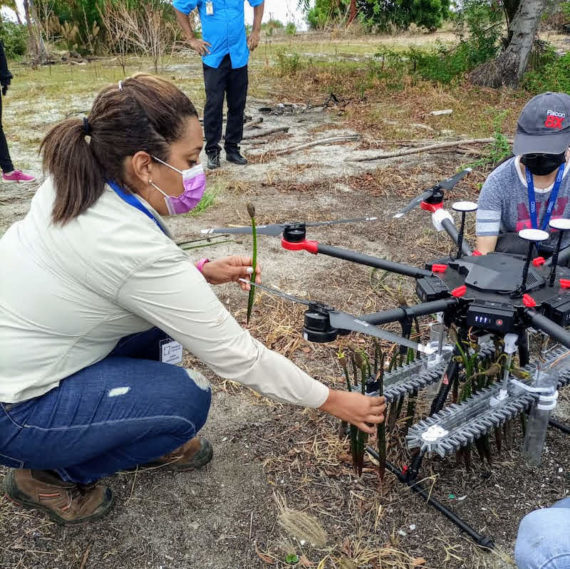 Figure: A WeRobotics drone with a payload box attached
E4C 2021 PROGRAM MANAGEMENT TEAM: Mariela Machado, Senior Program Manager; Grace Burleson, Research Manager; Marilynn Holguín Clover, Program Coordinator; Jonathan Kemp, Program Associate 
ADVISORS AND COLLABORATORS: Jürg Germann, WeRobotics, Switzerland
This research was completed as part of the 2021 E4C Fellowship program. Learn more about the Fellows who worked on this research collaboration by connecting with them on LinkedIn: Julian Krüger and Carolina Rojas.