October 26, 2021
From CAD to CAM: Streamlining Workflows for Custom Prefabricated Construction
Region/Country : North America
contributor: Alleluia Tito Maajabu, Charles Newman
The Autodesk partnership with BamCore sought to support the BamCore team by identifying and implementing software-based automation tools to further streamline the company's design to fabrication workflow. Based in California, BamCore was founded upon the goal of re-imagining the fabrication of our built environment towards a more cost-efficient and sustainable future. To achieve this, the Bamcore team employs a panelized structural load bearing bamboo system through a workflow that allows custom designs to be realized through an industrialized prefabrication process. This results in building packages that are fast and easy to assemble; and projects with a lower embodied carbon footprint than conventional construction systems.
The fellowship looked at specific moments in the workflow that were time consuming and could benefit notably from increased automation. Using Autodesk's Revit program and a third party fabrication plug-in, AGACAD, the development of shop drawings for field assembly and the categorization of timber components were identified as areas where automation could reduce time, cost, and human error. AGACAD's Smart Dimensioning tool proved particularly useful. Over the course of the fellowship, the tool was clarified and customized with precise configurations for BamCore's needs, which now speeds up the production of shop drawings by generating automatic dimensions for all elements within the panelized system. Additionally, the SortMark tool, previously unused by BamCore's team, was adopted and employed with appropriate configurations to suit Bamcore's needs. This tool now facilitates an automated process of marking and categorizing each timber framing component, guiding contractors in material placement and assembly. Both of these systems were packaged into educational materials that can support BamCore staff and further build the company's foundation of knowledge.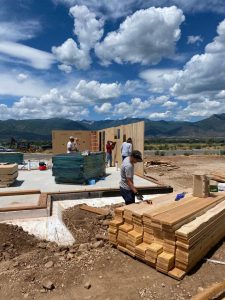 E4C 2021 PROGRAM MANAGEMENT TEAM: Mariela Machado, Senior Program Manager; Grace Burleson, Research Manager; Marilynn Holguín Clover, Program Coordinator; Jonathan Kemp, Program Associate 
ADVISORS AND COLLABORATORS: Brenden Morton, Director of Platform and Job Engineering
This research was completed as part of the 2021 E4C Fellowship program. Learn more about the Fellows who worked on this research collaboration by connecting with them on LinkedIn: Maajabu Alleluia Tito and Charles Newman.