October 21, 2021
CAD Modelling and Version Management of Electrolyzer Test Systems
Region/Country : North America
contributor: Kyla Strickler, Elizabeth Collins
The recent August 2021 IPCC report on climate change emphasizes that now, more than ever, climate action is needed to prevent devastating, irreversible effects on the planet. As a company, twelve is working to combat climate change through carbon transformation where they turn CO2 into essential products, such as jet fuel, to create a carbon neutral world.
The primary project during the summer collaboration with twelve was building a model of their CO2 electrolysis test system, using Inventor, to enable more efficient prototyping. This required modelling parts from specification sheets or dimensions provided by the on-site engineering team, utilizing pre-made models from manufacturer's websites when available, and assembling each component into a series of subassemblies. With each complete subassembly, the full test stand model continued to develop, leading to the final stages of this project: routing the plumbing and wiring. With help from the on-site engineering team and test stand documents, the flexible tubing was added and routed between the appropriate subassemblies using the Tube and Pipe feature in Inventor, and the wiring was added using the Cable and Harness feature. In addition to the test stand model, some smaller projects like creating a custom title block for technical drawings, custom part drawings, and mounts for a series of peristaltic pumps and a water filter, were also completed. To design the mounts, the engineering team went through a simple, iterative design process to brainstorm potential solutions, choose a design, create a prototype and test its feasibility.
These projects, in particular the test stand model, will contribute to more efficient prototyping in the future. The team can use the virtual models of the stand and each individual part to more easily design custom mounts, hold design reviews, assist in onboarding, and verify plumbing and wiring routing.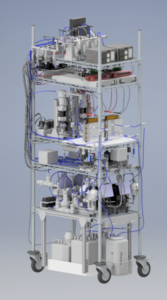 Figure: Full test stand model completed in Inventor
E4C 2021 PROGRAM MANAGEMENT TEAM: Mariela Machado, Senior Program Manager; Grace Burleson, Research Manager; Marilynn Holguín Clover, Program Coordinator; Jonathan Kemp, Program Associate 
ADVISORS AND COLLABORATORS: Austin Flanagan, Engineer, Twelve, USA; Ashley Eggart, Engineer, Twelve, USA; Dave Whittaker, Senior Engineer, Twelve, USA; Carter Haines, Director of Advanced Capabilities, Twelve, USA; Ted Myers, Engineer, Twelve, USA; Zoe Fiddler, Engineer, Twelve, USA.
This research was completed as part of the 2021 E4C Fellowship program. Learn more about the Fellows who worked on this research collaboration by connecting with them on LinkedIn: Kyla Stickler and Elizabeth Collins.