In the rural district of Sissala East in Ghana, small villages and hamlets are connected over long distances by poorly maintained dirt roads that make travel between them very difficult. The challenge of transport is therefore one of many barriers for locals to get access to adequate healthcare. Moving Health, formerly known as The Okoa Project, aims to provide emergency transport between villages and the local health centers, and the health centers and the central hospital in Tumu, Ghana. Moving Health's local team has manufactured several tricycle ambulance prototypes that service the district, and they are working closely with communities, community health professionals, and local partners to expand their impact. 
The work in partnership with E4C involved conducting field research to understand the local context and then documenting and modelling a version of the existing tricycle ambulance in Fusion 360 that combined the components that were working best for each of the built prototypes. In parallel to this work, a strategic document was developed to offer an outside perspective to the current operations of the tricycle ambulance service, proposing recommendations for how Moving Health may increase their impact and become more sustainable. The outputs from the Fellowship also include recommendations for best strategies to follow in the creation of a fabrication manual, to be used as a resource when their ambulance design is complete and ready to be manufactured at a larger scale. 
Moving Health will benefit from this work by using and building on the Fusion 360 model to further improve the design of their ambulance, and by consulting the strategic document as they further their work in Sissala East and other rural districts in Ghana.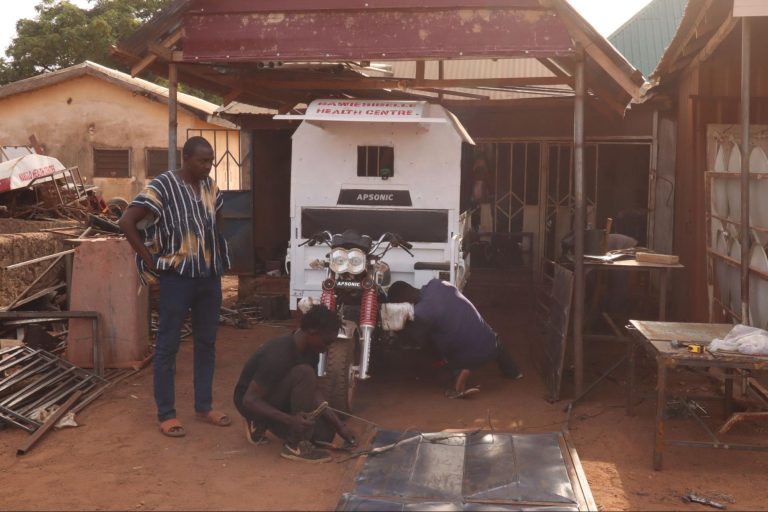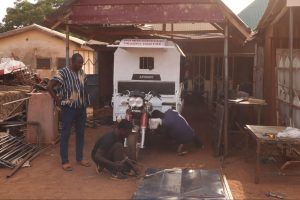 Figure: A rural ambulance design in Tumu, Ghana
E4C 2021 PROGRAM MANAGEMENT TEAM: Mariela Machado, Senior Program Manager; Grace Burleson, Research Manager; Marilynn Holguín Clover, Program Coordinator; Jonathan Kemp, Program Associate 
ADVISORS AND COLLABORATORS: Emily Young, Chief Executive Officer; Nana Damoah, Country Director, Ghana; Isaac Quansah, Chief Technology Officer, Ghana; Yahaya Basuglo, Program Manager, Ghana; Ambra Jiberu, Engineering Lead, Ghana; Sofianu Moru, Engineering Lead, Ghana
This research was completed as part of the 2021 E4C Fellowship program. Learn more about the Fellows who worked on this research collaboration by connecting with them on LinkedIn: Elisabeth Vitswamba and Sally Osafo.