December 8, 2020
Resilient Affordable Housing for Flood Risk Reduction: A Review of Interventions in Four Cities in East Africa
Region/Country : Africa
contributor: Julio Diarte, Sun Hwi Bang
EDITORIAL TEAM: Jen Ventrella, E4C Expert Fellow; Mariela Machado, E4C Program Manager; Grace Burleson, E4C Research Manager
PARTNER COLLABORATOR: Dr. Esther Obonyo, Pennsylvania State University
Click here to view the full report.
East African countries are highly susceptible to floods caused by extreme weather events and sea-level rise. In December 2019, the United Nations Office for the Coordination of Humanitarian Affairs (OCHA) reported that intensive floods caused by extreme weather events affected a total population of around 2.8 million people in East Africa. Further, OCHA recently reported that as of March 2020, roughly 1.3 million people were already affected by heavy rainfall, causing displacements, flooding, and landslides. And, institutions tracking weather patterns recorded the "highest amounts of rainfall in 40 years." Both historical precedents and recent events of widespread flooding and climate change related risks accelerate the need to implement disaster risk reduction strategies. The need is urgent especially in low-income settlements placed in flood-prone urban areas around Lake Victoria and cities on the coast of the Indian Ocean. The population is expected to rapidly increase in the next three decades in these regions, which are considered to be at high-risk for flooding and sea-level rise.
This report presents an overview of four selected East African cities (Mombasa, Dar es Salam, Kisumu, and Nairobi), highlighting key geographic features, current socio economic situation, and present challenges related to flood-impact in urban areas. Furthermore, the report presents and describes a list of different solutions/measures addressing the physical vulnerability of houses to floods. These actions are organized by intervention level including strategies applied by households to build more resistant houses or to repair their houses after floods, building materials characteristics, and other more enduring solutions such as public infrastructure provision and relocation. The report concludes highlighting systemic challenges and different issues faced at the building materials level, urban design and housing design level, planning and policy.
Figure from report: Factors affecting housing resilience in flood-prone areas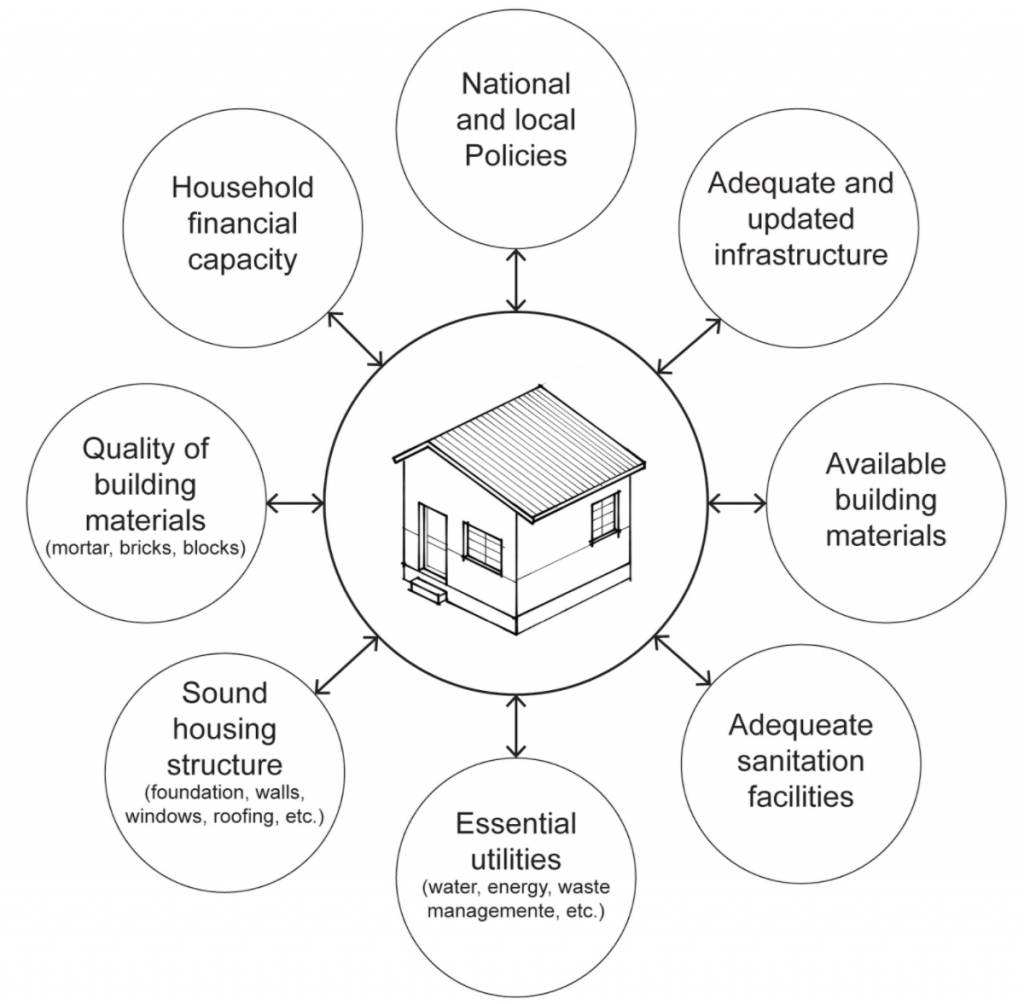 Click here to view the full report.
This research was completed as part of the 2020 E4C Fellowship program. Learn more about the Fellows who worked on this research collaboration by connecting with them on LinkedIn: Julio Diarte, Sun Hwi Bang, and Jen Ventrella.