As an international humanitarian response organization, Médecins Sans Frontières (MSF) is often confronted with the challenge of providing clean and reliable water supply to support its emergency, post-emergency and regular medical programs. The scale of these efforts often require the storing and distribution of water over substantial areas, making elevated water storage towers a vital piece of infrastructure. As site conditions vary and the supply/demand constraints are unique to each mission, this project sought to produce a catalogue of structurally-sound water towers that can be quickly consulted to provide appropriate, site-specific construction guidance.
In response to the numerous variables that shape the design of any water tower – from supply/demand, to soil bearing capacities, to wind loads and local seismic activity  – a Design Risk Matrix was developed which yielded 36 different design typologies across four delineated risk categories. Over the course of the Fellowship nine of these tower designs were produced along with their respective technical drawings and material quantities, forming the foundation of the design catalogue.
Running in tangent to the development of the designs, strategies for knowledge transfer and concerns for responsible use of the catalogue tool were also considered. Autodesk's Inventor iLogic has proven particularly promising in this regard. Using field-specific design constraints entered by MSF staff, iLogic can automate navigation through the design typologies and customize the sizes of structural members and connection details, culminating in construction drawings and material spreadsheets for a site-specific design. Further investigation and development of these systems through Autodesk's Forge platform will facilitate consultation of the catalogue through a standard internet browser, making it ideal for field-based implementation where a connection is available.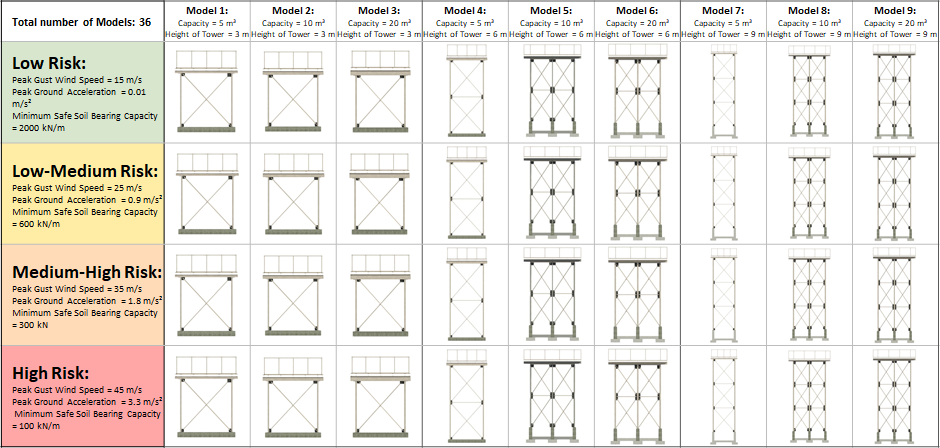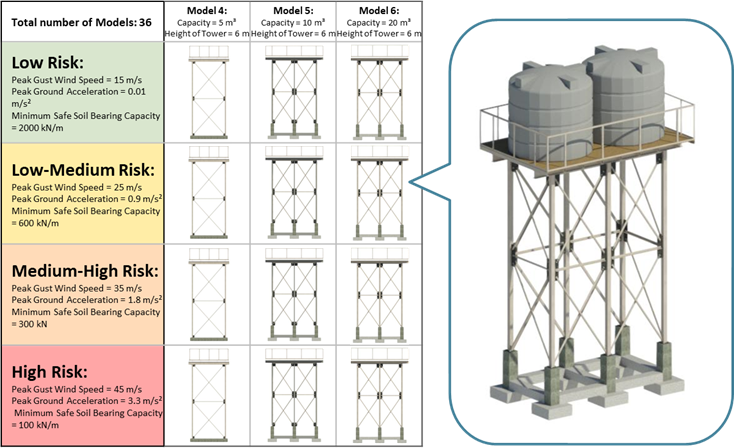 E4C 2021 PROGRAM MANAGEMENT TEAM: Mariela Machado, Senior Program Manager; Grace Burleson, Research Manager; Marilynn Holguín Clover, Program Coordinator; Jonathan Kemp, Program Associate 
ADVISORS AND COLLABORATORS: Paul Cabrera, MSF OCBA Construction & Shelter Advisor
This research was completed as part of the 2021 E4C Fellowship program. Learn more about the Fellows who worked on this research collaboration by connecting with them on LinkedIn: Sam Butterworth and Charles Newman