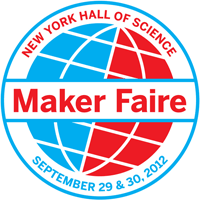 Go for the arduino robots and fire-breathing dragon sculpture, but stay for the life-saving global development projects. Amid the indisputably awesome gyroscopic see-saws and DIY motorized go-carts at World Maker Faire in New York City, there will also be projects that can do good in the lives of people who are lifting themselves out of poverty worldwide. This is our brief guide to noteworthy presentations you can expect to see at this year's Maker Faire at the New York Hall of Science September 29th and 30th. (See this short promo video for an interesting take on what to expect.)
Sustainable global development needs great makers. Look for E4C at the event, too, where we'll be sharing our work to streamline development projects and spur collaboration. Find us at the Make: Live Stage on Sunday, Sept. 30th at 5:30pm.
These are a few of the projects that we'll have our eyes on at this year's Maker Faire.
Infrared images from satellites passing overhead can help assess damages, guide rescue efforts and save lives after a disaster. These images can show water depths after floods, elevations on landslide-prone slopes, fault lines where earthquakes can strike, wild fire burns, the spread of oil after a spill and other data. It's all publicly available information, but it can be difficult to capture and analyze.
An MIT team is developing OpenIR, a tool to rein in all that free data and present it in a more understandable way. OpenIR will undergo its first field test in January in Indonesia. In the meantime, the team will present its prototypes at Maker Faire NYC. Their presentation will show how OpenIR's automated environmental data viewers can be integrated into do-it-yourself environmental sensors. We have our eyes on this worthwhile project and we hope to bring updates as they come in.
One thing the Internet has taught us is that almost anything you don't know is just a few clicks away. We don't carry around a stack of encyclopedias because we have a phone that can call up all of that information in the cloud. Now, robots are getting the same kind of upgrade. Cloud-connected robots can ask questions about whatever they don't understand and receive the kinds of data and instructions that they need to carry on. Not sure how to grasp an orange? The cloud can help out.
Robotics enthusiasts in the African Robotics Network are entering their designs for super-cheap, $10 robots that can help educate grade-school students. Ken Goldberg, professor of electrical engineering and computer science at Berkeley, will present some of the designs and announce the winners of the challenge at his Maker Faire presentation.
Green Amphibike
We love the bicycle at E4C and we've seen bike mods that turn the machines into knife sharpeners, water purifiers, latrine pumps and, now, a boat. Grant Becker, who is eight years old, is putting finishing touches on an amphibious bicycle that he'll display at Maker Faire this month. Working with his mom, Doreen, and his grandfather, Farel, who does the welding, Becker has tested a version of the amphibike on grass and in still water. You can see his test run in the video below.
The bike floats with the help of four boogie boards that fold up when on land and fold down when on water. The rear tire spokes are fitted with plastic fins cut from shampoo bottles to propel the vehicle in the water, and lengths of brake line help stabilize the boogie boards. The modification cost about $30 in materials. A more streamlined version could someday be sold as a kit to retrofit bicycles, Doreen Becker says. Grant imagines that this kind of vehicle could be useful in developing countries to help people visit families, get medical treatment or commute to places on the other side of a body of water. Grant is looking for feedback on how to improve the design and welcomes E4C members to see his presentation at Maker Faire.
Since before the advent of One Laptop per Child, the developing world has been looking for a super-cheap computer. Okay, the whole world has been on that search. Netbooks and then mobile phones look like they're hitting that sweet spot of price and power, but did you know that there's an even cheaper option? It's the graphing calculator. Texas Instruments' programmable TI-83PLUS is, at its core, a full-fledged computer. And it costs less than $20.
Christopher Mitchell and his site Cemetech show how to program the calculator, link several in a network, write your own software and even how to hack the hardware. Mitchell put a PS/2 port on a calculator so he can attach a mouse and a keyboard. He demonstrates it in the video. With a floppy drive, the calculator can play music. And Mitchell also built a glove as a calculator attachment that serves as a one-handed keyboard. These calculators are a cheap platform for teaching programming and hardware hacking. And with Cemetch, the instructions are free.