For its third year, Maker Faire Africa's change in venue marked a change in its character. The American University in Cairo hosted the event on a campus still steeped in the excitement and purpose of Egypt's political uprising. There were more students and sophisticated designs and fewer of the self-taught tinkerers and street-side artisans who dominated the event in the past. But there was no shortage, of course, of the outrageous creativity that pervades Maker Faires worldwide. The change this year is probably a natural evolution of MFA. It might also anticipate greater technological and economic shifts in the continent, but it is certainly a reflection of the event's location in Cairo this year.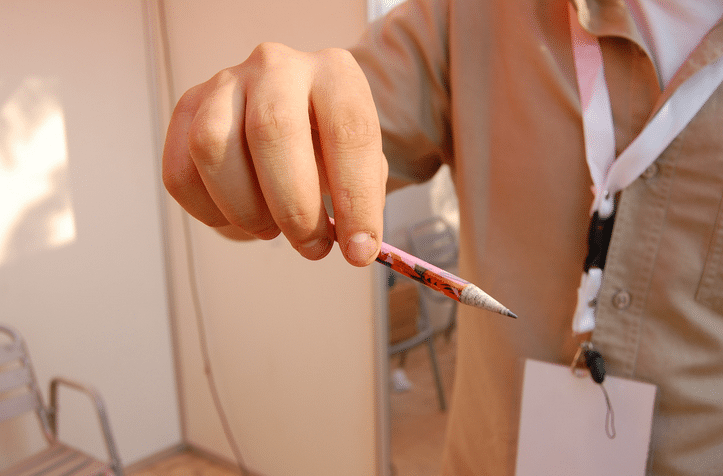 A pencil made with newspaper / E4C's Flickr photostream
Fifteen-foot photo mosaics of Egypt's 18-day revolution embellish plazas at AUC's New Cairo campus, where the makers gathered. More than 12,000 images combine to amplify their cathartic power.
"Maker Faire Africa is part of a movement, and there was a sense of ownership of that movement, and a sense of revolution that was the backdrop of the event," says Tom Loughlin, executive director of the American Society of Mechanical Engineers, one of E4C's founding organizations.
Nearly 100 makers displayed their jewelry, crushed-can-and-repurposed-parts sculptures, solar-powered traffic lights, a working model of a space-saving rotating parking garage, a home security system and other inventions.
"You could see the pride, the spirit of innovation and collective ingenuity coming out of this part of the world," Noha El-Ghobashy, E4C's president says. "The event was very content rich with auctions and music shows—it really stimulated your senses."
E4C's interactive workshop on product development was filled to capacity—about 30 people. It overflowed into a second breakout session and a third session the following day. Many of the attendees were software developers, and many were women.
Madiha Kotb, a boiler and pressure vessel regulator in Montreal, Canada, shared her expertise of years helping engineers in every stage of product development. Mark Grimes, one of MFA's co-founders, explained how to fund the development process, including how to pitch ideas to financiers. Osama Aboelezz, a product designer in Cairo, offered tips on turning an idea into a prototype. One suggestion: experience the problem that your product can solve in its context, Aboelezz says, and spend time living like the people who would use your product.
The Faire online
The gathering left digital tracks. E4C built a photo album of shots from the event on our Flickr page. Also, search #MFA11 for everyone's tweets, see photos and "Maker of the Day" updates on facebook, and Mark Grimes explains the importance of the connected community of pan-African makers in a blog post on MFA's site here.
"When you see it, you can just know that this is something extremely interesting," Emeka Okafor, one of MFA's co-founders, said about the maker movement on Nile International TV. "These individuals exist everywhere, even in the poorest parts of the continent, and we feel at Maker Faire that they should be the ones that society recognizes because they could provide resources that people could use to lift themselves up." See the video below for the full interview.
Africa is good for business
For Tom Loughlin, seeing Africa's maker movement first hand reaffirmed the opportunity that the continent holds for investment, education and future business. ASME's investment in E4C is its most important entry into humanitarian technology, Loughlin says, but ASME is exploring other ways to help spur development and invest in Africa's growing economies. Africa, he says, is good for business.
"This work is terribly important for us. We see it as an area of tremendous growth and a way to make ASME relevant in the future," Loughlin says.
MFA on Cairo's TV