We are in the age of near-constant innovation. From the latest smartphone models, to connected personal medical devices, to advanced mobile apps and services, new technology is hitting the market at record speed. But, while innovation appears to happen quickly, the reality is that each new product or solution takes many months, or even years of development, testing and reiteration before it comes to life.
The teams behind both startups have become experts on how to develop for the developing world, from learning to design small-scale medical technology to dealing with the difficulty of low-quality mobile phones.
However, for the developing and emerging world, it can become even more daunting. The process can be even longer and more challenging for scientists and developers who tackle building for the developing world. For example, the end users of their technology might live and work in places with inconsistent power, limited access to clean water and other necessary resources, unregulated temperatures, or inconsistent internet and cell service.
Two startups focused on social change, cerVIA and ENVenture, are quite familiar with the challenges of creating tech tools for users in developing countries. Both are winners of the Vodafone Americas Foundation's Wireless Innovation Project, an annual competition that awards grants to technology startups addressing critical social issues. The teams behind both startups have become experts on how to develop for the developing world, from learning to design small-scale medical technology to dealing with the difficulty of low-quality mobile phones. They've overcome the challenges to provide much needed services for the area in need.
Diagnosing Cancer via Mobile Phone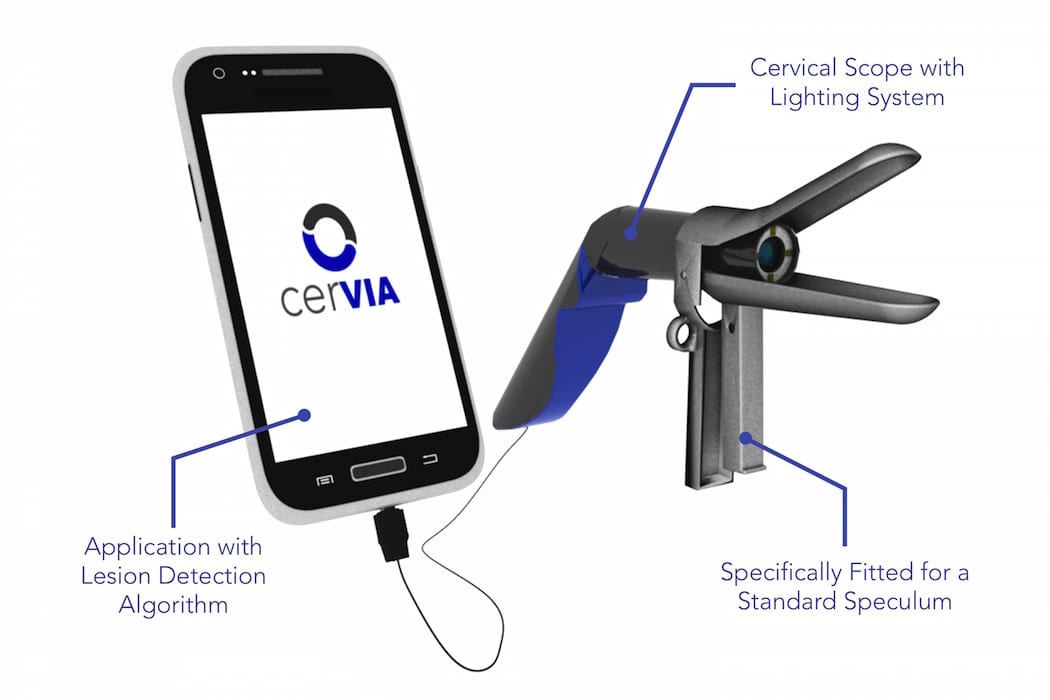 Cervical cancer is a devastating disease that affects entire families through the loss of mothers, sisters and daughters. It is one of the most frequently diagnosed cancers in women, especially in the developing world. The World Health Organization has found that in 2015, about 90 percent of deaths from cervical cancer occurred in low and middle-income countries. One of the major contributors to cervical cancer death is late diagnosis, as cervical cancer is a notoriously difficult disease to detect.
This is especially true in developing countries that may not have access to proper screening resources, like the large colposcopes that are traditionally used to detect cervical cancer. Because regular screening tools are not readily available, many clinicians rely on a type of testing called visual inspection and acetic testing (VIA), a process that has become popular because of its low cost. However, VIA testing is generally inconsistent, due to inadequate training and varying conditions in clinics. To address this, a team of researchers leveraged the use of mobile tech, which has become ubiquitous almost everywhere in the world. The technology they built, cerVIA, is an affordable, accessible and accurate cervical cancer screening tool that attaches to any Android device for easy use. The tool improves upon the typical VIA method by using machine learning to advance screening accuracy with each use.
cerVIA is also tailored to address the particular challenges of the environment and culture. When developing cerVIA, the team also had to take into account the difficulty of creating a small-scale, medical-grade prototype of their technology at a feasible cost. Throughout the development process, the team considered several printing and assembly options before they were able to build a complete prototype. Most importantly, they had to consider the cultural ramifications of their new technology, because no matter how great the product, if the cultural norms and taboos aren't considered, it just won't be used.
Envisioning a Brighter Financial Future
Worldwide, more than 2.5 billion adults live without access to formal financial services. As a result, they deal with cash-only transactions, which severely limits their opportunities for financial growth and investing. ENVenture, a non-profit based in Uganda has helped microentrepreneurs in developing communities gain financial status through programs such as inventory management and a very successful loan program. ENVenture came across a challenge – because most of their users and borrowers live and work in remote areas without consistent internet access, they were unable to collect data and track the impact of their programs and loans.
ENVenture created ENVision Mobile, an easy-to-use app that monitors sales data and manages and tracks business performance, ultimately helping to extend financial inclusion in underserved and emerging markets. The ENVenture team experienced unique difficulties in designing their product for the developing world. For instance, while smartphone adoption has increased rapidly around the world, the team found that the quality of the phones in emerging markets are often poor, creating the need for them to develop the app for devices that lack many of the features of a typical smartphone.
Technology development always comes with challenges, and those challenges are often multiplied for emerging markets. Through ingenuity and technical know-how, savvy developers, who are extremely good listeners, can create truly impactful applications, products and services that improve lives for underserved populations around the world.
---
About the Author
June Sugiyama is Director of the Vodafone Americas Foundation.