Larry Bentley and F. Andrew Dowdy are trying to solve the problem of refrigeration for off-grid communities in developing countries. With distinguished careers, an impressive array of projects, and close to a century's worth of combined experience in engineering and humanitarian work behind them, they're looking for some out-of-the-icebox thinking on refrigeration. Issuing Engineers Without Borders USA's first international Challenge competition, "The Chill Challenge," they're open to working with just about anyone—backyard inventors, students, universities, and companies—to provide refrigeration to the hundreds of millions of people who get their power from off-grid energy systems.
With a myriad of benefits, both large and small, the development of refrigeration technologies and approaches could have enormous potential, improving the lives of millions of the poorest and most vulnerable people on the planet.
Refrigeration is a Game-Changer
Refrigeration means less food waste, more opportunities for farmers, fewer trips to the market for perishable items, and safe storage for leftovers as well as for high-quality vaccines. It unlocks productive potential in communities for uses spanning agriculture, small business and restaurants, beverage retailers, and more. It is indispensable. And, most of us living in the West could not envision life without it.
The ability to create cold is significant and is recognized in the United Nation's Sustainable Development Goals. By 2030, the Global Goals set out to to banish hunger, poverty and inequality; ensure universal access to safe water, education, health care, clean energy and decent work; and secure peace, justice, economic growth and sustainability. Achieving all this is an enormous challenge. What is not widely recognized is the role refrigeration will play.
Consider this:
Nearly 50% of fruit and vegetables are lost in Sub-Saharan Africa and India, according to a 2014 report from The Institute of Mechanical Engineers
At-home refrigerators provide safe food storage, decreasing the chances of food-borne illnesses. These illnesses afflict 1 in 10 people globally every year (WHO, 2019). Of the 600,000 who fall sick, more than half die.
Refrigeration is essential in preserving vaccines, and the broader availability of refrigeration could help reduce the estimated 1.5 million deaths a year attributable to vaccine-preventable disease (WHO, 2019).
However, as many as 2 billion people across the globe do not have reliable refrigeration. This is due in large part to the fact that approximately 1.1 billion of the world's poorest people live entirely without access to electricity and another billion have only weak and unreliable access to the grid.
Off-Grid Technology and The Challenge of Refrigeration
Increasingly, however, distributed clean energy technologies such as solar home systems and mini-grids are making it possible for people and businesses to access life-changing modern energy for the first time. It is estimated that by 2030, roughly 290 million people will get power from mini-grids or stand-alone solar home systems.
Off-grid systems are cheaper than extending the grid to remote communities but off-grid electricity is considerably more expensive per Kilowatt-hour. And, current off-grid refrigeration solutions can require more than twice as much power as all other appliances combined. These factors put refrigeration out of reach for most off-grid households despite the demand for refrigeration.
According to Andrew, refrigerators are "power hogs" in terms of their energy consumption, making refrigerators a unique challenge when developing them to be both energy-efficient and cost-effective. The sad fact is, the poorest people on the planet pay the most for consumer electricity.
That's where the Chill Challenge comes in.
A Friendship and a Challenge are Born 
Meeting at an EWB-USA conference in 2014, Larry, an aerospace engineer by training, and Andrew quickly bonded over their affinity for all things energy-related. Larry, who resides in North Texas says they hit it off pretty well, and when he learned Andrew had worked as a petroleum geologist in Oklahoma, a cross-river rivalry ensued. In addition to trading thoughts on energy, they traded barbs about Texas and Oklahoma.
Larry and Andrew both have extensive experience working in refugee camps and medical clinics across the globe. Both have lamented the absence of essential off-grid refrigeration units.
"They tend to be very expensive and basically only occur when there was a donor who cared enough and wanted to plop down about $2,500 to get a refrigeration unit that needed solar panels. Basically, you don't see refrigeration in the developing world once you get past the power line," Larry says.
For Andrew and Larry, this is dispiriting. They understand first-hand the benefits that refrigeration can make in clinics and numerous other areas of people's lives. They asked themselves, 'How do you start fixing this?
According to Andrew, the two had a sort of a back and forth, looking at different things. "My expertise is writing about fixing problems, Larry's expertise is actually fixing things," Andrew says. The dynamic made the partnership complementary, not only in skills but in personalities.
Andrew says of Larry, "He's one of the most remarkable people I've ever met…I'm amazed and sort of awed by the stuff that he does. He's been to more places in the world than anyone I've ever met. He's out in the back of beyond fixing stuff and really changing people's lives."
As members of EWB-USA's Energy Standing Content Committee (ESCC), Larry and Andrew had been talking for some time about how EWB-USA was well positioned to issue a challenge related to energy. So when Larry received an email from Peter Diamandis, founder and chair of the XPRIZE Foundation, that email was all the motivation he needed to forward the note to Andrew and for the two to start devising a plan. In an interesting XPRIZE twist, the 2018 prize invited innovators to design a challenge as opposed to solve a challenge. Essentially the pair would be issuing a call for others to help solve the challenge.
Larry and Andrew submitted their off-grid refrigeration challenge idea in three of the five different categories offered: Lifting Farmers Out of Poverty, Feeding the Next Billion, and Off-Grid Energy for the Developing World, for which they were accepted.
On their way to the final round of the XPRIZE, Larry and Andrew participated in both the Hackathon and Visioneering Summit in Los Angeles, CA, the latter of which Andrew likens to a "glitzy religious revival." Think Shark Tank with bigger name celebrities and innovators, high-end lighting and set design, and throw in Tony Robbins, who co-sponsored one of the Challenge categories, and you get the picture.
Bringing together 300 leading world-renowned executives and innovators, The Summit provided a forum allowing the team to pitch their challenge. While Andrew and Larry placed second, their academic rigor drew the attention and support of the Open Philanthropy Project who subsequently committed $500,000 to EWB-USA to establish the Chill Challenge. Their generous supprt makes the Challenge possible.
The Challenge: Efficiency for Access Coalition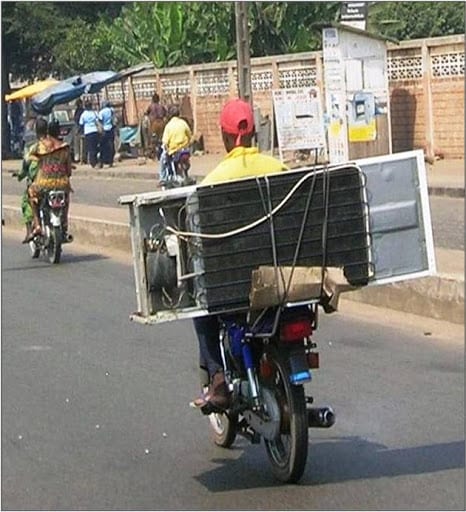 The objective of the Chill Challenge is to develop affordable, energy-efficient refrigerators and icemakers to off-grid communities in developing countries. As Larry and Andrew stress, the Challenge sets out to create a commercially viable solution. To this end, EWB-USA intends to award grants of $25-50,000 to as many as 10 teams to develop proof of concept prototypes of off-grid refrigeration solutions.  Much like the XPRIZE, they hope to stimulate thinking around refrigeration including rethinking the definition of refrigeration and new approaches to bringing refrigeration to off-grid communities. Teams are invited to submit proposals to build and test a prototype of either a small (150-250) commercial refrigerator able to chill 20 liters of water a day from 35ºC to 3ºC, and cost less than $12/month to own and operate, or an icemaker able to produce 100-1000 kg. of ice a day at a cost of $0.03/kg or less.
In creating parameters and targets for the Challenge, Larry and Andrew contemplated crucial factors including: size, amount of usable space, daily temperatures, safety, maintenance, transportability to the field as well as the levelized cost of ownership. These elements are critical to creating successful refrigeration solutions that work for off-grid communities.
The competition is open to all interested parties in refrigeration technologies. EWB-USA is pleased to be able to use the Challenge to create new alliances in engineering, refrigeration, and beyond and is honored to have ASHRAE joining as a promotional and technical evaluation partner.
Making improvements in a technology that has clear humanitarian and socioeconomic impacts is important to Cathy Leslie, EWB-USA Chief Executive Officer.
"Our mission is to lift people out of poverty and reliable, affordable, and sustainable refrigeration is a huge step in the right direction. Successful solutions to our Chill Challenge will be a game-changer for millions of people. We are extremely proud to catalyze innovative solutions and bring affordable refrigeration solutions improving the lives of those far removed from the grid," Cathy says.
As Larry says, "The fun part will be the evaluation of proposals and prototypes. My goal before I kick off is seeing one or two of these things in a bush clinic or at a little store on the side of a dirt road somewhere."
Visit www.ewb-usa.org/chill-challenge/ for more information on the Challenge. Initial applications will be accepted through December 16, 2019.
---
This article was adapted for Engineering for Change from information published on EWB-USA's site. See the original article here.