Gaza may be underprepared for armed conflict, natural disasters or other emergencies that inflict mass casualties, in part because of outdated communication technology. The region's primary mode of communication between medical centers and first responders is the walkie-talkie, a device invented in 1937. That may change, with an update created by an international partnership of students and experts.
The Johns Hopkins University Center for Bioengineering Innovation and Design (CBID) and the Center for Humanitarian Health (CHH) collaborated with Shared_Studios and Mercy Corps Gaza to host a Humanitarian Health Design Challenge in Baltimore, USA and Gaza City, Gaza. Supported by the Aspen Institute Stevens Initiative to honor the memory of Ambassador Christopher Stevens, who died in the U.S. diplomatic mission in Benghazi, Libya in 2012, the program encourages global interdisciplinary and collaborative learning between students in the United States and the Middle East through virtual exchange. The Stevens Initiative is funded by the US Department of State and the Bezos Family Foundation among others.
The United States- and Gaza-based participants were placed into transcontinental design teams and tasked with developing solutions to challenges facing first responders in Gaza. The first two days of the program featured world-renowned lecturers from Johns Hopkins University, The Islamic University of Gaza, Médicos del Mundo- Spain, University of Palestine, and European Gaza Hospital. Over the course of the following week, program participants learned how to iterate innovative and cost-effective solutions to different challenges facing first responders in Gaza and received feedback and mentorship from faculty and CBID graduate students. Teams collaborated via the Shared_Studios Portals, spaces equipped with immersive audiovisual technology and workspaces to optimize collaboration and knowledge exchange. After conducting expert consultations with the lecturers in Gaza and Johns Hopkins University and other external groups, students presented their final pitches to a panel of judges.
The winning team, Saeidni7 (pictured below) focused on the need for ambulance and hospital staff to communicate more efficiently in order to prepare the hospital for an emergency response scenario involving mass casualties. After interviewing Dr. Salam Fayyad (former Prime Minister of the Palestinian Authority), Dr. Harshad Sanghvi, Ms. Ann Hyre, and Mr. Bambang Wijayanto from EMAS Indonesia, Mr. Jason Friesen (CEO of Beacon Systems), and Dr. Junaid Razzak (Professor, Emergency Medicine Clinical Program at Johns Hopkins University School of Medicine), the team discovered that Gaza hospitals lack a streamlined communication system between ambulances or vehicles transporting patients and triage hospital staff.
Their objective was to develop a consistent protocol to transmit information and build off other similar systems previously developed for similar emergency situations. The solution was required to be robust and versatile enough to work in a 2G SMS based system, which is the predominant network in Gaza. The team realized the current solutions are inadequate in three primary ways:
The walkie talkies commonly used in ambulances lead to haphazard and inconsistently recorded information
Ambulance dispatch is not connected to all hospitals. There is no coordinated ambulance transport or dispatch system coordinated across all the hospitals or separated areas of responsibility.
Medical forms used to admit patients are long, delay treatment, and not suitable for consolidated triage or visualization leading to disproportionately overwhelmed medical centers.
With those problems compiled, the hospital staff has limited advance knowledge of incoming patients, triage nurses are unable to make ambulance dispatch or delivery decisions based on severity and expected inflow, and treatment is sub-optimal due to the lack of consistent electronic data between vehicles and hospitals.
The team's proposed solution was Saeidni7, an integrated two-phased communication protocol. The system allows first responders, or those on the scene, to capture information about patients and update a dashboard at the triage nurse station. Ninety percent of mobile phones use Android, so Android was chosen as the mobile platform, with GUI shown for input data. Once submitted via the app, the data is converted to JSON and sent over SMS to a centralized phone number that updates the organized patient information in a Triage Dashboard at hospitals and other operation centers in real time. The concept of this workflow is shown in the image below.
The system builds upon Beacon SMS™, already developed to allow a central SMS number to autonomously coordinate patient transport. This results in individual hospitals treating or redirecting patients such that one facility is not disproportionately burdened. The expected utility would be for a triage nurse located in any participating hospital or centralized medical facility to create an incident using Beacon and streamline dispatch transportation. First responders would respond through Beacon with a standardized protocol and leverage personal vehicles, trucks, and ambulances in a coordinated manner. The Beacon text protocol and associated example map of hypothetical incidents for Gaza are depicted in the image below.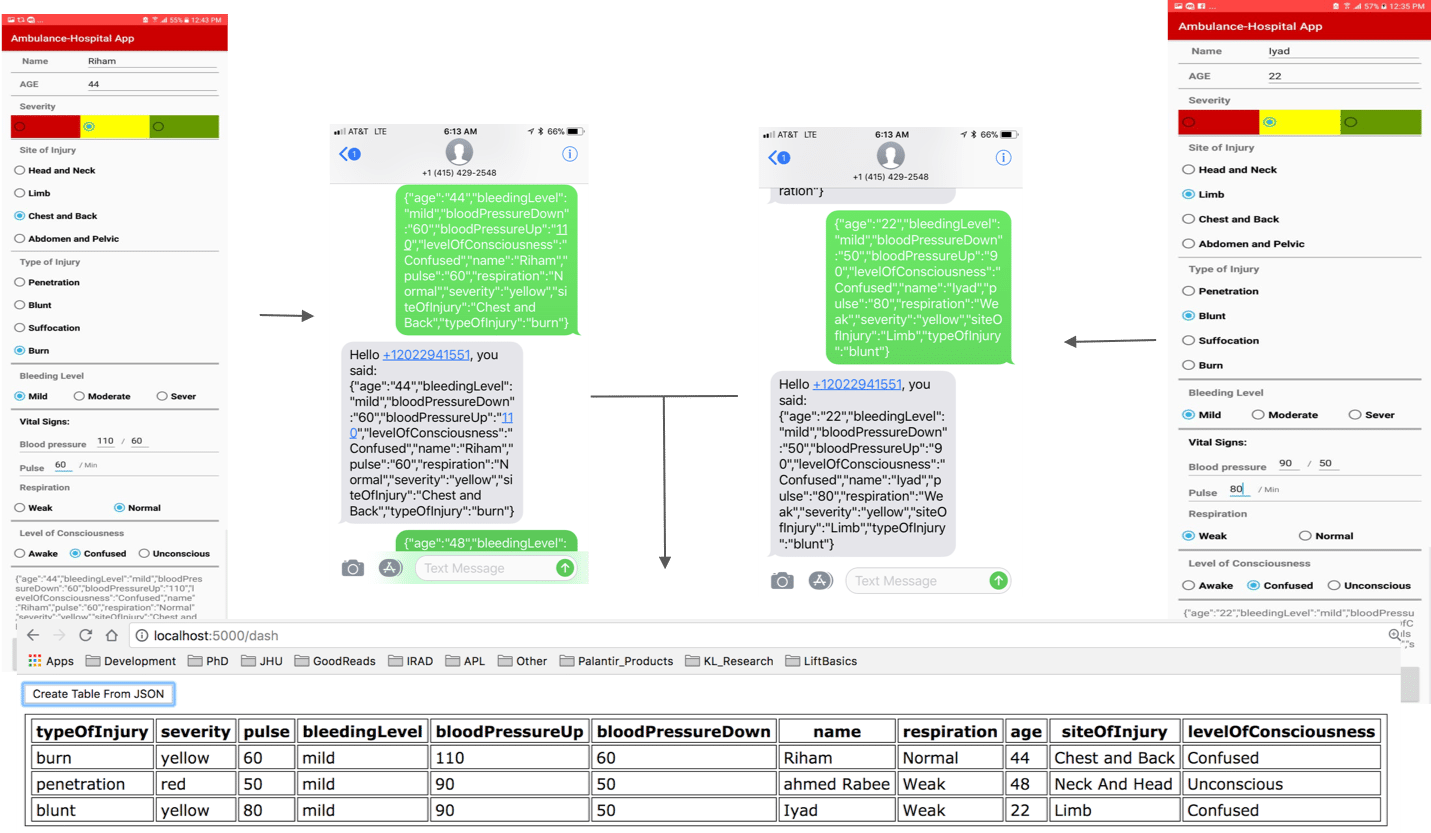 ---
About the Author
Sofia Ahsanuddin is an Associate Staff Engineer at the Johns Hopkins University, where she has worked on creating and implementing Design Challenges in the Gaza Strip and Lebanon. Sofia is passionate about sustainable development and is an MD candidate at the Icahn School of Medicine at Mount Sinai in New York City, USA.