Across the street from the consulting and IT firms in Bangalore, India, a 700-family community called Kariyammana Agrahara lies on a 2-acre plot of land next to a large construction site. The men living here work as laborers on the site, while the women are homemakers. They complain about their lack of access to vital services, particularly the need to walk over a kilometer just to get to drinking water. However, a shop run by Kumar in front of the community acts as an Integrated Energy Center (IEC) and addresses some of these access issues for those in the community.
Energy services remain unaddressed when it comes to expanding the grid to poor and underserved communities. Of the 1.4 billion people that do not have access to electricity, 400 million reside in India alone. Many of these people live in transitional communities, such as Kariyammana Agrahara, migrating from rural areas to look for work in the urban centers. The IEC is one of a class of structures that provides much needed energy and other useful products to users. These products include small appliances & tools, larger productive-use machinery, cooling and heating systems, and so on. The IECs can also provide resources for education, health, entertainment, and additional livelihoods opportunities. They are designed to be operationally sustainable, with revenue covering all maintenance costs, in addition to the operator's or entrepreneur's income.
Kumar's IEC provides solar lights for rent, mobile charging, chilled water and sodas, and a community TV to show movies. Residents go to and from his shop to pay rent on solar lights they have used, or return with freshly charged lamps to light up their tents for the evening. After hanging lamps in their tents, daily activities can continue long into the evenings. The light increases household productivity and customer satisfaction, especially because their children are safe from the pests that once crept into their previously unlit households. Before the community-owned IEC arrived, reliable and safe lighting was a luxury beyond the reach of Kariyammana Agrahara's residents.
Kumar started working with the SELCO Foundation and became an IEC operator in June, 2013. He used his convenience shop as a place to store inventory, in addition to selling snacks, tea, and coffee. SELCO India, a social enterprise that provides sustainable energy solutions and services for poor consumers and businesses, provided the lights and other equipment to Kumar, diversifying the range of products and services he could provide. During the hot summer months, Kumar sells bottled water and cool drinks to workers coming back from the site.
IEC Pilot Testing
This is one of 18 IECs under development in the southwest Indian state of Karnataka. Each is based on a needs assessment and tailored to the community it serves. Although the IECs vary in size, services offered, and business models, they are all solar-powered community centers that provide the poor with resources they otherwise would not have.
Kariyammana Agrahara is an ideal example of what an IEC can provide to its community in terms of these basic services. Its replication would be favorable to similar communities, expanding beyond lighting. It has eased the burden of households from using traditional fuels (i.e. kerosene) for lighting, improving their general health and reducing their expenses. Mobile recharging provides a service for a product that is indispensable today, especially for communities like this that have limited access to electricity.
In November, 2014, the nonprofit S3IDF loaned Kumar the capital to purchase 120 solar lights and batteries to use and helped him transition from an IEC operator to an entrepreneur. S3IDF provides bundled services such as leveraged co-financing, technology access and knowledge, and business development support to foster small-scale enterprise development for the poor.
Kumar is a visionary and hopes his increase in inventory will meet increasing demand in the community. Similarly, he thinks that the community would be willing to pay for a water purification unit, medical camp, and other facilities that can provide the women with jobs while their husbands are at the construction site. Such innovations demonstrate the pragmatic and intrinsic value of IECs in these communities, effectively addressing the problems of access to basic services through community-led development.
Questions about S3IDF and their work can be directed to Nakul Kadaba, Project Associate, by email to nakul (at) s3idf (dot) org.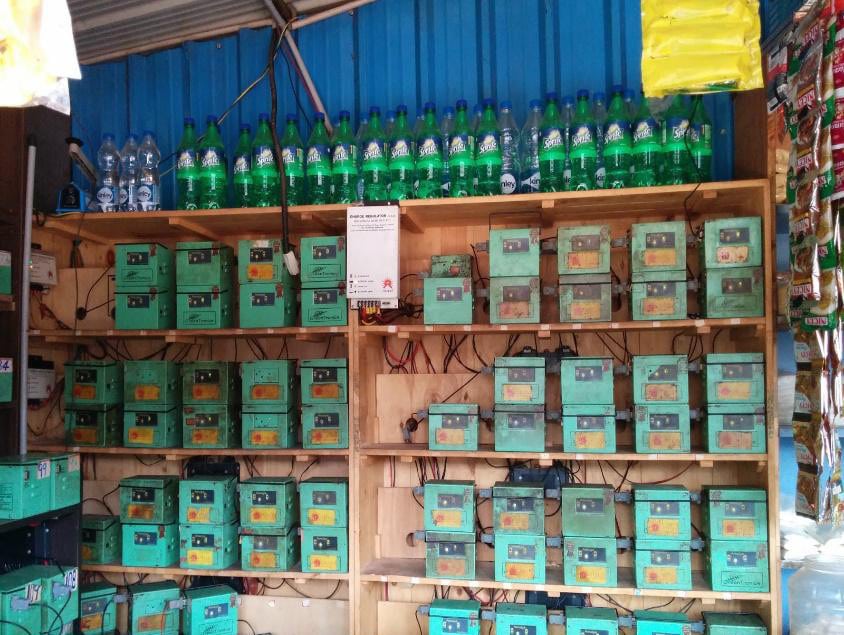 The Small-Scale Sustainable Infrastructure Development Fund (S3IDF) has offices in Cambridge, Massachusetts, United States, and Bangalore, India. It is committed to fostering small-scale enterprise development designed to be run, maintained, and operated by the working poor. These enterprises provide their communities access to critical services (Energy, water and sanitation, information and communications technology, livelihoods, etc.) and income generation opportunities. We use our Social Merchant Bank Approach® (SMBA) to provide three bundled services to foster and empower our entrepreneurs: leveraged co-financing, technology access and knowledge, and business development support.
tags: clean water, energy access, Energy Solutions, Water Issues and Solutions