The Impact.Engineered event recently took place in the heart of Brooklyn, New York at the NYU Tandon School of Engineering. Individuals from the United Nations, ASME Foundation, Engineering for Change, Inveneo, and many other international organizations joined together to uncover significant and futuristic ways the engineering field that will surely "shake things up". The event was led by Paul Scott, Director of ASME Foundation, Iana Aranda, President of Engineering for Change, and Jelena Kovačević, Dean of the NYU Tandon School of Engineering.
What made this event interesting for those who work in international development? Three points stand out.
To start, Vanessa Grellet from ConsenSys dove into the idea that blockchains are becoming increasingly important for social impact. Blockchains can obviously be broken down with different sections, but what is unique for international development projects is that blockchains can help serve groups of people that are usually vulnerable and difficult to identify. For example, the homeless, refugees, or other vulnerable populations are oftentimes "off the grid." It is vital for international development workers and engineers to think of these people while working on projects, in addition to other populations they serve. Ms. Grellet discussed several target sectors that are found in blockchain, which are seen below.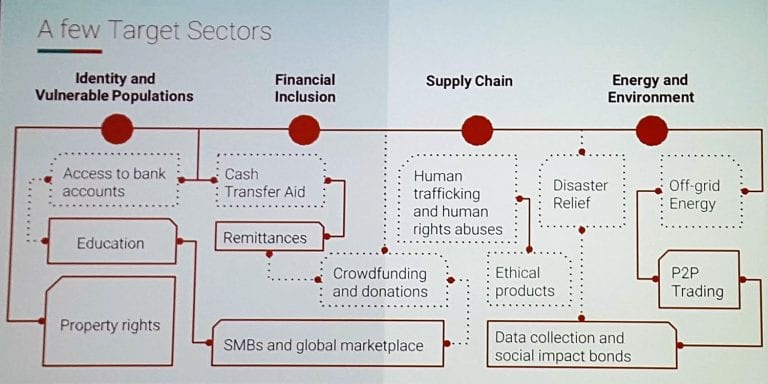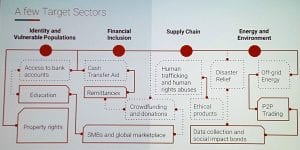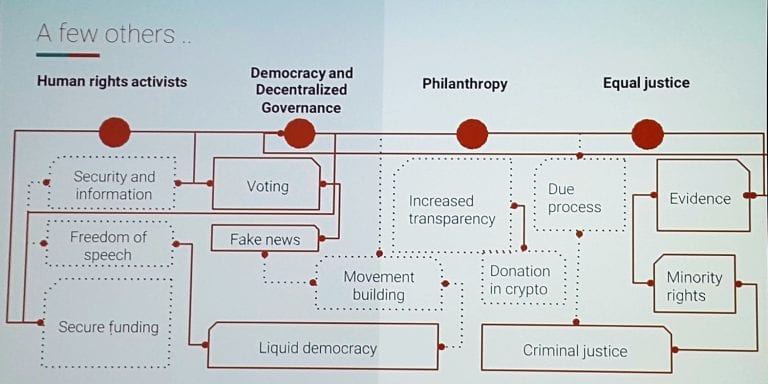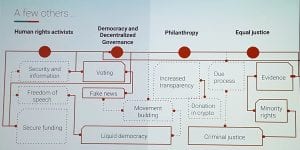 In the following video by ConsenSys, Ms. Grellet discusses blockchain applications for social impact, similar to her talk at Impact.Engineered.
Next, Zoé Bezpalko, head of Impact and Design at Autodesk, discussed the idea of "generative design." She explains the term as a blanket description of computer-assisted design, the ways that computers are used to design objects. If engineers embrace computers within the design stage, then thousands or more possibilities can be considered. The result is objects that are lighter, more efficient, and very much improved. Ms. Bezpalko talked about the exciting work that her organization is doing and what generative design is doing for cars. This kind of work is an innovative way of thinking of design and engineering. It posits the argument that computers should be at the heart of the engineering process.
To give perspective on what generative design can do, here is a fun photo of an airplane that Ms. Bezpalko showed to point out how generative design can change the game for transportation and many other fields. This airplane is a possibility for the future and would have lighter materials, more sunlight, and many other exciting features.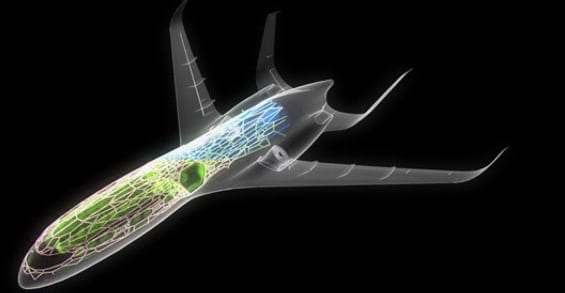 The third exciting piece of the Impact.Engineered event was a breakout workshop discussion on innovating the field of engineering education so it more efficiently serves students. The panel included members from Columbia University, US Agency for International Development, D-Lab at Massachusetts Institute of Technology, New York University's Tandon School of Engineering, Colorado State University, and the University of Colorado, Boulder. Their animated discussion highlighted these points:
People are trained in technical subjects, but they need to be taught to listen to people on many sides of a challenge and consider many different needs in communities in which they are working.
Engineers need to work with technically trained individuals in a community, but they also need to work with others, such as ethnographers, anthropologists, possibly chemists (for example, within water purification programs), and other scientific fields that all work together within international development programs.
It's good to channel the high energy that students often have, but it's important to remember to reject paternalism and other pitfalls that don't support equal partnership between the many factions involved in a situation.
It's imperative to support the passion that students have, but be wary that a student is not unintentionally "inventing" something that has already been invented many times before. As the saying goes, don't reinvent the wheel.
Push students to tackle issues within their own neighborhoods, so they can really problem solve at a local level. That may prevent the need for other agencies or groups to come in (there might not be international or other private companies that are willing or able to tackle problems, it seems, with students). Instead, plugging into a project that spans multiple years that your students may not see finished could be a good way to mediate this issue.
You want students to feel very encouraged, and you also want there to be big impact. It's important to be aware that this can be a difficult thing to balance.
Impact.Engineered was created to bring positive change to the engineers and international development workers of today, and also the ones of tomorrow. One participant said, "the world's moving faster than education in engineering", and it's time that professors, school administrators, and other engineers realize that there are new, innovative ways to harness the talent that budding engineers bring to the table.
An important takeaway from this event is that technology often moves from less developed countries to developed countries; it is not a one-way street but always a circle. Impact.Engineered helped bring this factor to the forefront to engineers and everyone else working on the problems of economic development around the world. If you would like to learn more about Impact.Engineered, see its website.
---
About the Author
Jana Melpolder works as the communications manager at Inveneo, the San Francisco-based nonprofit that develops Internet and communications technologies for use in underserved communities in developing countries. When not helping Inveneo in its mission to develop low-powered computers and servers and long-distance Wi-Fi, Ms. Melpolder also advises the AREWA24 TV station, headquartered in Nigeria, in its social, digital and mobile media outreach.