The history of solar cooking as we know it reaches deep into the 1950s, but solar ovens remain a niche product, both in the global West and in emerging markets around the world. New designs seem capable of changing that dynamic, however. Solar ovens tend to conjure the image of a shiny box, but products such as GoSol's Solar Fire concentrators and GoSun's glass tube ovens bring aesthetic elegance to the technology.
One Earth Designs is one of those companies that has merged style in solar cooking with high performance specs. The company's SolSource cooker launched in 2013 to a US market as a backyard grill (see our coverage, Himalayan solar cooking comes to the city). And now a smaller, portable version called SolSource Sport has been fully funded in a Kickstarter campaign. Its parabolic reflectors are made of a proprietary self-healing polymer. On a clear day, it heats in minutes, much faster than a charcoal grill, and can cook 6kg (13 pounds) of food at up to 200°C (400°F).
The success of the company's Kickstarter suggests the grill's market viability, and this from a company that did not set out to make a solar grill for picnics in the beach park. One Earth Designs is a social company that builds and sells solar ovens in underserved communities. The company began working with nomadic families in the Himalayas and has expanded its operations to sub-Saharan Africa and elsewhere. Sales of solar grills in Western countries subsidize the sale of grills designed for daily cooking in emerging markets. Catlin Powers, One Earth Designs' co-founder and CEO, answered our questions about the new grill and their social business model.
E4C: You went through 54 prototypes for the original SolSource grill. How was the prototyping process for the Sport?
CP: We used a rapid-prototyping methodology with SolSource Sport where we rapidly iterated components of the product to optimize user experience. We've probably gone through 300 or so different concepts and part iterations all told. We've made seven full prototypes based on all those learnings.
E4C: What are some of the interesting innovations in the design? And in the lab?
CP: We developed a new self-healing polymer that harnesses 92% of the sun's light in order to provide the power required for SolSource and SolSource Sport and now we're collaborating with MIT to develop organic energy storage systems that enables us to store solar energy over multiple days at a time. These technologies have applications far beyond solar stoves. They could unlock our ability to harness solar energy two orders of magnitude more affordably in regions that have traditionally struggled to access clean energy.
E4C: Last we spoke, your focus was on cookers designed for Himalayan nomads. But with the success of your grills aimed at Western markets, has that shifted?
CP: Our aim as a business is to help 1 billion families at the base of the pyramid gain access to clean solar energy for cooking. In order to provide high-quality products at low cost, we need to multiply our sales volumes tenfold. We are looking to retail in the US outdoor-enthusiast markets to drive this volume. While SolSource Sport is a good fit for customers in the US, it's also one-fifth the price of the original SolSource. This price difference makes it accessible to many more people in our emerging market base. In addition, being able to assemble and disassemble in only 3 minutes into a small 24" carrying case enables our customers to take SolSource Sport on the go or to bring it inside each day to prevent others from stealing it.
E4C: Is the Sport going to be sold to Himalayan nomads or is it solely aimed at a more urban or Western market?
CP: SolSource Sport is designed as a recreational product. We've developed a variation of SolSource Sport for our customers in the Himalayas and the other 68 countries in our emerging market base, that withstands robust daily use.
E4C: Do you use one of your grills? If so, what do you like to cook on it?
CP: Yes, I cook on SolSource whenever I can and I'm really looking forward to being able to cook with SolSource Sport too. I make omelets for breakfast, veggie stir-fry, soups, dumplings, and many other foods on my SolSource. The meal that seems to be the biggest hit with my friends and family is my solar-smoked salmon. I soak a cedar plank overnight and then put it on SolSource with the salmon on top. The cedar plank infuses a rich smokey cedar flavor into the salmon. It adds delicious flavor without adding burnt fuel to my food so I can eat without working about ingesting cancer-causing particles.
I also love learning local recipes by visiting our customers in different places in the world. I recently came back from visiting customers in rural Gujarat, India. The women taught me to cook several delicious local dishes. They didn't taste quite as delicious when I cooked them, but I'm working on it! (I'm the one in black below.)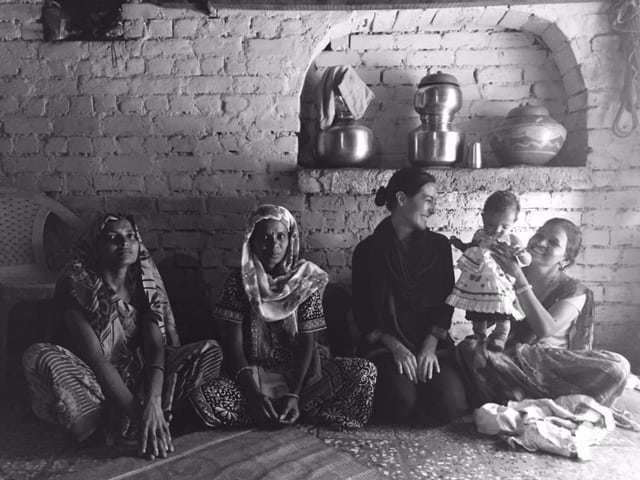 For more on One Earth Designs and details about their solar grills please visit oneearthdesigns.org.
tags: affordable solar, clean cookstoves, social enterprise, social entrepreneurship, solar cooker, solar cookstove