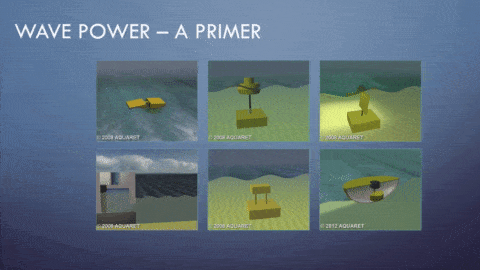 Today, ocean waves are turning the lights on in 18 countries, but the potential for the power source remains mostly untapped. Research is underway now for connecting waver power converters to traditional power grids in the United States and other developed countries. But emerging markets present an interesting opportunity to diversify the technology and scale it up. In less than four minutes, Dr. Bryony DuPont, Assistant Professor of Mechanical Engineering at Oregon State University, summarizes the state of the technology and its potential applications in low-resource regions and anywhere that's off the grid. See the video at the end of this article for the full "lightning talk" that Dr. DuPont gave at the American Society of Mechanical Engineers' Innovation Showcase.
Wave energy converters convert the momentum within a wave into electricity. There are many ways to do it, and more are in development. The power available to use is immense.
"When we're talking about global wave energy capacity, we're talking about terawatts. So a really dense energy source," Dr. DuPont says. "The primary reason why wave energy seems like a good idea, from an engineering design perspective at least, is that people live on coasts. In the United States, half of the population lives within 50 miles of a coast. Another reason is that it has a high capacity."
For context, the world produced nearly 69 terawatt-hours per day in 2016, according to the International Energy Agency. In the United States, one of the world's top ten highest energy consuming countries per capita, the potential wave energy is 1190 terawatt-hours per year. Just one terawatt-hour per year can power 100,000 US homes.
To test new wave energy converters, the US Department of Energy has sponsored PacWave, a (USD) $40 million project under Oregon State University's umbrella. Dr. DuPont calls it a pre-permitted, grid-connected plug-and-play wave energy test bed.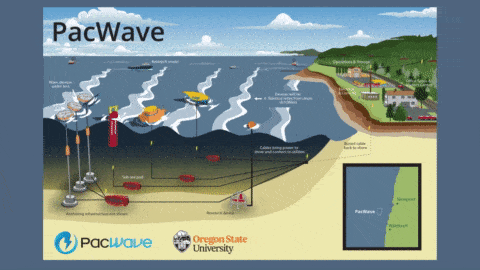 "So anybody can show up with a wave-energy converter, we can hook it up at this site and you can get a ton of data about how your device will perform in actual ocean conditions," Dr. DuPont says.
With traditional grid research underway, now is the time to start thinking about future applications.
"From here, looking at emerging markets makes a lot of sense," Dr. DuPont says. "Having researchers look at emerging markets forces us to think about scalability."
Communities that consume lower amounts of power may need smaller devices, or only a single large device rather than an array, for example.
"Looking at emerging markets is a logical stepping stone toward developing applications," Dr. DuPont says.
Development of this technology is accelerating, but there remains a lot of work to do. It's "hugely multidisciplinary," Dr. DuPont says, and the field will benefit from specialists in engineering and design. See Dr. DuPont's full brief talk in the video below.