A Standard, Adaptable Catalogue of Water Tower Designs and Construction Typologies
Médecins Sans Frontières (MSF), also referred to as Doctors Without Borders is an autonomous, international humanitarian organization that offers medical aid to those in need. Due to the nature of their work, access to dependable and clean water is necessary for their various programs to run effectively, hence, well-constructed and maintained Water Towers are pivotal. This project served to lessen the gap between the inception of MSF's programs and their execution by providing readily available and adaptable models of Water Towers that can be easily implemented upon approval and or modification by an Engineer in the area where the program will be implemented.
Being a continuation of the E4C 2021 Fellowship project, this phase of the project aimed to first validate all the models of the Kenya Building Code (KS Code) since this code is comparable to those of the regions of implementation within Sub-Saharan Africa and thereafter produce detailed drawings of the already designed models in order to make fabrication and construction much easier, produce Bills of Quantities of all models for easy costing for the MSF team as well as the contractors and also produce Robot Structural Analysis reports being consulted by the Engineers on-site when necessary.
The PDF packet produced by this project lays the foundation upon which other models will be produced catering to different steel sections such as H beams and circular columns as well as different materials like concrete and also different risk categories such as earthquake-prone zones or weak bearing capacity.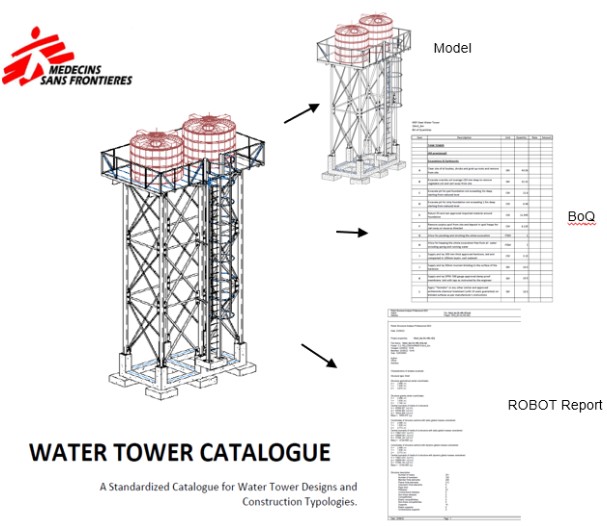 MSF Water Tower Catalogue Cover Page and Sample Contents