Maintaining a Living Database: Ensuring Value, Sustainability, and Optimization of the E4C Solutions Library
The Engineering for Change (E4C) Solutions Library (SL) is a living global database of technology-based solutions (i.e., products) that are designed to be accessible and suitable for underserved communities or individuals living in resource-constrained environments. This 'knowledge platform' was established in 2012 in response to the need for readily available and dependable information on existing technologies. Since then, hundreds of fellows, academic and industry experts, and others have contributed to the SL. The SL has grown exponentially (and continues to grow) with 1000+ solutions covering various sectors, including ICT, Energy, Water, Sanitation, Transport, Health, Habitat, and Agriculture sectors, with a focus on solutions appropriate for implementation and use by underserved communities. All information in the SL is written for general audiences, while data included on each technology is presented from a technical lens based on the guidance of expert advisors regarding technical performance, market and compliance, evaluation methods, and standards. The information taxonomy is standardized across all products, enabling side-by-side comparison and analysis.
In this way, the SL serves as a resource for mapping out existing technologies that are available globally and, therefore, helps identify gaps where solutions are needed or where existing technologies fall short. Even though the SL grew exponentially from 2016 to 2020 (and continues to grow), there have been some challenges in maintaining this platform and creating value for its intended users. Its maintenance requires a significant amount of time and resources. There is a rapid advancement in technology and streamlining new entries to the library.
The objectives for this project were assisting in understanding the value the SL brings to diverse stakeholders, improving the current SL process from product sourcing, selection, inclusion, peer review, and publication to reduce the time and resources required to maintain the database; and identify pathways to ensure long term sustainability of the SL.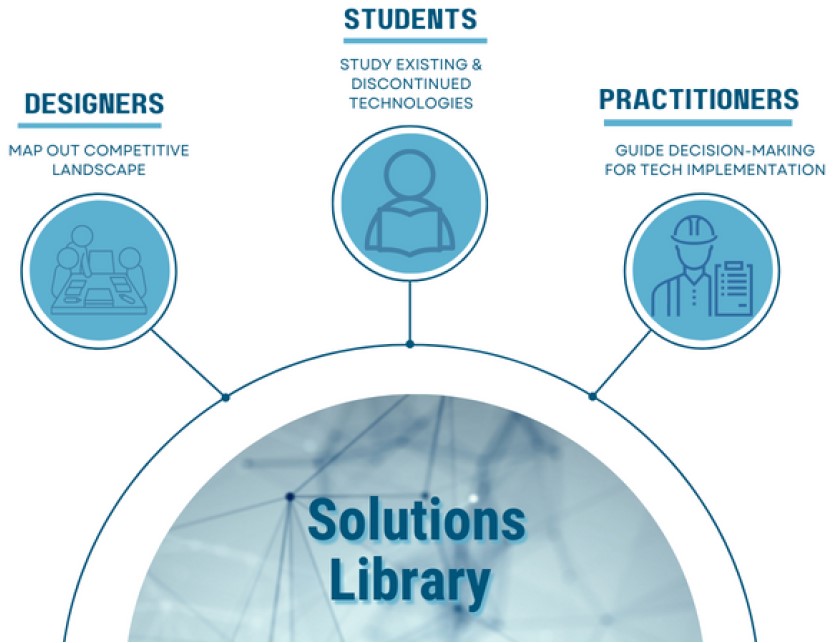 Solutions Library User Categories