State of Data Capacity, Capability, and Maturity of Education & Workforce Institutions
The objective of this project was to support JFFLabs in assessing the state of data capacity, capability, and maturity of education and workforce institutions across segments of the industry. From this research, including desk research and interviews with subject matter experts and industry stakeholders, it was found that post-pandemic, every organization is trying to up their data game, as they have become aware of the value of digital medium and data in general. From collecting to storing and analyzing data has been a major challenge given the limited resources for most non-profit education organizations and workforce boards.
The major challenge faced by these non-profits is a severe shortage of staff capable of utilizing the data they are collecting. Most of the smaller nonprofits do not have even one dedicated person capable of utilizing the data they collect. This is not because of a lack of awareness but due to a lack of funds that can be invested to improve the data infrastructure. Medium-sized organizations generally have 1-2 dedicated people in the data team and use more than Excel. We found that these organizations use Tableau, Power BI, and other tools to even make interactive dashboards. Finally, larger non-profits that have been functional for many years have overcome staffing challenges and have dedicated data teams capable of making vital organizational decisions based on previous data. The large nonprofits, however, are not free of all problems. They are suffering from a problem of tackling data security owing to their massive data warehouses.
Another challenge that organizations, irrespective of their size, are dealing with is adapting to the post-pandemic world where the majority of the things that were previously done physically have been automated with ease, virtually. To combat this challenge, many of the non-profits we talked to are investing in training existing employees who specialize in a completely different skill set to adapt and get used to operating virtually.
Now that most organizations have started getting used to the post-pandemic changes, the next few years look much better for data maturity as most organizations (irrespective of their size) we talked to are certain that they would only upscale their investments into improving their data capacity and literacy going forward and try to solve the challenges they are facing in the process. This creates a major opportunity for data service providers to come in as vendors and aid in the improvement of data maturity and literacy at these organizations.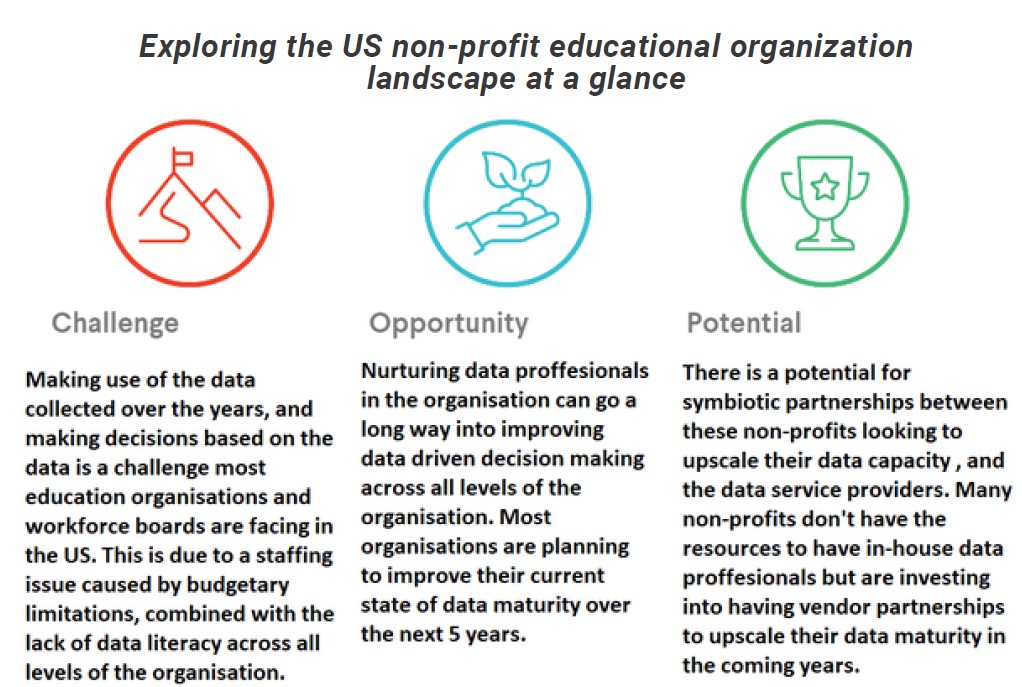 Exploring the US non-profit educational organization landscape at a glance, Attribution: Arya Sarkar