November 16, 2021
Development of a High Autonomy Solar Fridge
Region/Country : Africa
contributor: Francisco Plaza, Elizabeth Collins
Around half of the population in West Africa does not have access to electricity due to limited grid infrastructure, and for those who do have access, it can be unreliable and expensive. As a result, food conservation becomes challenging and the resulting impact on communities is reduced nutrition levels and higher levels of food waste. It also has economic impacts on small businesses that sell beverages, fruit, vegetables, and other perishable products. Standard AC (Alternating Current) commercial freezers are not designed for these challenging energy conditions where high ambient temperatures increase electricity loads and result in quick temperature rises when the energy supply is lost. Solar DC (Direct Current) fridges have recently entered the market, however, many of these still do not fully address issues with affordability and performance. Amped Innovation's goal is to provide a low-cost solar DC fridge that can keep goods cooled overnight without an external energy supply. 
The aim of this project was to identify a way to deliver both low-cost and overnight cooling. Through thermal modeling and CFD (Computational Fluid Dynamics) analysis, solutions to these problems were developed, including a combination of enhanced air convection, a phase change thermal battery, and better insulation. The challenges of working with phase change for cold storage instead of large batteries are significant, but also well worth it since phase change costs 10 times less than lithium battery packs for the same energy storage. Through reverse engineering, the main manufacturing constraints affecting the performance of the evaporator were identified and were considered for the single-wall final evaporator design. Finally, the design was changed to allow for a transition from a high Global Warming Potential refrigerant to isobutane, a more eco-friendly solution without sacrificing cooling power. The design requirements were satisfied successfully and a CAD (Computer Aided Design) model incorporating these improvements was developed to provide the manufacturing team with the detail required for production. 
With the help of modeling software, and through validation using simulation tools and prototyping, the final developed design offers a promising solution to the cooling challenges faced by individuals and businesses in communities with limited, unreliable, and costly energy access.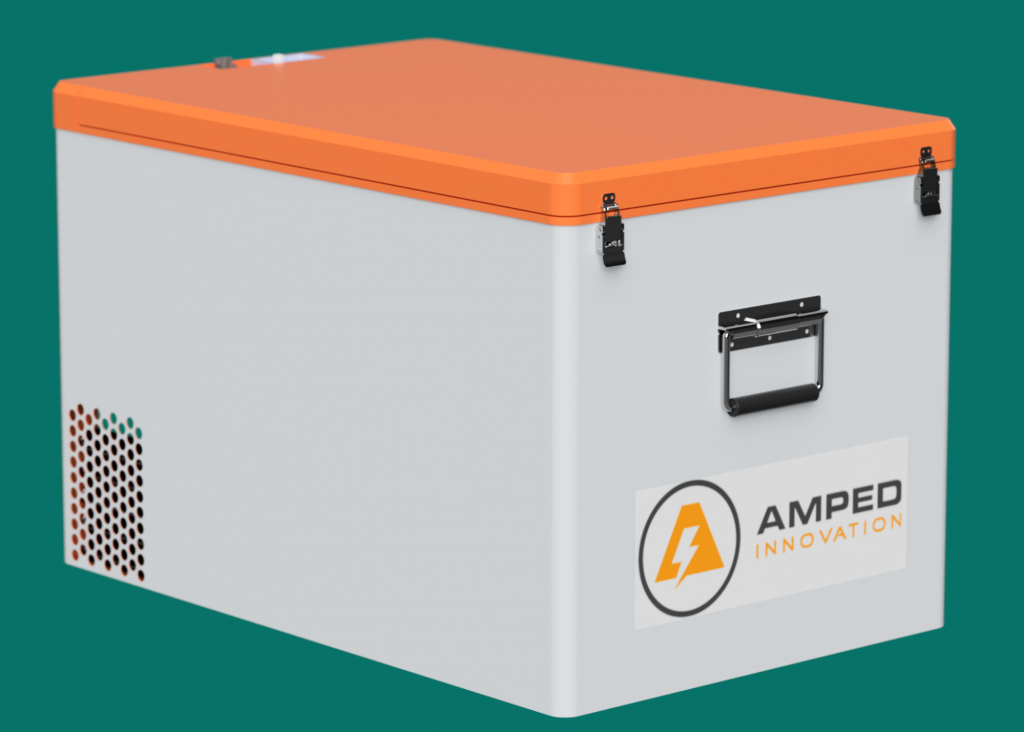 Figure: Rendering of the WOWSolar Fridge in Fusion360
E4C 2021 PROGRAM MANAGEMENT TEAM: Mariela Machado, Senior Program Manager; Grace Burleson, Research Manager; Marilynn Holguín Clover, Program Coordinator; Jonathan Kemp, Program Associate 
ADVISORS AND COLLABORATORS: Kurt Kulhman, Co-CEO, USA; Andi Kleissner, Co-CEO, USA; Denis Shcheglov, Chief Mechanical Engineer, Russia; Jeff Bennett, Chief Marketing Officer, Sweden
This research was completed as part of the 2021 E4C Fellowship program. Learn more about the Fellows who worked on this research collaboration by connecting with them on LinkedIn: Francisco Plaza and Elizabeth Collins