Sustainable Infrastructure is necessary to achieve the UN's 2030 development agenda. It is also central in the ambitions of the Paris Agreement to limit global warming. Access to basic services such as healthcare (SDG3), education (SDG4), clean water and sanitation (SDG6) and energy (SDG7), can only be achieved by environmentally responsible, socially equitable and economically viable infrastructure projects. In this recorded webinar, we discuss the meaning of sustainable infrastructure, the current infrastructure gap, and the different ways in which infrastructure can help achieve the 2030 sustainable development agenda.
You will learn to:
Identify the factors driving the need for infrastructure, and how they will change the infrastructure gap in the future.
Discuss unintended consequences that non-sustainable projects can impose on people and the environment.
Describe tools developed at the Zofnass Program for Sustainable Infrastructure at Harvard University to quantify sustainability at the project and urban level.
Presented by: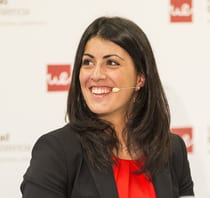 Cristina Contreras is a Research Associate at the Zofnass Program for Sustainable Infrastructure at Harvard University. Her research focuses on promoting sustainable practices in infrastructure projects on a global scale, and examining the challenges and opportunities that sustainability can provide to countries and companies. During the last six years at Harvard, she has worked in research projects ranging from the coordination and supervision of the Infrastructure 360º Awards to identification of the economic implications of sustainability practice in infrastructure projects. As part of the Infrastructure 360 awards team, an initiative sponsored by the Inter-American Development Bank, Cristina has worked in quantifying infrastructure sustainability in more than 40 projects (water and sanitation, transportation and energy) in 12 countries. She also works as an independent consultant for International Financial Institutions to help define a common framework for sustainable infrastructures.
Before working with Harvard, Ms. Contreras served as Technical Architect practitioner in the construction of large-scale projects with a Spanish construction company, and as a freelance quantity surveyor. She has presented her work on assessing sustainable infrastructure at several international conferences and was a lecturer in the School of Civil Engineers at Polytechnic University of Madrid and instructor on the Harvard Executive Education. Ms. Contreras is an accredited Envision Sustainability Professional (ENV SP), and a certified Envision trainer as well as CEEQUAL Project Assessor.