International Womens' Day was recently celebrated worldwide, but many women and girls have little cause for celebration in at least one aspect of their lives. They have to walk miles each day to fetch potable water. This year #IWD2020's theme was #EachforEqual. Twenty-five years after adoption of the Beijing Declaration and Platform for Action (1995), the UN-Women's executive director reports that no country has achieved equality for women and girls.
Based on the UNDP's Gender Social Norms Index data from 75 countries, the report, Tackling Social Norms: A Game Changer for Gender Inequalities (pdf), found that the worldwide average Gender Inequality Index fell steadily from 1995 – 2010, then plateaued in 2013 before ticking up slightly between 2017 and 2018. The study found that while most countries have removed legal barriers to equality, more women than ever have access to education and can participate in the formal economy, vote, and run for public office, social norms still restrict women's empowerment and leadership in the economic, social, and political spheres.
No country has reached low inequality in human development without reducing the loss coming from gender inequality.
Inequality is evident in access to Water Sanitation and Hygiene (WASH) related issues, too. Women and girls bear the brunt of spending unequal numbers of hours collecting water for their households and enduring physical and emotional injuries in doing so. And despite those efforts, many are still unable to provide water security at a rate that is difficult to quantify, according to Sera Young, professor of anthropology and global health at Northwestern University.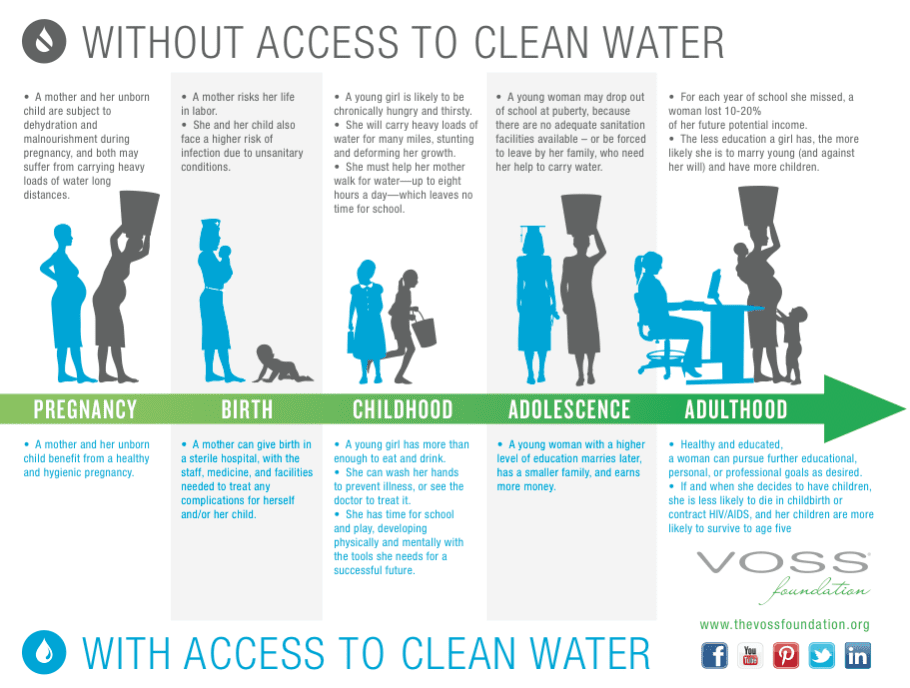 On an average, women spend more time than men collecting, storing and protecting their water source. This takes their time away from education, careers and contributions of other kinds to their households, and ultimately to society and the economy. In just one day, 200 million work hours are consumed as women collect water for their families. This has graver consequences for the girls, preventing them from attending school or participating in other productive activities. Some women have to walk about three miles to collect water on average in not only the rural or desert states but also in the towns and urban slums. Collecting water can also be dangerous, especially for girls and women, who live in remote or war-stricken areas under the threat of abuse or attacks. Preventing access to water has been a weapon in wars, making women even more vulnerable.
Solutions to achieve SDG5 for all:
The World Economic Forum recently stated that "Building a more sustainable world will need more women engineers."
Women are under-represented in engineering, yet their talents and perspective are necessary to develop inclusive solutions.
They provide much manual labor in African countries, so they are better placed to provide gender-responsive insights.
The E4C Solutions Library is a living database of products and services that are intended to be accessible and appropriate for those living in poverty, especially girls and women. These solutions not only help achieve SDGs for all but also support and enable girls and women to be able to get an education, contribute to economy and, global growth and development.
In addition to Solutions Library, E4C has recently partnered with Siemens USA to offer the Innovate for Impact Design Challenge. Under the challenge you can identify a problem, or opportunity, within SDG2 (zero hunger) and SDG6 (clean water and sanitation). Through the Solutions Library, one can consider prior art and how access, efficiency and usability might be improved through design, engineering or manufacturing.
The above initiatives and more offerings from E4C are aimed towards achieving SDGs for all in the work to leave no one behind.
"No country has reached low inequality in human development without reducing the loss coming from gender inequality," the UNDP report's authors write. "Investing in women's equality and lifting both their living standards and their empowerment are thus central to the human development agenda and to achieving the Sustainable Development Goals."