Camera sensors and machine learning may make portable air quality monitoring more cost effective and accurate.
Ever wondered how much of the brown haze over a city's skyline is also in living rooms? And what, exactly, is in that haze? There may soon be a cheap way to find out. A new handheld air quality monitor called c-Air in early testing now compares favorably with much more expensive machines.
The device is based on a CMOS (complementary metal-oxide semiconductor) image sensor, the same found in some digital cameras. Dr. Aydogan Ozcan and a team at the University of California, Los Angeles, have created a monitor that collects and places samples of microscopic particles in the air directly over the sensor. No lens required. The researchers call the technology "computational lens-free microscopy."
By the end of today, you will have inhaled more than a billion viruses. So, we need low-cost, portable technologies that will quantify these with the same precision you would expect from high-end devices – Dr. Ayogan Ozcan, UCLA
The operator controls the device through a mobile phone application. After samples are scanned, processing takes place through analytical algorithms on a remote server. The result is a device that may be more accurate and capable of sampling a much higher volume of air than commercially available air quality monitors. And it may cost one-tenth or even one-hundredth of the price. Dr. Ozcan and colleagues published their findings online September 8, 2017, in the journal Light: Science & Applications.
"In our air, we're constantly breathing in molds, pollens, bacteria and viruses. By the end of today, many of you will have inhaled more than a billion viruses," Dr. Ozcan told an audience at the Social Innovation Summit Washington, DC, in June 2016. "So, we need technologies that will, in a mobile, cost-effective platform, measure and quantify these. With the same sensitivity, precision and accuracy you would expect from high-end institutional governmental devices."
The mortal cost of air pollution
"Because of its cost-effectiveness and accuracy, c-Air provides a unique platform for air quality monitoring. In addition to the emerging needs of U.S. and other developed countries, air-quality monitoring and quantification are also of great importance in developing countries," Dr. Ozcan told E4C.
Why so important? Indoor and outdoor air pollution is linked to 6.5 million deaths each year, accounting for 11.6 percent of all deaths around the world, according to the World Health Organization. Almost 90 percent of those death occur in low- and middle-income countries. The WHO
"Air pollution continues take a toll on the health of the most vulnerable populations – women, children and the older adults," Dr. Flavia Bustreo, Assistant Director General at WHO, said in a statement. "For people to be healthy, they must breathe clean air from their first breath to their last."
Air pollution continues take a toll on the health of the most vulnerable populations – women, children and the older adults – Dr. Flavia Bustreo, WHO
The c-Air device counts and measures microscopic particles in air, called particulate matter, or PM. Knowing PM concentrations, and what kinds of particles are in the air, can help estimate the damage that pollution might cause. Particles that are 10μm in size (PM 10μm, or 10 millionths of a meter) can lodge in the lungs and are a cause of cardiovascular disease, while PM 2.5μm are thought to cause cancer.
The culprits creating air pollution are the usual suspects, including smoky tailpipes, trash fires, coal-burning power plants and dirty industries. A few natural sources of pollution also contribute to the haze with events such as dust storms and volcanic eruptions. Just how bad or good is the air in any particular home city? To answer that question, the WHO launched an online tool tied to a database of 3000 cities worldwide. Type in a city name in the field at BreathLife2030.org.
In a demonstration of one use for c-Air, Dr. Ozcan's team employed the device to visualize the increase in PM concentrations in an urban area near a wildfire. The results are shown below.


How does c-Air compare to what is available now?
The WHO's data derive from satellites and on-the-ground air sampling installations. As Dr. Ozcan and his team explain in their paper, air sampling stations use either beta-attenuation monitoring or a tapered element oscillating microbalance instrument. They are not very portable, weighing in at about 30kg (66 pounds), they cost anywhere from (USD) $50,000 to $100,000, and they require trained technicians for maintenance.
Commercially available portable air particle counters cost much less, roughly (USD) $2000, but some can sell for up to (USD) $8000. But they handle lower volumes of air and their accuracy may not be as high as the new c-Air device. Commercial counters can sample 3-4L of air per minute and their accuracy suffers when analyzing air with extremely high or extremely low concentrations of pollutants.
In contrast, c-Air screens 13L of air per minute and could cost as little as (USD) $50 at a high volume of manufacture, or about (USD) $200 if produced in low volumes. The device also produces images of the particles, which other portable counters are unable to do. By imaging the particles, researchers can identify their types to build a picture of what kinds of pollutants are in the air in each area. Before c-Air, portable counters could only collect air samples to send to a laboratory for imaging.
Specialized parts, high prices and the requirement for maintenance and laboratory support make many commercial air monitors impractical in many regions of the developing world. But c-Air seems to have solved many of those problems.
"Today, there are no devices that can provide the accuracy and range of air particle counting and
identification that our mobile technology can deliver, available at a cost-effective interface," Dr. Ozcan says. "Furthermore, existing nano-scale measurement tools and air-quality assessment techniques are not even available in these regions [in underserved communities in developing countries] due to their high device and running costs, bulkiness and limited accessibility."
How does c-Air work?
The device can generate statistics of particle size and concentration with 93 percent accuracy. To test it, Dr. Ozcan and team ran c-Air alongside a beta-attenuation monitoring air sampling station. To gather its air sample, c-Air pumps air onto a sticky coverslip that catches particles. The coverslip is fixed above the CMOS sensor as shown in the diagram below.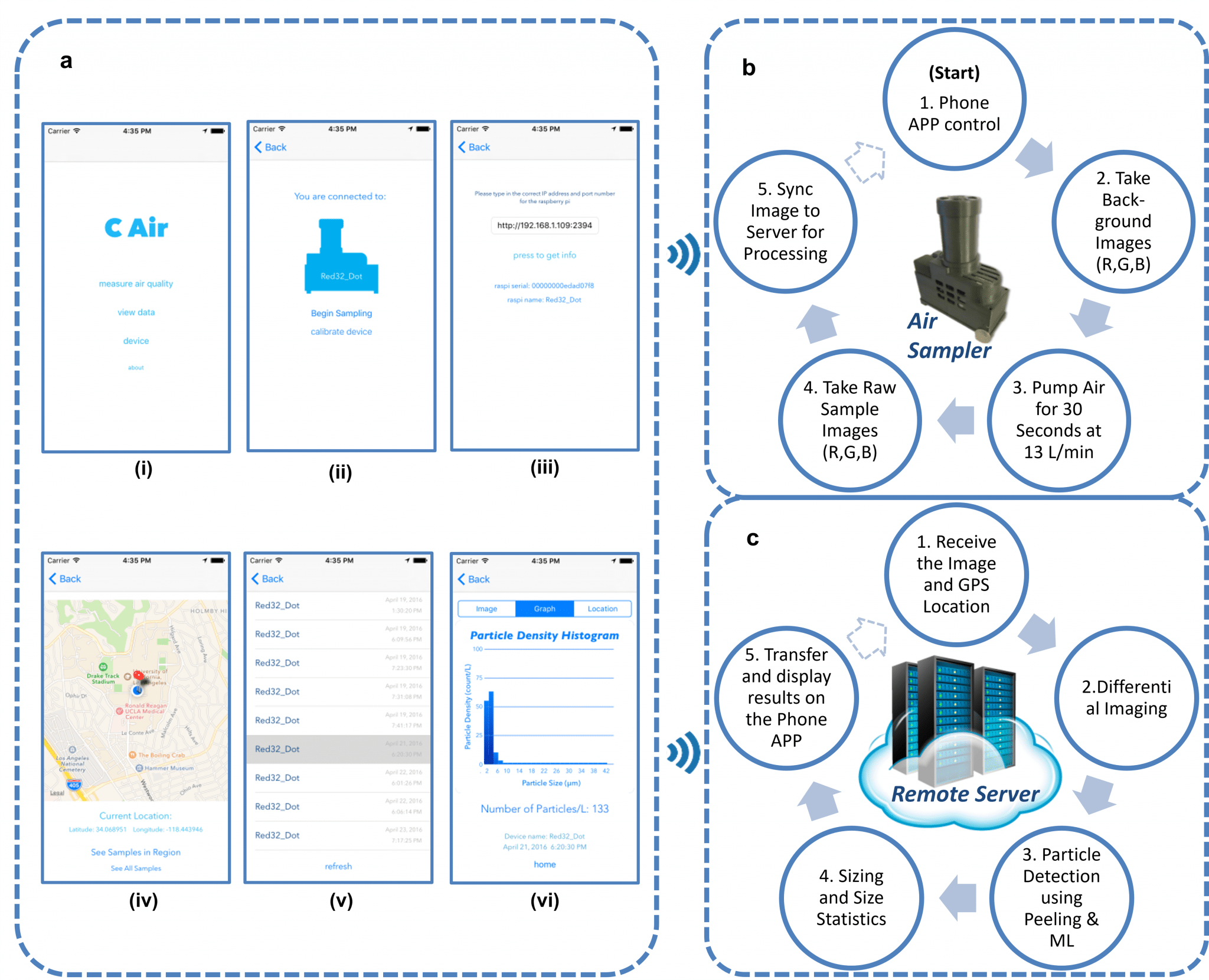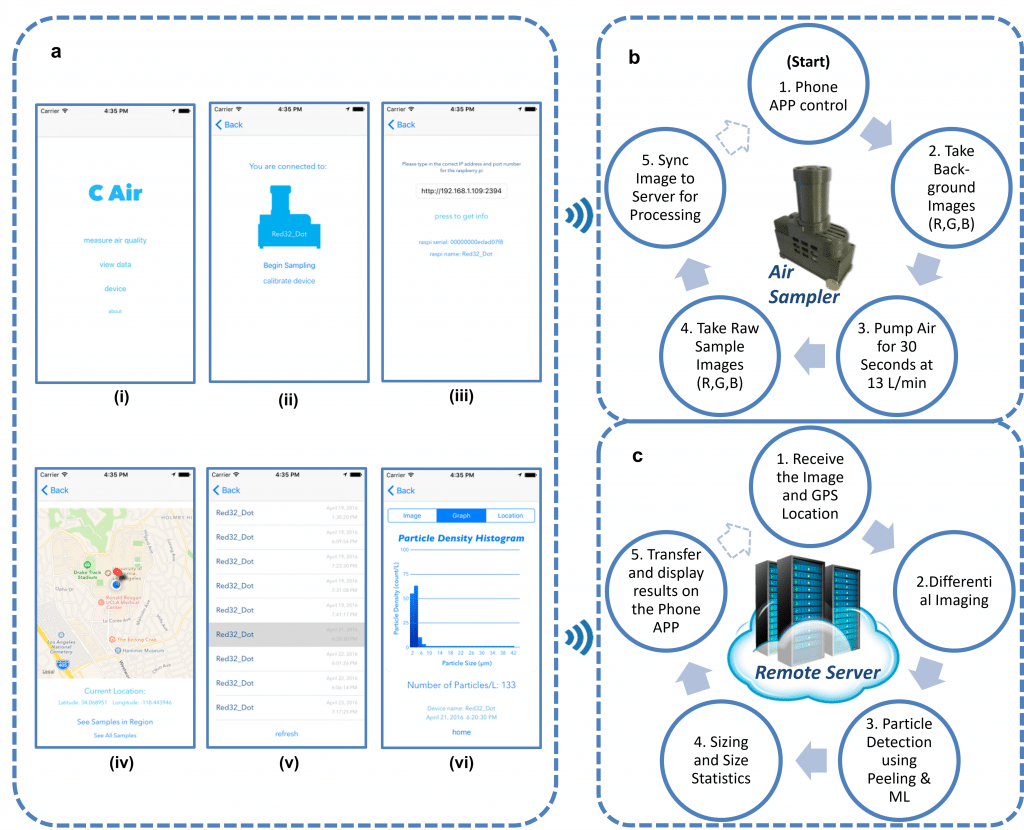 With a mobile data connection, the device sends the images it takes to a server for processing. The software can be tuned to detect specific kinds of particles. For example, the system can aid in reducing allergens in homes by identifying molds and pollen in air samples taken indoors. The analysis software adapts and learns as it works, presumably improving its accuracy and deepening its database of identifiable particles over time.
What's next?
If Dr. Ozcan's name or his bare CMOS sensor imaging technique sound familiar, recognition may stem from his work on mobile-phone-based microscopes. On-chip imaging and mobile microscopy research has earned Dr. Ozcan's group dozens of awards, some of the most recognizable of which are from IEEE, MIT, The Bill and Melinda Gates Foundation, Popular Mechanics, Popular Science, National Geographic and others.
Like some of the other projects in Dr. Ozcan's lab, the air quality monitor is a prototype in development. Since publishing their findings in September, Dr. Ozcan's group has a few new items to report.
"We have made some important progress on the same c-Air technology by merging it with machine learning techniques for label-free detection of mold particles. A similar effort on pollen detection is under progress. Because this approach is based on microscopy, we have some unique spectral and spatial features per particle that we are making use of to convert the c-Air platform into a smart sensor without the use of any external labeling."
What's next for the platform?
"We would like to establish c-Air technology as a robust bio-aerosol quantification platform by merging it with deep learning approaches," Dr. Ozcan says.
For more information please see the article "Air quality monitoring using mobile microscopy and machine learning."