Despite its protected status, deforestation threatens the Leuser Ecosystem, 2.6 million hectares (6.5 million acres) of rainforest on the Indonesian island of Sumatra. Farms and commercial development encroach on this habitat for endangered tigers, rhinoceros and orangutans. Until recently, forest patrols have had to work with low-tech tools to flag possible fires and incursions. They pore over satellite imagery then go offline to enter the forest and hunt down GPS coordinates. They record their findings with cameras, paper and pen and sometimes simply recite them from memory when they return. The pace of monitoring is understandably slow, which may have contributed to the 9 percent loss of forest cover in the ecosystem since 2001.
Adequate monitoring requires better technology. To that end, the Gunung Leuser National Park in the Leuser Ecosystem recently served as a test case for tools in development. Global Forest Watch, an organization that monitors forest cover around the world, worked with forest patrols to teach them to use its online forest cover and forest fire alerts, as well as a new tool that makes many of its functions available offline. GFW wrote about the test in a news post at the link.
Rather than looking through satellite images manually, GFW applies algorithms to the data to predict likely spots where forest cover is changing.
"Our forest change data products – the datasets that show when and where tree cover loss occurs around the world – are based on algorithms that automatically analyze satellite imagery to look for changes in tree cover. Land cover datasets, which show where different types of forest cover and other types of land cover are located, are also based on satellite imagery. Other datasets, like those that show concessions, protected areas, indigenous areas, etc., come from governments, companies, and NGOs, and are based on land management plans and other sources of information (not usually satellite imagery)," says Alyssa Barrett, the Global Forest Watch Platform Manager at the World Resources Institute.
Those data can be supplemented with reports from users on the ground.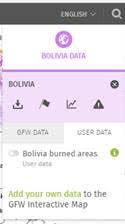 "Anyone can submit a 'user story' by creating a MyGFW profile and completing this form. The stories are then added directly to the GFW map," Ms. Barrett explains. "Users can also contribute data layers to the GFW map by completing this form. However, since visualizing geospatial data is more involved, the GFW team has to work with our web developers to add data layers submitted by users. User-contributed datasets appear in country data menus under the "user data" sub-tab [pictured left]."
GFW condenses its data into free daily fire alerts and weekly deforestation alerts for subscribers.
Forest Watcher will be released publicly this fall and GFW's interactive map is at work now tracking deforestation around the world.