Engineering for Change follows up with the talented graduates of our Research Fellowship to learn how they apply the knowledge and skills they practiced during their time with us. Helen Lindsay has held two positions rooted in her field of mechanical engineering since completing the fellowship. She describes a day in the life of each as a glimpse at the possibilities available to early career engineers and engineers interested in global development.
Helen brought her experience earned through work and travel overseas when she began her E4C Research Fellowship in 2018. Her passport had stamps from Tanzania, Zanzibar, Lebanon and Beirut, and her resume included enrollment in Boston University's Partnership for Global Health Technology. Upon completing the fellowship, Helen has had two professional roles, and she says she has drawn on skills honed in the fellowship to carry out both.
Soon after the fellowship ended, Helen took a position as Program Manager for the Program for Humanitarian Engineering and Refugee Studies (pHERS) at Boston University. A day in the life in that role began at 9am checking email that came overnight from contacts in Lebanon and Uganda.
I really enjoyed the fellowship and I learned from it – I would definitely recommend that others apply if they are interested.
"Then I got started on my to-do list for the day, sometimes I would be working on the curriculum or syllabus, developing promotional materials for our program, or planning for the course (travel and housing arrangements for students, or updating our travel packet). I always took a few minutes to update our social media as well (Twitter: @buphers, Website: bu.edu/phers). Most days I would have a meeting or phone call to attend as well, sometimes with my boss, or with students, or with BU's office of Global Programs," Helen says.
How did E4C's fellowship prepare her for this work?
"While I was not working as an engineer in this role, I was using a lot of the skills I gained as an engineer to develop syllabi, the website, and plans for students to prototype in low-resource settings. E4C helped me gain awareness of how entrepreneurs and NGOs were working on global development challenges that helped me plan what students should know about and how to help them work on their projects," Helen says.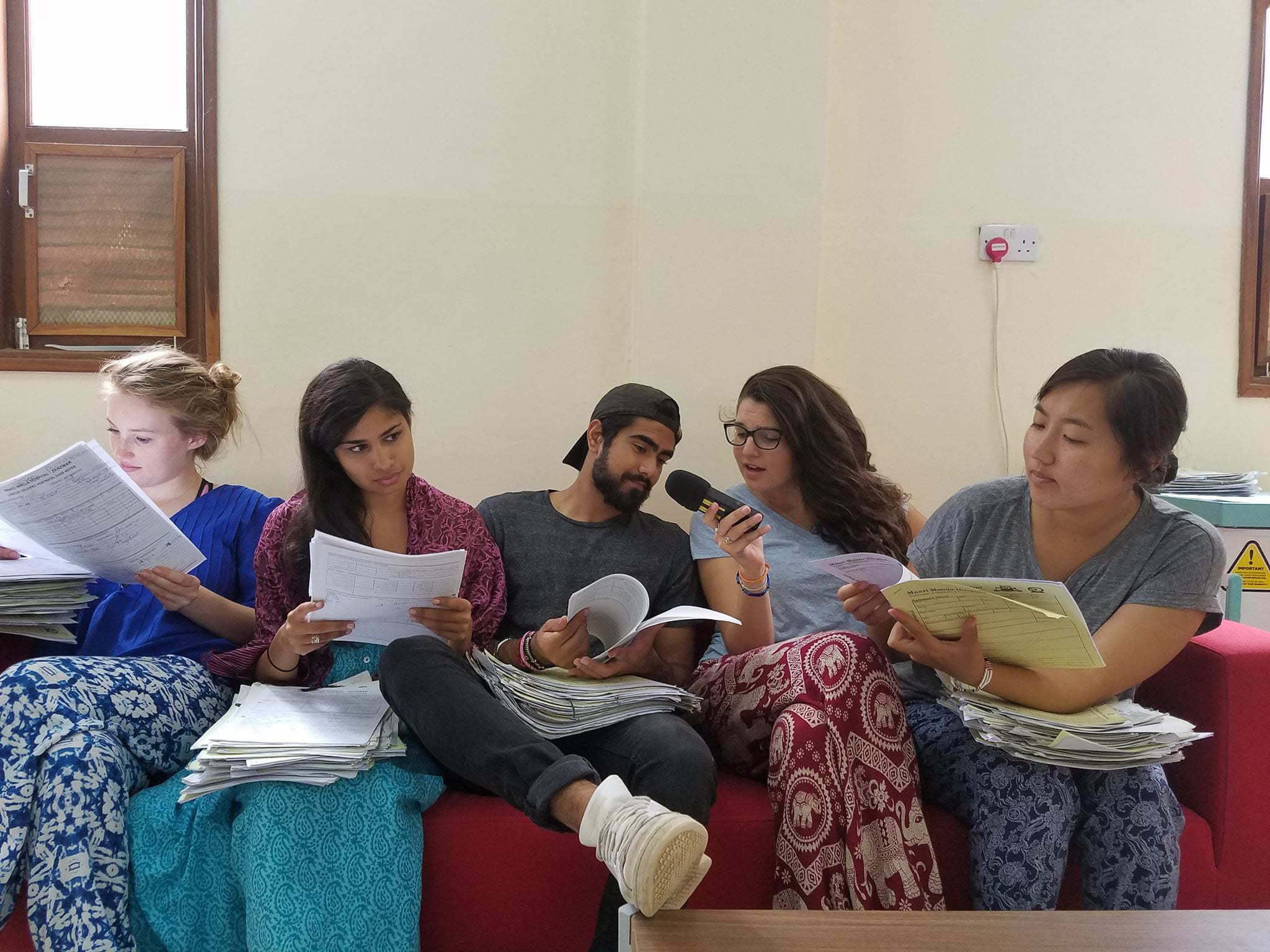 Helen read the latest news and research on E4C's website to keep up to date and share information on her program's social media page.
"Part of my role involved managing our twitter on which we shared relevant articles to tech for dev in refugee health so our students could get a broader perspective. I also recommended that students reference the Solutions Library when working on research projects, design projects, etc.," Helen says.
Now, Helen is a Quality Engineer at Boston Scientific. A day in the life in this new role also begins in the morning checking email and a daily to-do list.
"Usually I have a meeting at 9:30 or 10am. This gets me up from my desk and into the production floor or the distribution center, which I really enjoy. After that, I will work on one of my many projects and maybe attend a few more meetings throughout the day," Helen says. "My favorite part of my job is that I get to work with a great group of people, from the product builders and quality inspectors, to the other engineers on my team, everyone is really passionate about their jobs."
As a Research Fellow, Helen wrote product reports for E4C's Solutions Library, a database of products that meet basic needs in underserved communities. The work sharpened skills she uses now.
"Writing product reports for E4C prepared me for some of the technical writing I do now, it also made me aware of all the different standards and testing methods used for different types of health products and in different countries," Helen says.