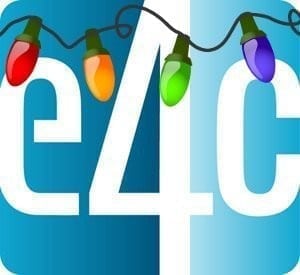 E4C's first, action-packed year will close in January, and we'd like to commemorate the milestone with the story of our community's successes. If we tried to say everything, the links would pop out of the seams. So, to save your screens, we've distilled the year's events to the absolute best, then we threw darts at those selections to pick a few to fit in this post.
By the numbers, in the past year, we've grown to more than 8000 members from more than 160 countries. You've added on 150 workspaces, and with your help, we've amassed thousands of new Facebook fans and Twitter followers, while thousands more have seen our Flickr photos, YouTube videos and Instructables build guides. We'd like to present our year in three parts: Our picks in Content, Community and Collaboration.
Content
One of our favorite roles is as a channel for sharing success stories, individual accomplishments, inspiration, real-time reporting and thought-provoking ideas. These are our selections.
Guest writers
We had a half-dozen thoughtful contributions to our news blog, and all are worth another read. For his consideration of the community around him and his detailed chronicling, Charles Newman and his piece, Building a kitchen in Kenya: $0.00, are solid examples.
News: Editors picks
This year we enhanced our newsletter with features such as "Five questions," a conversation with thought leaders, and "Member of the Month." Here are our picks in articles:
10 things you can do with a bicycle
With a little ingenuity, bicycles can shell corn, power lights or pump latrines. These are ten things you can do with a bicycle.
Five questions with Patrick Ball
Patrick Ball on being wrong, leaking data, selection bias and other pitfalls in human rights crime investigations
Promising prototypes at IEEE's Global Humanitarian Technology Conference
Devices to boost shrimp farm yields, disinfect water safely and manufacture medicines – each of these are promising prototypes presented at IEEE's Global Humanitarian Technology Conference
Video
IEEE's Humanitarian Technology Webinar series has found a home on our YouTube channel. We present Leveraging the Power of Engineers as one of the year's best (and it happens to be the one on E4C!).
Community
After a year in beta with a scrappy band of early adopters, we launched with three founding organizations, ASME, IEEE and Engineers Without Borders-USA. By the end of the year, our coalition grew by five. We hosted two networking events to meet amazing people. And we've also had the privilege to take part in some of the world's important gatherings of humanitarian designers and makers. These are a few:
Notes from Maker Faire Africa 2011
Africa's deeply inventive makers, E4C's cradle-to-grave product development workshop and ASME's future in the continent.
Insight and inspiration at A Better World by Design
We were amazed and inspired at A Better World by Design conference in Rhode Island.
We've rounded up interesting tweets from our National Science Foundation workshop, Research in Materials and Manufacturing for Extreme Affordability.
Crowd sourcing
We love match-making experts and crowd-sourcing ideas. In one of our favorite examples, the online community came through with gobs of creativity to help a rural community in Guyana manage its plastic bottle waste. How can rural villages manage mountains of empty plastic bottles?
Your comments
From our Facebook fans, news readers and email inboxes, these are a few of the most gratifying comments we've seen this year.
"It feels very good to know that somebody actually stands up and resolves the day to day issues or get something done for a common man. I suggest we all become that 'someone' for others too. Together we can 🙂 " – Omar Bin Mazhar, Sept.15, 2011, via Facebook in response to our post on Isang Litrong Liwanag (A Liter of Light) solution in the Philippines.
"This sounds like a great project. We especially appreciate how so many students and classes have been able to integrate aspects of the project into their curriculum! Kudos!" – BTL Liners, Sept. 9, 2011, via Facebook in response to our story A Bronx high school tests integrated green roof.
"Thanks Engineering for Change to give such a wonderful technologies and idea for us to go through it….I will try to make the broken panels one in home….." – Anonymous, Sept. 25, comment our news story "The best appropriate technology DIY plans"
Collaboration
You posted a torrent of new projects to our Workspaces pages this year, bringing our total to 197. These are a few of the year's most productive:
Climate Healers: Stored energy solar cookstove
Our community helped design a solar stove that cooks at night. The innovation allows women in rural India to cook dinner and breakfast in the early morning without disrupting their normal schedules.
Honeybee Network: Potable water carrier for women
We crowd-sourced solutions for women in rural India who need to haul water more efficiently.
Cost-effective screening system for malaria detection
Our community has helped tweak a solution to malaria detection.
Yeoman's Concrete Lathe v2.0
We matched a 3D sketch artist with a tool designer, and the two of them created a construction guide for a screw-cutting lathe from little more than concrete and scrap metal. This tool could transform machine shops in resource-poor communities. We are hugely proud of Pat Delany and Tyler Disney's accomplishment.
Up Next – E4C: Year Two
In our second year, we aim to improve our services as you and the rest of our members shape this community. Let us know in the comments below what you'd like to see. We're listening. See you next year!
tags: e4c, E4C Contributing Editors, E4C Editors, e4c first year