You might have noticed a crop of new ideas and newly-heard voices in global development in the last few years. Technology, business and humanitarian aid leaders, supported by advancements in new media are communicating together, sharing ideas and developing new approaches to solving some of the world's most pressing problems.
Start-ups and non-profits that are willing to experiment have put forth a lot of new ideas that are helping to change the world. The force behind these new thoughts is that for the first time the conversations are open to diverse perspectives. Community leaders, organizations, entrepreneurs, designers, students and anyone with something meaningful to contribute can participate; even if you live in a different time zone or country from one another.
Nathan Johnson shares results from his in-depth study into the ways that a rural village in Mali uses energy in the latest presentation in E4C's Webinar Series.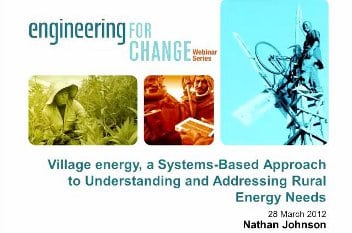 Engineering for Change, inspired by these recent developments in Internet communication and inexpensive telephony is happy to add a new option to the global toolbox of collaborative resources; the Engineering for Change Webinar Series. The series, originally titled the Humanitarian Technology Webinars, was developed by Adrian Pais and a team at IEEE debuted in 2010 at the World Wide Web Foundation to show how African entrepreneurs are building businesses from mobile Web services.
In an agreement with IEEE, Engineering for Change decided to take on the webinars. "The webinar series complements E4C's mission to enable individuals and organizations with the latest tools and information to advance solutions development. We're eager to build on the success of the IEEE team and nurture knowledge exchange in this field," says Iana Aranda, Senior Program Manager at Engineering for Change. The series, powered by our audience of socially engaged professionals, will spur the global conversation on development technologies.
The presentations are live and allow for online audiences to pose questions to the speakers and hear their responses instantly. Participants can ask questions or offer feedback and ideas to the presenters. Afterwards, the recorded webinars are posted to our YouTube channel.
Each month, we will invite a thought leader to present work in areas such as energy, agriculture, infrastructure, information and communications technology for development (ICT4D), health, water and sanitation. Our new webinars are an extension of the experiment that Pais and IEEE began, and we hope to expand it, and make it available to as many people as possible.
Have a look in our archives or YouTube channel's webinar playlist at the presentations that started this effort. And please join us on April 25 for our debut webinar with Emily Braucher, Navigating cross-cultural differences on international development projects. By looking at our personal expectations, values and judgments, we will shed light on why innumerable international development projects have failed due to communication issues. Most importantly, the content will equip you with skills to help you and your colleagues steer clear of predictable pitfalls.