For a few days every year at Maker Faire, the world applauds made things, anything, such as a steam-powered player piano, or a 69-foot fire-breathing dragon made of car parts. The fairs can equalize people of different backgrounds because the common denominator is making something. The point is probably most salient in Africa, where makers are preparing for their third annual gathering, this year in Cairo Oct. 6-8. Students and formally-educated professionals will display their inventions alongside self-taught hobbyists. Engineers, hackers, artisans, inventors, backyard tinkerers and others will meet and share ideas.
Product development workshops
In that spirit, a team from E4C is traveling to Cairo to learn from Africa's makers and to teach what we know. Madiha Kotb, a boiler and pressure vessel regulator in Montreal, Canada, will lead interactive workshops on turning an idea into a marketable product.
"We are explaining the process, what people have to think of," Kotb says. "It doesn't matter what kind of product it is, we are trying to cater to different people in different fields—mechanical engineering, IT, anyone who has an idea and doesn't know what to do with it. We want to encourage people to take their idea further, give them the tools to develop the idea, identify the challenges and the information and resources available for them to get help."
Kotb's team will include an expert on financing products and possibly a regional expert on patent law. Participants will apply the lessons to their ideas and products, whatever stage those are in. "We hope it will be very interactive. We want to hear of everyone's experiences, the challenges they face, and find solutions together," Kotb says.
If past Maker Faires in Africa are an indication, the products could range from arty to useful. We've seen primal eye gear, furniture made from water bottles, open-source wireless networks, a hand-built radio station and one-man radio show and solar power generators.
Kotb has deep experience in the field as a regulator working with new products in every stage of development. The one product that she has rolled out is E4C itself, she says. She has been involved from the time when this organization was just an idea and a discussion.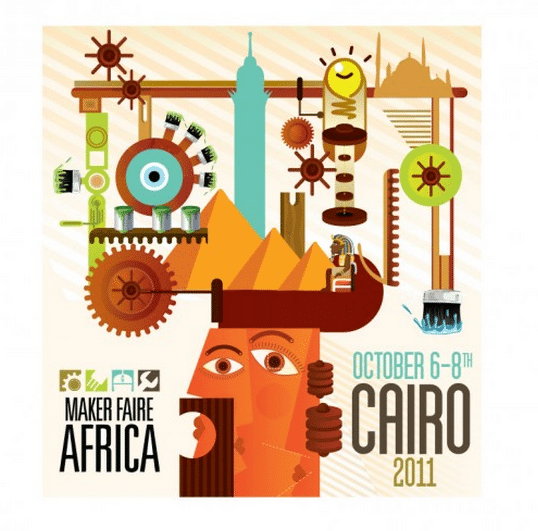 The Maker Faire Africa 2011 poster was designed by the MFA team in Cairo. Image credit: Makerfaireafrica.com
Workshop outline
The workshop team is flexible, open to last-minute adaptations to customize the program to the participants needs. Workshops on the formal development process will cover these subjects and a separate informal workshop may cover some variation of these:
Development stages
Product idea generation
Commercial validation
Intellectual property (patent) basics
Prototype development
Manufacturing and scale up
Leading cross function teams
Workshop schedule
Friday, Oct. 7
9am-12pm: All aspects of the formal product development process.
2pm-4pm: Daring Prototypes and Ingenious Funding (the informal development process)
Saturday Oct. 8
10am-1pm: This time slot is unofficially reserved for a second session of the workshop on the formal development process, which will take place if there is demand. We'll see you there!