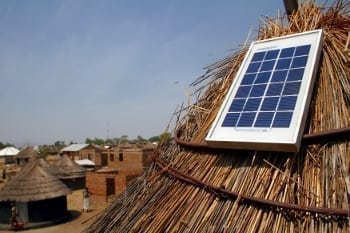 Kelley Blue Book's survey in 2010 found that, in the United States, 58 percent of used car buyers and 80 percent of new car buyers financed their purchases with a loan. Two years prior, Experian Automotive found that the average US household has 2.28 cars. For better or worse, Americans own a lot of cars. And most of them are taking out loans to buy them. It's hard to miss the correlation.
If it were as easy to finance solar power in off-the-grid rural homes as it is to finance cars in the United States, we could finally energize the 1.6 billion homes worldwide that lack electricity. Microloans are making inroads, but credit is still scarce. Thatched roofs and kerosene lamps are pretty far from the American three-car garage. To help cross that gap, a solar energy start-up has devised a business model that is tantamount to financing, but without the hassle.
The company, Eight19, is based in Cambridge, England, and installs its solar equipment in off-the-grid rural African homes. Homeowners pay for the units by purchasing scratch-off cards when they need power. They send the codes on the cards via text message to Eight19, which automatically replies with another code that they key into their control unit to unlock it.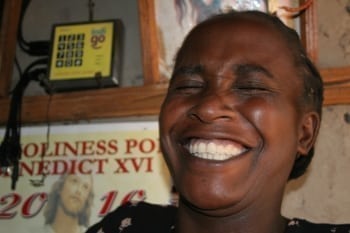 The monthly cost for the solar units is roughly $5, less than the $12 per month that homeowners pay for candles and kerosene lamps to light their homes now. When the users have paid roughly $90, which may take about 18 months, they own the unit. At that point, they can keep it and have free energy, or trade it in for an upgrade and continue making periodic payments.
"If you look at the affordability of buying a solar lamp, it's roughly equivalent to buying a car in the west," Eight19's CEO Simon Bransfield-Garth told E4C. "What we've tried to do is to tackle what really is the core of the problem, which is affordability. We're trying to make solar into a service rather than a product," Bransfield-Garth says.
Eight19's IndiGo units include a control box and three ampere-hour-battery, a 2.5-watt solar panel, two LED lamps and adapters for cell phones. The first upgrade is a 10-watt panel and a larger battery that supports four LED lamps, a phone and a radio. Thereafter, the company plans to offer 40- and 80-watt systems.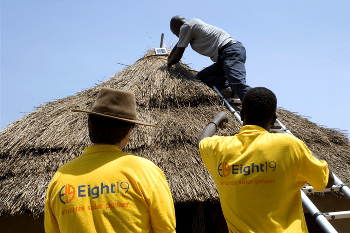 Eight19 installed its first solar units in Kenya in September 2011, and now works in Zambia, Malawi and, most recently, South Sudan. The company plans to roll out 4000 units in South Sudan this year. To help pay for the operation, Eight19 and SunnyMoney, a division of SolarAid, have established the Kickstart Sustainable Energy Fund. The fund accepts donations and interest-free loans.
In our view, Eight19 has demonstrated admirable flexibility with its strategic partnerships, the merging of mobile technology with energy finance, and the upgrades. By building the upgrades into the business strategy, Eight19 has shown a way for homes to incrementally gain more access to power. Just as importantly, the company has also accounted for the efficiency leaps and cost declines that are certain to come as solar technology progresses.