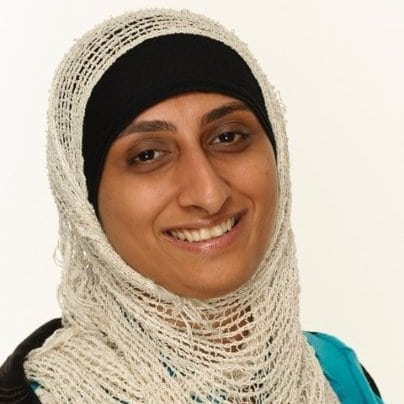 Zubaida Bai has built an award-winning business around saving women's lives with a simple product. She co-founded ayzh, a social business that sells JANMA Clean Birth Kits that reduce the risk of infection during and after birth. The kits include a sterile underpad, surgical scalpel, umbilical cord clamp, a bar of soap, a cloth and an instruction sheet. And all of the gear comes in a reusable jute purse for $2 – $5, about half the cost of comparable products.
See our Solutions Library for details on JANMA Birth Kits and side-by-side comparison to other products. 
Since its start in 2010, Ayzh has distributed 200,000 kits throughout Asia and Africa. Their target is large. More than 800 women die daily in pregnancy and childbirth from preventable causes, according to the World Health Organization.
And 99 percent of them are in developing countries. The complication that the birth kits address, sepsis, or severe infection, is the third largest cause of death, claiming nearly 11 percent of mothers who die during childbirth according to a study published in 2014 in The Lancet.
Trained in product development engineering and business management, Bai has led ayzh in its growth and picked up honors, including TED India, Ashoka Maternal Health and Echoing Green fellowships. We asked her five questions.
E4C: You sell JANMA kits for $2-5, which is half the cost of comparable products. How do you manage to keep the cost low?
ZB: We developed JANMA based on extensive market research and knowledge of what our customers and target beneficiaries want and are willing to purchase. Different from many kits developed via philanthropic models, our product design and price point is a direct reflection of market need. While our basic $2 kit is designed to specifically target "infection reduction" (ensuring at a minimum the "six cleans" of childbirth recommended by the World Health Organization), we have the ability to customize kits based on local preferences.
E4C: Distribution is one of the biggest challenges in a technology venture, and ayzh seems to be successful at it. What have you done that has worked?
ZB: (1) B2B model – We sell directly to institutions that are capable of reaching significant numbers of women beneficiaries, shipping product via the India Postal Service, which is able to reach even the most remote regions of India. Based in Chennai, a major port city, we are also able to ship internationally with ease.
(2) Local production – For many of our customers, there is the attractiveness of the product being available locally (culturally, this brings peace of mind knowing the product is readily available and not dependent on donor funding and volunteer production). By assembling locally (partnering with local organizations to employ women to assemble our products), we are able to customize our product.
E4C: What was one of the unexpected challenges that you had to overcome when you were developing JANMA?
ZB: While there is a great need and a growing demand for our products, beyond standard marketing approaches, we realize we must also develop an "ecosystem" of awareness and advocacy around our kits. Addressing this need for behavior change, we use impact investment and grants to explore innovative advocacy campaigns, policy change, and healthcare worker training.
E4C: Your site calls JANMA the "first core product," which implies that there are others in the pipeline. Could you give us a hint about what you're working on?
ZB: Yes, based on new needs of existing customers, we are continually refining and developing products. Our next product, "SHISHU" Healthy Newborn Kit, provides essential newborn care (infection reduction, thermal regulation, proper breathing, and breastfeeding), and is recognized as a "high-impact commodity that can improve newborn health and survival" by the UN Health Envoy. We are also developing a kit addressing post-partum hemorrhage.
E4C: Would you tell us about a time when you knew are in the right line of work?
ZB: After the birth of our first child in a large city hospital back in India, I was sent home by a doctor without prescribing the antibiotic I need after the delivery. As a result, I developed an infection. My husband (ayzh co-founder) and I realized that if this could happen in a city hospital, just imagine what was going on in the countryside and other resource-poor areas.
tags: Five Questions, maternal health