Editor's note: The following article is adapted from Sun-Connect News, the news website of Stiftung Solarenergie, and from Sun-Connect's newsletter. 
---
In rural Uganda, independent technicians are often hired to install solar home systems, but many of these freelancers lack specialized knowledge of solar technology. The untrained techs struggle to provide professional service and advice to customers. The SENDEA Academy has a solution. SENDEA launched a training program in 2021 and has already graduated more than 200 technicians, turning them from freelancers into solar entrepreneurs.
The six-month program provides training in topics such as product purchasing, customer acquisition, customer care, financing, accounting, and business management. Instead of theory, the program focuses on practical implementation in day-to-day business, with support from experienced local entrepreneurs.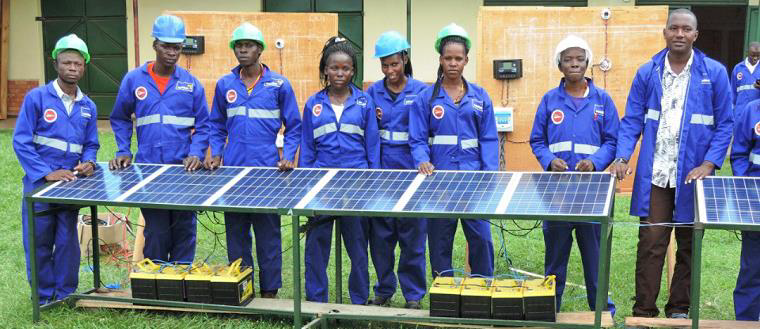 Upon completing the program, participants receive an interest-free loan of supplies from a dedicated fund. The loan is granted in the form of solar products, and the amount can be increased upon successful repayment.
One of the graduates from the accelerator program is Doreen Nabwire, a 24-year-old electronic parts seller in Kamuli Buwenge. After successfully completing the basic course for freelancers, she is now ready to expand her business by selling solar kits.
The accelerator is funded by the Stiftung Solarenergie (the Solar Energy Foundation that publishes Sun-Connect News), and the Stiftung Entwicklungszusammenarbeit Baden-Württemberg (SEZ).
SENDEA's work is a step on the path toward a sustainable solar economy in Africa, says Harald Schützeichel, Director of Stiftung Solarenergie.
Solar products have taken a foothold in Africa, but the market is saturated with non-African companies selling merchandise manufactured in China and other non-African countries.
"We cannot change this development, but we can show that it can be done differently: Many young East Africans see solar technology as an opportunity to build up a business for themselves. That is why we support the Ugandan cooperative SENDEA: an association of local solar companies that we helped to initiate," Mr. Schützeichel writes in the Sun-Connect newsletter.
The foundation co-finances SENDEA's training courses, implements solar villages and provides micro-credits to small solar enterprises.
How the E4C community can help
Readers and E4C members may be able to support this work through donations of money or time. Donations to Stiftung Solarenergie will help advance SENDEA's work.
"We can continue this work only if we receive enough funding," Mr. Schützeichel told E4C.
For readers who would like to lend a hand, experts trained in solar energy products or startups, especially in Uganda, can volunteer with SENDEA. Loy Florence Kyozaire, SENDEA's CEO, has provided the following contact information for those interested:
academy (at) sendea.org, uganda (at) sendea.org, and lkyozaire (at) sendea.org.