Today, nearly 4000 Haitians power their lights and electronics devices from 15 solar power stations in trailers, and millions more worldwide may be in line to join them.
Haiti is a thus-far successful test run for the trailers, called SunBlazers, and their creators have an ambitious plan to provide electricity for as many as 40 million people by the year 2020.
We first heard of the project last year when IEEE's The Institute published an article about the project by the IEEE Community Solutions Initiatives group. CSI had just delivered nine of its trailers to Grand Goâve, a small Haitian city that was devastated in the 2010 earthquake. Now, a year later, CSI co-founders Ray Larsen and Robin Podmore have made inroads into communities in Nigeria, Cameroon and South Sudan, and they have plans laid for markets in India and Bangladesh.
Solar power in a trailer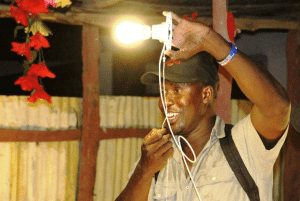 SunBlazers are portable, plug-and-play solar power stations composed of off-the-shelf parts. The Institute explains:
When shipped, most of the trailer space is taken up by 12-volt lead-acid battery packs for the home, as well as six silicon photovoltaic panels. The panels can collect more than four kilowatt-hours of energy per day, enough to power 40 battery packs. Or, some of that energy can be converted for use by a school, community center, or small business. Such larger "base-load" customers are to be served by additional trailers.The solar panels charge four large station batteries in the trailer from which the smaller home packs are charged. A pack is then carried to a home where each can provide power for LED light bulbs, mobile phones, radios and small power tools. This can all be wired using wiring kits also shipped in the trailer. Several battery packs could also power small refrigeration units or water-purification or pumping stations.
Once the home battery pack is 50 percent depleted, it automatically cuts off to preserve a long battery life. Then it must be carried back to the trailer station, where the homeowner receives a battery recharge or an exchange unit.
The SunBlazer is a portable, highly scalable unit that can adapt to many different load situations: Schools, computer labs, small shops, churches, community centers, coolers and even refrigerators, Larsen explains. Larger loads require multiple trailers, or a stationary version of the SunBlazer, with electrical combiners and converters that match the load.
"In all cases, the goal is to generate maximum benefit to the user community with jobs, service, technical and business education, and growth reinvestment back into the community," Larsen told E4C.
40 million customers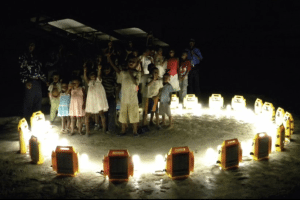 CSI plans to support the scale up of SunBlazer production to reach 40 million people (nearly 7 million homes) in eight years by using some of the same tactics it developed during its pilot program in Haiti. Those include seeding local businesses and encouraging local manufacture.
In Haiti, CSI has worked with a local charitable organization called the Sirona Cares Foundation. To scale up, the foundation launched a for-profit venture called Sirona Haiti SA, which will raise its own funds to continue to produce the trailers.
Some of the manufacture takes place in Haiti, which helps boost the regional economy. Parts of eight of nine trailers deployed in August were assembled locally. Local technicians welded solar panel frames, cut wood supports for internal batteries, assembled controllers and sub-chargers for the home kits, installed the main power harness, the circuit breakers, the main controller and emergency charging rectifier for the main batteries.
"This was a successful experiment of using local labor and the start of a full assembly factory in Haiti," Larsen told E4C.
To scale up worldwide, CSI wil try something similar. CSI plans to raise seed funding through a special fund under the IEEE Foundation that will support up to ten new start-ups per year. Each of these start-ups will in turn find venture funding, grants or loans of about $10 million to produce enough trailers to reach one million people in five years. If they accomplish that over the next eight years, they will all have served a total of 40 million people by 2020.
The potential market is huge. More than 1.4 billion people lack access to electricity worldwide, including 550 million in Africa, and 400 million in India. But the obstacles to reaching that market remain high. Launching a new startup is difficult, and the problems are compounded for businesses with a low income stream in a developing region.
"Sirona Haiti's major challenge is to stabilize the current operations and then quickly secure the assembly area and raise serious venture capital," Larsen says. "And no matter how good it looks to us, money is extremely difficult to raise. The goal of rapid growth to impact millions hangs in the balance."
Micro-grids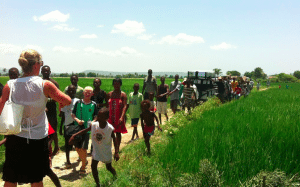 The trailers represent a micro-grid solution to power generation, which might be a better fit for emerging economies than the central power stations common in more developed regions.
Liang Downey, a member of CSI who helped design the trailers, explains in The Institute's article:
The zero-energy buildings initiative, where a building will have its on-site energy generation from renewable or alternative sources to serve its power need, has driven much of the development of microgrid technology, connecting energy generation to load devices directly in the United States and other parts of world. Microgrid, as manifested in CSI's SunBlazer, will help developing nations to leap-frog in their energy development, providing efficient and reliable power.

Liang Downey
tags: off-grid solar, portable solar, solar, solar energy, solar generator, Solar Power, solar trailer, solar trailers