Updated Nov. 17, 2014 – Big names like Kickstarter and Indiegogo have risen to the top of the heap of crowdfunding platforms, but other, lesser known online tools exist to help non-profits and social entrepreneurs raise money. We present ten reputable services that could work for organizations that focus on humanitarian technology and engineering for global development. Some of these are primarily for fundraising, and some are one-stop, full-service platforms that help with Web sites, newsletters, organizing members and donors and also fundraising. These are ten top online fundraising platforms.
Also, try these other money-raising resources at E4C: 
Humanitarian tech development grants roundup
Sustainable design contests and awards roundup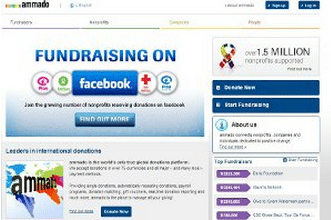 With offices in 15 cities including Dublin, Sydney, New York and Beijing, and operations in dozens of currencies, Ammado is a truly international funding platform. Non-profits, companies and individuals can sign on to tap into a global network of donors. And anyone who wants to make a donation can search the site for projects that interest them.
Why it appeals to E4C
The scope is international and project categories include medical and health, environment, international aid agencies, homelessness (shelter provision) and education, among others.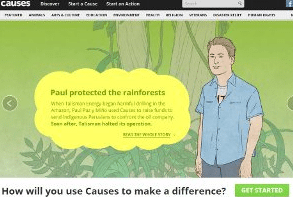 This free platform puts an online microphone in the hands of passionate people with a mission. Tools for boycotts, petitions and fundraisers help individuals and non-profits do their work. Non- profits that are registered 501(c)(3) can place a profile on the site and raise funds. The site has a network of 153 million people in 142 countries, it says.
Causes.com has a partnership with another recommended fundraising platform called NetworkForGood.
Why it appeals to E4C
Categories for causes include environment, health, disaster relief, food and nutrition, safety and many others.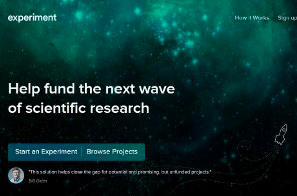 If you've ever had a question that begs for the all-seeing eye of a randomized, controlled trial, then experiment.com might be your starting place. Round up funding from your friends and like-minded strangers to pay for scientific investigation.
Why it appeals to E4C
Technology innovators can find money here to pay for the testing they will need to measure the efficacy and impact of their creations. We've seen the site used to study composting pit latrines versus flush toilets and to discover the efficacy of biochar in filtering pesticides out of drinking water.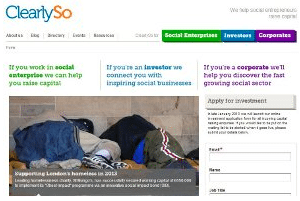 This London-based fundraising platform helps social entrepreneurs worldwide raise money from individual investors, businesses and corporations. ClearlySo maintains a growing database of more than 3500 social enterprises, and it claims to help entrepreneurs raise $400,000 to $6.4 million (£250k to £4 million) in capital. There is also an active jobs board for social sector do-gooders.
Why it appeals to E4C
The businesses represented are based worldwide and the social benefits that they provide fall into categories such as climate change, developing countries, land and marine conservation, waste reduction, water and pollution reduction, among many others.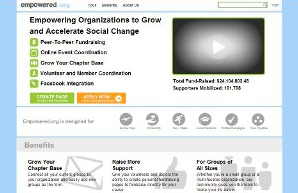 Empowered.org is a kind of full-service charitable-organization – building platform that offers support with raising money, building membership, Web site design, redesign and hosting, social media outreach, surveys, coordinating volunteers and events. The site has raised more than $25 million for other organizations, it says.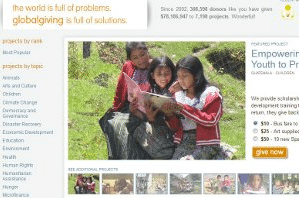 Non-profit organizations and people with "grassroots projects" can raise money from a worldwide network of donors on GlobalGiving. The site helps people who are doing good work find the money they need. Since 2002, GlobalGiving has raised nearly $80 million for more than 7000 projects.
Why it appeals to E4C
Projects are international and topics include technology, hunger, climate change, disaster recovery, economic development, environment, health and many others.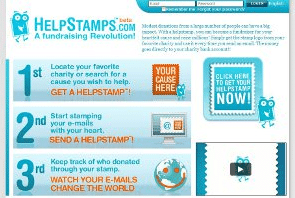 Raise money for organizations and causes that you love by sending emails tagged with a helpstamp in the signature line. The helpstamp advertises the cause and clicking the link opens the organization's donations page. Social businesses and charitable organizations can register at the site for a chance to place their causes in their supporters' helpstamps.
Why it appeals to E4C
A handful of the focus areas represented might appeal to E4C members, environmental agencies, disability, international aid, and medical and health.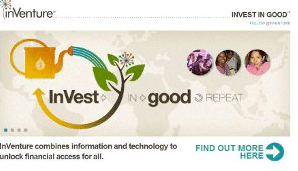 This microfinance facilitator allows people to make tiny investments in small businesses worldwide. Inventure is a niche service targets business owners that financial institutions overlook, including those who work in the world's teeming informal sector, helping them grow and transform into formal enterprises. The goal is to boost economic development by giving motivated people the money they need to succeed.
Why it appeals to E4C
InVenture embraces mobile technology to provide education and services to business owners, and it works with the kinds of entrepreneurs and innovators that E4C also serves.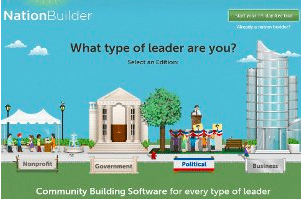 Like some of the other platforms on this list, NationBuilder has won high praise in the media. It is an online toolkit for non- profits, businesses, activists and political movements. The software and support team help you create a Web site (or transfer an existing site) organize members and events, send e-newsletters and raise money. One novelty here looks interesting: personal fundraising pages. Individual fundraisers within your organization can create pages and post their monetary goals to drum up funds for your projects from their social networks.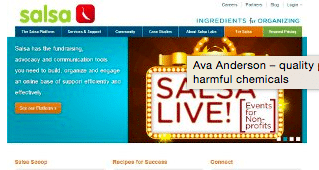 Salsa is an integrated platform that offers fundraising, communication, organization and advocacy. Clients can also tap into Salsa's educational community both through an online forum and through events.
tags: Ammado.com, Causes.com, ClearlySo, Crowdfunding, Empowered.org, Experiment.com, Fundraising, GlobalGiving, HelpStamps, Inventure.org, NationBuilder, Salsa