Product Description
The AND1100 Fluorimeter is a platform centric hand-held device for multiple soluble heavy metal testing of drinking water and industrial water supplies. It determines the toxicity levels of Lead, Copper, Uranium, Mercury, Zinc, and Cadmium in less than two minutes, eliminating or significantly reducing test expenditures, complexity and wait times experienced in traditional heavy metals water testing. The system was designed and manufactured by ANDalyze, an Illinois, USA-based company that offers products for testing water contamination using catalytic DNA technologies. This fluorimeter can be used to test drinking water. With an additional filtration step for turbid waters, the product can also be used to test environmental water, industrial process wastewater, municipal effluent water, and seawater.
Market Suggested Retail Price
Distributors / Implementing Organizations
Manufacturing/Building Method
The ANDalyze AND1100 Fluorimeter is designed and manufactured by Andalyze Inc. a private, independant company founded in 2005 and headquartered in Champaign, Illinois, United States.
Intellectural Property Type
Distributions to Date Status
The ANDalyze AND1100 Fluorimeter uses a DNAzyme reaction that fluoresces in the presence of a target contaminant substance such as lead. The fluorescence of the reaction is measured to determine the soluble concentration of the target heavy metal and is reported in parts per billion (ppb). The test is performed by taking a 1 milliliter water sample, injecting it through the sensor, and into the fluorimeter. This sample is then automatically analyzed and reports results in less than one minute. The sensor Kit comes with different disposable color-coded sensors, each designed for a specific heavy metal test target. Water testing and calibration manuals for each heavy metal are found here. The following chart shows the range of detection of each heavy metal.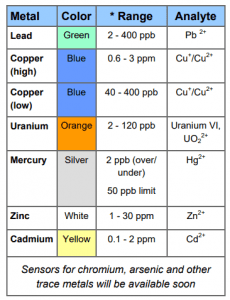 ANDalyze test kits work in the 17 – 35 ?C (63 – 95 ?F) temperature range, with most accurate results in the range of 20 ? 25 ?C (68 – 77 ?F). The test solution must be  ?pH 7.0 for best results. The kit contains pH strips to check the pH, and a buffer that can be adjusted if the solution is acidic or basic.  In some cases, iron interference protocols may be necessary. Product dimensions are: Width: 91.4 mm, Depth: 203 mm, Height: 57.2 mm. Weight: 565 g
This product has a 1-year Warranty, is Safe and Maintenance Free CE Marked, and water and dust resistant with IP54 enclosure rating.
Manufacturer Specified Performance Parameters
This product is designed for the user to detect Lead, Copper, Uranium, Mercury, Zinc, Cadmium without special skills or knowledge of chemistry, and without hazardous materials or harmful reagents. Performance targets include: efficiency, testing accuracy, and ease-of use for field applications. The system is designed to reduce overall testing costs by reducing testing time and complexity.
Vetted Performance Status
No harmful reagents are required for the use of this product.
Complementary Technical Systems
Academic Research and References
Compliance with regulations
Get more information about Solutions Library and its features.
Learn More